Get those tails wagging real good with this delicious and dog-friendly CBD dog treats recipe. CBD-rich cannabis is to dogs what catnip is to cats, so these all-natural healthy CBD dog treats are sure to be a slobbery favorite in your home.
Young or old, CBD cookies for dogs are the perfect addition to your dog's lifestyle, with so many incredible health benefits in tasty bite-sized form. Whether you want to help your anxious puppy ease into a new environment or your elderly canine get a better night's rest, these DIY CBD dog treats are sure to do the trick!
Before we get started, here's a little helpful info to show you why making your own dog treats with CBD oil is so much better than buying them.
Why Making Your Own Dog Treats Is Best
CBD cookies for dogs are meant to improve their well-being, but feeding your dogs store-bought treats, or CBD treats intended for human consumption, can be dangerous and even fatal.
Some treats made for humans contain sweeteners or flavorings that are toxic to dogs, like xylitol, and other CBD treats meant for dogs may be highly processed or contain ingredients that your dog is allergic to.
Making your own DIY CBD dog treats from home allows you to know exactly what's in them, so you can be sure they're safe and healthy for your canine companion.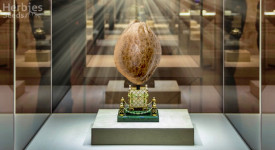 Top 10 Rare Strains of Cannabis That Are Worth Growing This Year
READ NOW
Benefits of CBD for Dogs
CBD is good for dogs much in the same way that it's good for people. With so many health benefits for their bodies and minds, it's a supplement that can benefit any dog through every stage of life. Here are some benefits to look forward to for your furry best friend:
Decreases anxiety such as separation anxiety in dogs
Offers pain relief for a variety of conditions, including joint pain
Improves sleep quality
Reduces nausea
Improves cancer-related symptoms
Aids in relief of stomach discomfort
As you can see, the list goes on. Dogs are incredibly receptive to CBD, as their brains house more cannabinoid receptors than humans. So, without further ado, let's get into the recipe for how to make CBD dog treats.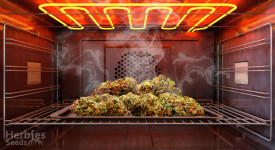 How To Decarb Weed
READ NOW
What You Will Need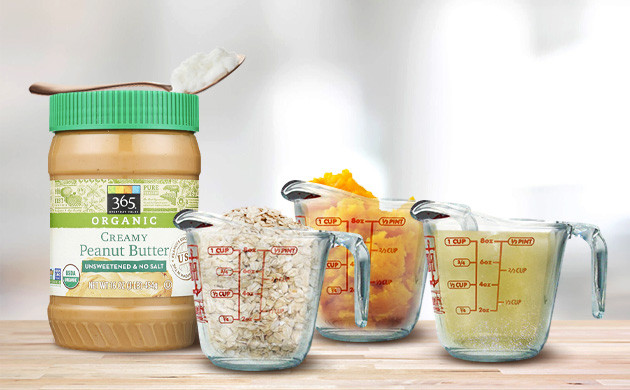 Ingredients
Pet-safe CBD oil extract (we recommend making your own using a CBD weed strain)
3 cups quick-cook oats
1 cup cooked pumpkin
½ cup natural peanut butter (make sure this is xylitol-free)
1 tbsp coconut oil
1 cup beef broth (sodium-free)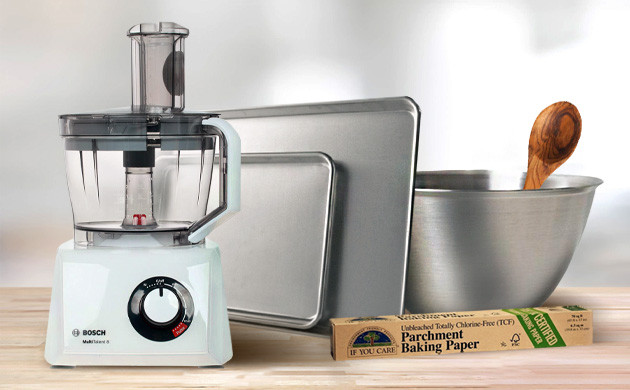 Equipment
1 large mixing bowl
Blender
Baking tray
Baking paper
Mixing spoon
Instructions
Step 1: Preheat Oven & Prep Tray
Start off by preheating your oven to 325°F (160°C) and placing a piece of baking paper on your baking tray outside of the oven.
Step 2: Blend & Mix
Next, blend your cup of cooked pumpkin into a puree and pour it into your mixing bowl. Add in about 2 ½ cups of your oats, peanut butter, coconut oil, and beef broth before mixing thoroughly.
Note: You can blend up your oats as well for a smoother dog treat finish.
Step 3: Thicken With Oats
If your mixture feels too runny, slowly stir in the rest of your oats until the batter drips off of the spoon without losing its shape.
Step 4: Measure Onto Tray
Use a spoon to measure out about a tablespoon of mixture at a time onto your baking paper. You want the mixture to drop off the spoon and hold its shape.
Step 5: Bake & Dose
Place your tray into the oven and bake for about 30 minutes for chewy CBD cookies for dogs, or up to an hour for a more crunchy result.
Once baked to perfection, remove from the oven and drop your preferred dosage of CBD drops onto each cookie while they cool. The oil should soak right in and you'll have a very accurate dosage for your dog.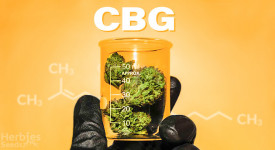 CBG and CBG strains
READ NOW
Best CBD Strains to Make Pet-Safe CBD Oil
For the safest, purest CBD oil you could wish for, make sure to grow your own CBD cannabis strain and craft your own pet-safe CBD oil. Here's a list of the CBD strains we recommend:
Both of these strains have THC levels below the threshold for effects, so there's no need to worry about taking your doggy on an accidental space cadet journey – only the pure medicinal effects of CBD.
Ready to Start with This CBD Dog Treats Recipe?
So, what are you waiting for? Get into your kitchen with your loving pet by your side and make the tastiest, tail-wagging DIY CBD dog treats your pooch has ever had. Once baked up and ready, store them in an air-tight container and give your fluffball the treat of his life.
Depending on the dosage, 1-2 biscuits a day should suffice. Less is more for basic health, and higher doses work better for pain and sleep. Happy barking… er, baking!
Herbies Head Shop expressly refuses to support the use, production, or supply of illegal substances. For more details read our Legal Disclaimer.