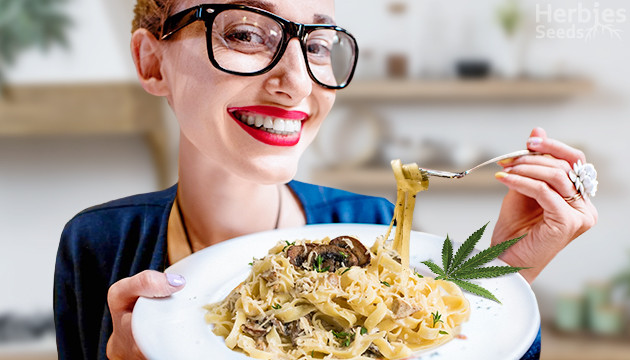 There's nothing better than a creamy mushroom pasta to finish off the day. Or is there? Take that delicious dish, add cannabis, and you get a moreish weed pasta sauce. Along with complex herbal flavors that aren't too overpowering, you'll feel that classic edible couch stone. However, you can always instead opt for CBD pasta to get all the medicinal effects and none of the psychoactive experience! The choice is yours. Today, we'll tell you exactly how to make creamy cannabis pasta, all about the key ingredient (cannabutter), and how high you can expect to get.
What Are The Effects Of Weed Pasta?
Wondering what kind of high you'll experience with weed pasta? Well, if you have any experience with edibles, expect something similar. When you smoke a joint, you'll feel the high within minutes, which means you have more control over your dosage. The high will be at its strongest for 30-60 minutes, then it dissipates over a few hours.
It's the opposite with edibles such as weed pasta. Your high will take longer to kick in – up to an hour – but will last a solid 5-9 hours. Plus, you'll max out on that sleepy food coma feeling, as edibles give you a real couch stone. Therefore, it's important that you control your dosage and start small – you can always make your weed pasta sauce stronger next time (more on that in a bit). Keep in mind that this only applies to THC weed pasta – if you use CBD flowers for your weed pasta, it will provide relief from pain, depression, anxiety, and insomnia, but don't expect to get baked!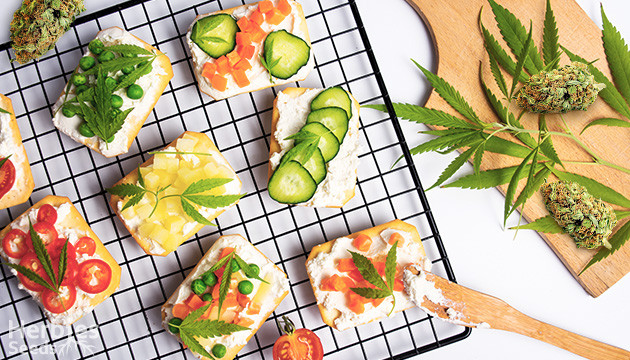 Best Strains For Edibles
READ NOW
The Main Ingredient: Cannabutter
Here's the secret to a mind-blowing (and body-numbing) pasta: cannabutter. It's as simple as it sounds: a mix of butter and cannabis, heated for 3-4 hours to infuse the THC and CBD into a creamy base. We've got a full guide for how to make your own cannabutter. It details everything you need to make cannabutter, as well as how to control the dosage and how much THC to expect in each serving. Here are the steps in short:
Decarb your weed in the oven at 240°F for 30-40 minutes.
Simmer the weed and butter over a stove for 3-4 hours.
Strain the cannabutter through a cheesecloth into a container and let it cool.
How To Make The Creamiest Weed Pasta
Now that you know what kind of high to expect and the key ingredient in weed pasta, let's get cooking! The steps to making cannabis pasta are simple, and much like making regular creamy pasta.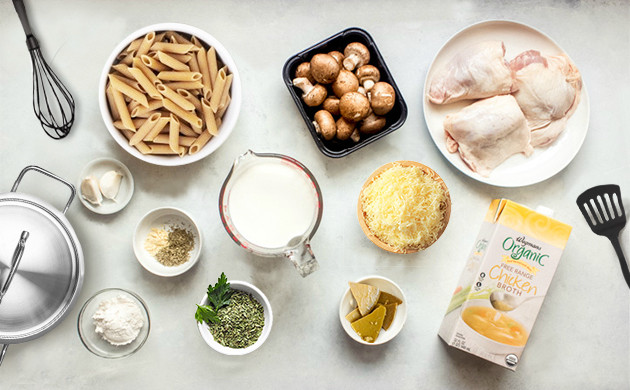 Equipment You'll Need
Saucepan (x2)
Whisk/spatula
Ingredients For Cannabis Pasta
4 chicken thigh fillets, diced (optional for a vegetarian version)
1 tsp dried basil (optional)
8 ounces sliced mushrooms
1lb pasta (penne or spaghetti)
CBD or THC cannabutter (1 tsp per person)
2 diced cloves of garlic/2 tsp minced garlic
3 tbsp flour
1 cup chicken/vegetable broth
1 cup milk
2 tsp dried parsley
1 cup grated parmesan
Salt and pepper
Step 1 (Optional For A Vegetarian Version): Cook Your Chicken
Season your diced chicken with dried basil, salt, and pepper. Add 2 tsp of oil to a large saucepan and sear your chicken on either side until golden brown. Then, reduce the heat and keep cooking until the chicken has no pink parts. Remove from heat and set aside.
Step 2: Boil The Pasta
Start boiling the pasta according to the package instructions. Use whatever pasta you like – we recommend weed spaghetti!
Step 3: Cook Mushrooms In Cannabutter
While your pasta is cooking, melt your cannabutter and a tablespoon of oil in a saucepan. The oil will stop your cannabutter from burning. Add the mushrooms over low-medium heat for 4 minutes.
Step 4: Fry Up The Garlic
Once your mushrooms have softened, turn the heat up to medium and add in the garlic for 1 minute, making sure to stir continuously.
Step 5: Add The Flour
Add the flour and cook for an additional 1 minute. Keep stirring!
Step 6: Keep Whisking!
Add the milk and broth, making sure you keep whisking to combine the ingredients and avoid clumps.
Step 7: Melt The Cheese
Allow the mixture to boil and thicken. Once it's thickened, add the parsley, parmesan cheese, chicken, and salt and pepper to taste. Stir until all the cheese is melted.
Step 8: Bon Appetit!
Mix your pasta into the sauce and serve immediately – make sure to scoop all the sauce out to keep all the potency. Add some parmesan to serve if you like it extra cheesy!
How Strong Will The Marijuana Pasta Be?
The potency of your weed pasta depends on several factors.
The strain of weed: Different cannabis strains have different THC concentrations. As a rule of thumb, the higher the THC concentration, the higher you'll get!
Preparation of butter: It's important you follow our instructions to make cannabutter to ensure all the fat-based cannabis compounds are infused into the butter. If you don't do this properly, your cannabutter won't be as strong.
How much weed you use: We recommend using a quarter-ounce of weed (with an average bud containing 15% THC) with 1 cup of unsalted butter. With this level of potency, we recommend using 1 tsp of weed butter per person to begin with. Of course, if you don't find your weed pasta strong enough, using more weed in your cannabutter recipe, or more cannabutter in your weed pasta recipe, will increase the potency.
Made a big batch of cannabutter that's too strong? You can always substitute part of your cannabutter with regular butter when you're making your cannabis pasta sauce!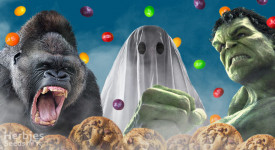 Highest THC Strains
READ NOW
Ready To Start Cooking Up Your Weed Pasta Sauce?
Now that you know how to make cannabutter and how to make weed pasta, all you need is some marijuana. For that, why not grow your own? Herbies has an extensive selection of weed seeds suitable for any budget. Whether you want the minimal or maximum amount of cannabinoids for your THC or CBD pasta, we've got a stellar strain waiting for you.
Herbies Head Shop expressly refuses to support the use, production, or supply of illegal substances. For more details read our Legal Disclaimer.