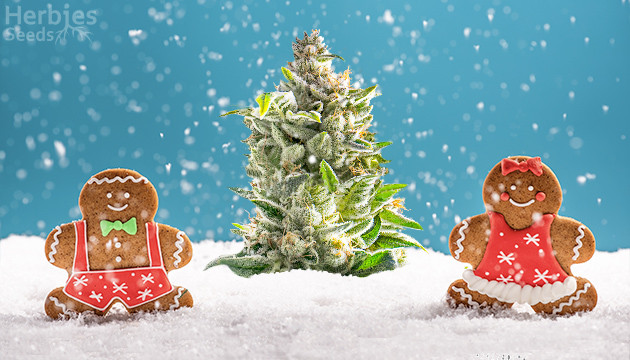 Here's the deal. Once I moved out of my parents' house, Christmas time has gotten even merrier! Don't get me wrong, I love my family, but the very first year after I started living on my own, I was introduced to a true Christmas miracle, that, I'm pretty sure, wouldn't be welcomed by my folks, and it's weed gingerbread cookies! These are pure magic, and I don't get why weed gingerbread hasn't yet become a classic of sweet edibles. The spice mix used in this recipe for weed cookies goes really well with the herbal note of cannabutter, and the texture of the finished product is a great mix of soft, almost chewy middle, and crispy edges! Also, they keep their shape perfectly well, so you can cut Christmas trees, weed gingerbread men, or even parts of a cannabis gingerbread house out of this dough and make sure they'll stay the same shape after they're done baking.
A Note On Dosing Cannabis Gingerbread Cookies
If you're the same as me, then it must be pretty easy for you to binge a whole tray of cookies and finish it before you know it. As these are not regular treats, but very special weed gingerbread cookies, you have to be very careful with dosing. Depending on your cannabutter potency, one cookie might be enough to get you higher than Santa's sleigh. To be sure, I always use cannabutter potency calculators before making a batch. For example, 5 grams of 16% THC weed will be enough to make 45 super potent cannabis Christmas cookies with 18mg THC in each piece. And if you're looking for a foolproof cannabutter recipe, check this one from Herbies.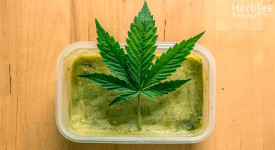 DIY Cannabutter At Home
READ NOW
Ingredients And Equipment
The following amount of ingredients will easily make for about 45 gingerbread cookies - enough to get a huge party bubble and giggle. If you need a smaller or a bigger batch, simply halve or double the recipe.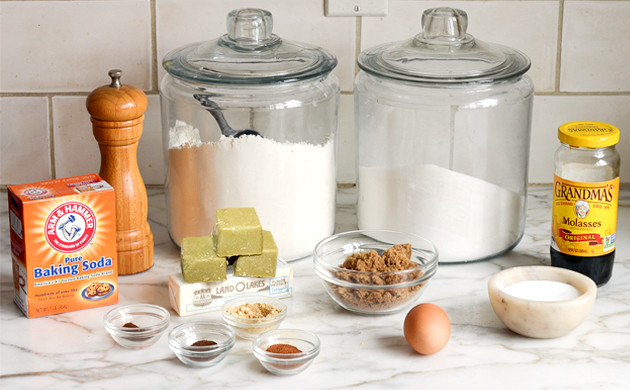 So, to make 45 weed Christmas gingerbread cookies, you're going to need:
flour (all-purpose) - 3 1/4 cups 
baking soda - 3/4 teaspoon 
ground cinnamon - 1 tablespoon 
ground ginger - 1 tablespoon 
ground cloves - 3/4 teaspoon 
ground nutmeg- 1/2 teaspoon 
salt - 1/2 teaspoon 
unsalted butter (room temperature, soft) - 1/4 cup 
cannabutter (room temperature, soft) - 1/2 cup
brown sugar - 1/2 cup 
molasses - 1/2 cup 
vanilla extract - 1 1/2 teaspoons 
1 large egg
(optional) zest of one small orange
Equipment For Making Cannabis Gingerbread Cookies
Equipment-wise, there's nothing extraordinary needed. Here's the list:
Mixing bowls
An electric or hand mixer
Plastic wrap
Cookie trays
Parchment paper
Rolling pin
Cookie cutters
Icing, sprinkles for decoration (optional)
Directions For Making Weed Gingerbread Christmas Cookies
Over the course of 7 simple steps and about an hour to an hour and a half of your working time, you'll be ready to enjoy getting baked on these delicious cannabis gingerbread cookies. Just make sure you have some cannabutter ready, as making it must be the most time-consuming part of making any edibles.
Step 1. Mix the "Dry" Ingredients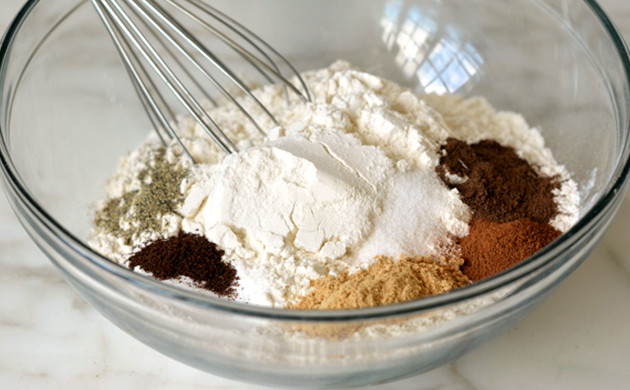 Take a large mixing bowl, and use it to mix all of the dry ingredients from the list: flour, baking soda, sugar, cinnamon, ginger, cloves, nutmeg, and salt. Set aside
Step 2. Mix the "Wet" Ingredients
Using a separate bowl and a mixer, beat together the room temperature butter, cannabutter, and sugar for 2 to 3 minutes on medium-high speed until light and fluffy. Next, gradually add in the egg, vanilla extract, molasses, and mix until combined.
Step 3. Combine
Then, using your mixer on low speed, gradually add the flour mixture in, and mix until just combined.
Step 4. Leave the Dough to Chill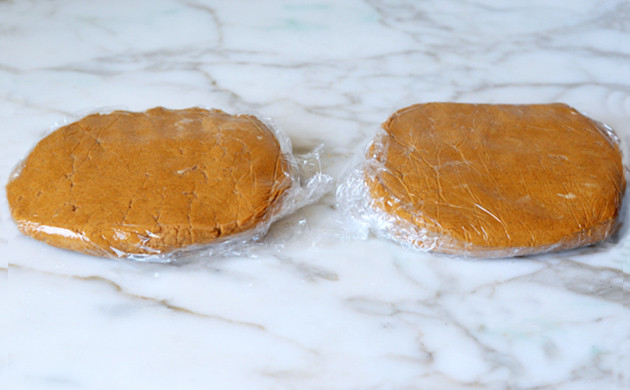 Divide the dough into two halves, and shape them into two balls. Then use your hands to gently flatten them into inch thick disks. Cover both tightly with some plastic wrap, and leave them in the fridge to chill for at least two hours.
Step 5. Roll Out and Cut!
Once you're ready to start baking, preheat your oven to 350F (180C) and cover your baking sheets with parchment paper. Then lightly dust the table surface with flour, and evenly roll out the dough to make it 1/8 inch (4mm) thick. Use cookie cutters to cut out your favorite shapes, and carefully place them on the baking sheet. Collect the leftover dough pieces, form another ball, and repeat the rolling out and cutting process. Do it again, until there's no more dough left.
Step 6. Bake
Once the baking sheet is full, put it in the oven to bake for 8 to 10 minutes, or until the cookies are crisp at the edges. Let them cool a little, then place the weed Christmas cookies on the wire rack to cool down completely. Meanwhile, put another sheet of cookies in the oven to bake, and do it, until all of the weed gingerbread cookies are baked.
Step 7. Decorate Your Weed Christmas Cookies (Optional)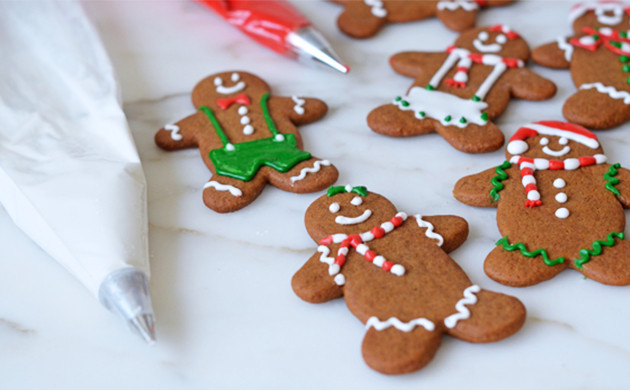 Even though this step is optional, you can't leave your weed gingerbread men without faces and clothes, right? Same with all other shapes - just a little bit of store-bought icing and sprinkles will make these weed Christmas cookies look festive. Also, it's a great fun activity to do with friends before or while getting high on edibles. So get decorating!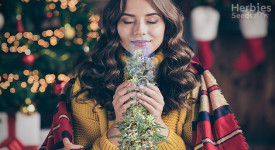 Christmas Weed Strains
READ NOW
Have Some Weed Gingerbread For A Merry-juana Christmas!
Hope you loved this recipe for weed cookies, Christmas edition! Please use it to make the Holiday season merrier and surprise your friends with something that can easily become a new tradition. Don't forget to be responsible with dosing this, and you'll have the best time of your life, just as I do, every Christmas!
Herbies Head Shop expressly refuses to support the use, production, or supply of illegal substances. For more details read our Legal Disclaimer.