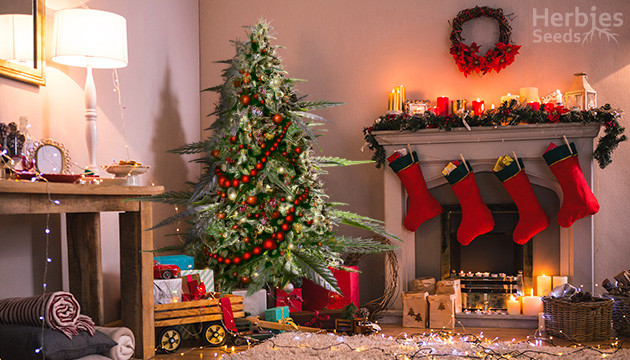 If you're one of those marijuana enthusiasts who want everything in their life to be weed-themed, why not grow yourself a plant that looks exactly like a Christmas tree?
Check out our short list of six Christmas tree-type weed strains that will grow big enough by the holiday season to decorate your living room – and then, you can enjoy their buds no later than the Chinese New Year.
Caramelo Early Version: A Gift Bag Full Of Sugary Delights
This picture-perfect Sativa grows many side branches that don't compete with the main one, but rather create a highly symmetrical Christmas tree-like structure. Give her a 12/12 light schedule from seed, and she'll quickly turn into a pretty bonsai plant frosted all over and smelling like candy, licorice, and lavender. The smoke of Caramelo Early Version produces a stimulating high in the head with just a touch of a lazy body buzz, equally perfect for both visiting your friends and family or entertaining them at home.
Gorilla Glue Auto (Glue Auto): A Miracle On 420th Street
If you've come to associate your favorite holiday with the smell of fir needles, Gorilla Glue Auto is just the strain for you. Her complex terpene profile is dominated by the aroma of pine forest, although the whiff of diesel fumes could also remind you of New Year's Eve in Times Square. The super-strong, all-round high will fill your whole being with happiness and kindness – exactly what the holiday spirit demands.
+ Speed Auto: Faster Than Santa's Sleigh
Can you germinate a weed seed on Halloween and harvest fully formed buds by Christmas? Yes, you can – if it's a + Speed Auto seed, that is. Besides her lightning-fast flowering time, this autoflower is also very short and compact and could easily pass for a miniature Christmas tree, especially after you trim away all the larger fan leaves. You'll also appreciate the easy-going and uplifting high of this beauty, which will give you a boost of energy and a good mood for the duration of any Christmas party.
Chocolate Kush: A Christmas Gift That Keeps On Giving
This Indica-dominant strain with her classic fir tree shape and structure has the potential to be the prettiest one of the lot. Never too tall when grown indoors, Chocolate Kush is wide and branchy, and bears so much fruit that your stash will last you from one Christmas to the next. Her Kushy aroma with strong sweet and chocolatey overtones usher in a high that creates a feeling of perfect tranquility and happiness, as well as eases pain in medical patients.
Glueberry Auto: When Every Day Feels Like Christmas
This hybrid of Gorilla Glue #4 and Blueberry is a fast grower and has the potential to turn into a perfectly shaped but very tall Christmas tree, complete with ounces upon ounces of dense, hard buds on her many branches. Glueberry Auto smells mostly like fruit and berries with just a touch of pine needles, and will curl your toes with an intense body buzz at the same time as it makes you chatty and giggly.
Super Mazar: Sitting In The Lap Of Santa
Though hailing from the mountains of Afghanistan, a country where Christmas isn't exactly celebrated, Super Mazar can serve as an illustration of this holiday in a picture book. A beautiful, symmetrical, and sturdy plant, she produces scale-busting amounts of buds that are as hard, long, and heavy as fir cones. With 21% THC, these resinous nugs create an overwhelming body buzz with feelings of bliss and well-being – ideal after a night of sleep deprivation and alcohol poisoning. So share a bowl with your loved one in the morning and start unwrapping the gifts, squealing with delight, and feeling like a child again.
What A Perfect Christmas Tree Shape These Strains Have Got!
To a discerning eye, any marijuana plant looks beautiful, but these six are real eye-candies. And when you're done admiring their refined Christmas tree shapes from the side, roll a joint or pack a bowl, and you'll see that these ladies are flawless in every other respect, too.
Herbies Head Shop expressly refuses to support the use, production, or supply of illegal substances. For more details read our Legal Disclaimer.