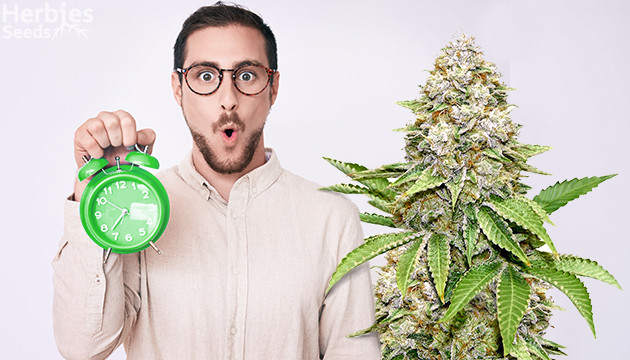 You haven't chosen a cannabis strain to grow yet, but already can't wait to lit that delicious bud? When the temptation is too strong, some strains work better than others. Luckily, Herbies knows what seed to plant if you want to harvest your newly home-grown weed sooner than you can say "fastest-growing marijuana", the topic we're covering today. If you're one of our impatient growers, keep reading to learn about the fastest flowering strains of weed that won't make you wait for too long.
Fast Flowering Cannabis Seeds
Buy
Fast Growing Weed Seeds: Who Are They For?   
Actually, when it comes to the fastest marijuana strains, their practical application is much wider than the simple goal of getting to smoke the product as soon as possible. The strains we're about to present have gained recognition because they save growers in plenty of situations.
High THC Strains
VIEW ALL
First of all, if you live in a colder region with a  short summer but still want to benefit from the perks of outdoor growing, fast-growing weed seeds that achieve maturity in 2 months or even less might be your only option to do so. Then, there are stealthy growers who understand that every extra day of having marijuana plants out is another chance of getting caught, so they value the rapid lifecycle. Moreover, the fastest growing weed usually also stays the most compact, which is another pro for a stealthy grower. Finally, these strains allow for not just one but two outdoor harvests in a single season! So, sometimes, it's not only about the speed but also the productivity of your crop.
Introducing Our Fastest Flowering Strains
Now that you know how you can benefit from having fast flowering cannabis strains in your garden, let's get down to business. In the list below, you can find our picks for the speediest marijuana plants that can be planted even late in the season and still be successfully harvested.
Purple Punch Auto
50-60 days from seed to harvest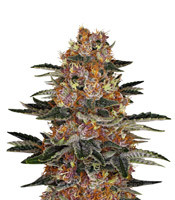 Purple Punch Auto (Barney's Farm)
Autoflowering

18 %

Devastating delight

350 - 400 g/m² indoors
400 g/plant outdoors
View strain
As one of the fastest autoflowering strains in all of our 2,000+ seed collection, Purple Punch Auto makes the most bang in the shortest amount of time. In just 7-8 weeks of easy growing, you'll get an almost pure Indica plant with 18% THC to turn you into a chill euphoric creature with one good hit of its dense smoke. Perfectly suited for day or nighttime use, Purple Punch Auto will relax your body and mind to the max. You simply must try this sweet, purple-colored masterpiece!
Gelato Auto
60-65 days from seed to harvest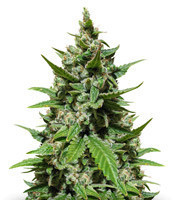 Gelato Auto (Herbies Seeds)
Autoflowering

400 - 600 g/m² indoors

26 %

Outpouring of creativity
View strain
A lovechild of two of the most popular genetics in the world, Gelato and GSC, Gelato Auto by Herbies Seeds is not only one of the fastest autoflowering strains available for purchase, but also one that provides a highly memorable smoking experience. Powered by 26% THC, the effects of this strain start off with alleviating anxiety and just moments later, fill the room with uncontrollable laughter, infectious conversations, and pure euphoria. Gelato Auto's flavor palette stands out as well by mixing sweet cookie dough with notes of cream and lime – you've got to try this one!
Pakistan Valley Early Harvest
Indoors: 45 days of flowering / Outdoors: late September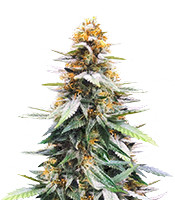 Pakistan Valley Early Harvest (World of Seeds)
Photoperiod

420% relaxation

450 g/m² indoors
700 g/plant outdoors

20 %
View strain
This next cannabis strain on our list of fastest-growing marijuana varieties is Pakistan Valley Early Harvest. This weed finishes flowering in as few as 6.5 weeks and stuns growers with a combination of sugary and earthy flavors. The 20% THC in its composition, combined with its 100% landrace Indica genetic profile, makes its effects a sweet mixture of body relaxation and insanely strong medicinal power, highly effective against headaches, nausea, pain, and restlessness. If you want to understand the real beauty of Indica and want to do so quickly, Pakistan Valley Early Harvest is your best bet.
Bubba Island Kush
Indoors: 49-53 days of flowering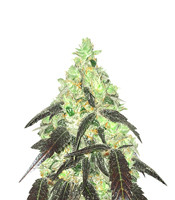 Bubba Island Kush (Dutch Passion)
Photoperiod

Cosmic calming experience

22 - 26 %

300 - 400 g/m² indoors
View strain
Dutch Passion's Bubba Island Kush is a fast-flowering cannabis variety that's sure to please your senses. Its flavors are reminiscent of classic Kush but are also heavy on sweet and citric fruit. No wonder there's so much flavor – this strain's huge buds are dense and sticky, and packed with 22-26% THC plus huge amounts of terpenes! And it's not just about the flavor, either – finishing in just 49 days of flowering, Bubba Island Kush guarantees a wonderful hybrid effect that balances a cerebral high and body buzz.
+ Speed Auto
49 days from seed to harvest
+ Speed Auto (Sweet Seeds)
Autoflowering

The real thing!

15 - 20 %

350 - 500 g/m² indoors
30 - 150 g/plant outdoors
View strain
One of the fastest autoflowering strains out there, + Speed Auto fully deserves its name, because finishing in way under 2 months is speed itself! When grown in southern areas with longer summers, you can make this weed variety pull off three harvests in one season! As for the result, you'll harvest up to 150g (5.2 oz) of thick, resin-laden buds with 20% THC and a touch of CBD. Flavor-wise, each toke of + Speed Auto will give you a piece of blue cheese dipped in honey, making for a perfect sweet and savory mix.
Californian Snow Auto
56 days from seed to harvest
Californian Snow Auto (FastBuds)
Autoflowering

Today is the best day

400 - 550 g/m² indoors
50 - 250 g/plant outdoors

23 %
View strain
This entry from FastBuds, Californian Snow Auto, is a very fast autoflower that delivers the potency of 23% THC to easily sweep you off your feet. Such power is camouflaged with an innocent flavor and aroma palette of sweet and berry-like notes, while the flavorful smoke is quick to induce highly energetic and euphoric effects. However, this weed strain can be used not only recreationally but medicinally as well. Thanks to a healthy share of CBD added to its THC content, Californian Snow Auto is widely used to treat symptoms of glaucoma, multiple sclerosis, and chronic pain.
Sugar Black Rose Early Version
Indoors: 45 days of flowering / Outdoors: early September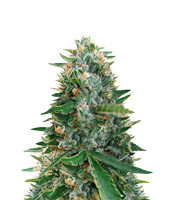 Sugar Black Rose Early Version (Delicious Seeds)
Photoperiod

A flower of calmness

25 %

450 g/m² indoors
900 g/plant outdoors
View strain
Another fast version developed due to the huge demand for the original, Sugar Black Rose Early Version from Delicious Seeds is highly sought after by cannabis connoisseurs all over the globe – firstly, of course, because it finishes flowering in just 45 days, and secondly, because it's by far one of the tastiest strains of cannabis out there. Its long-lasting flavor is a journey by itself, taking you from ripe fruit and fragrant flowers to spice and classic skunk. Finally, the outstanding potency of its 25% THC makes this weed variety simply perfect – a crowd-pleaser that everyone falls instantly in love with.
Bruce Banner #3 Fast
Indoors: 50-55 days of flowering / Outdoors: September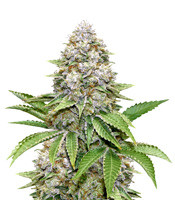 Bruce Banner #3 Fast (Original Sensible Seeds)
Photoperiod

800 g/m² indoors
1000 g/plant outdoors

25 %

Cerebral stone
View strain
We'd be surprised if you haven't already heard of the legendary strain named after the man behind Hulk, and one that provides some of the deepest stone effects known to humanity. Finally, it's become available as a Bruce Banner #3 Fast, as developed by Original Sensible Seeds. The shorter flowering period of 50-55 days certainly doesn't hurt the always mind-blowing potency of this cannabis strain, which stays at a sky-high 25% THC. In fact, Bruce Banner #3 cannabis strain tastes and smells exactly the same as the original, and provides resinous buds that exude notes of fruit and Kush.
Pick Your Favorite And Harvest In Less Than No Time
We really hope you enjoyed this list of the fastest flowering strains of cannabis available for purchase, because we sure did! So many outstanding varieties in one place – do you know what you're going to start with for your next quick harvest? Go to the comments section below and share your experience with fellow growers who are also interested in harvesting quick and big.
Herbies Head Shop expressly refuses to support the use, production, or supply of illegal substances. For more details read our Legal Disclaimer.