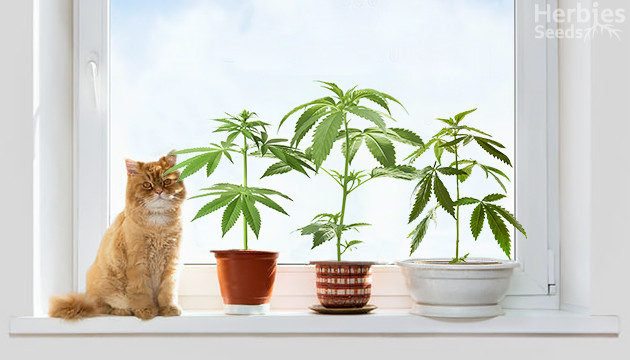 It might come as a surprise to you, but that windowsill you pass by every day is a pretty good place to grow cannabis indoors! Of course, it's not exactly as good as a fully equipped grow tent or an outdoor garden, but this spot definitely has its own advantages! The following article is a part of our series dedicated to the indoor growing season, and we'll be sharing a few secrets to successfully growing cannabis on a windowsill. Even if all of your indoor space is already full, why not place a couple of plants on a well-lit windowsill and get a nice harvest?
Pros And Cons Of Windowsill Cannabis Growing
First of all, windowsill weed growing is one of the most affordable ways to grow cannabis indoors. Think about it – a huge share of the money that goes into growing weed indoors is usually spent on the electricity bill for running lights and ventilation for 12, 16, 20, and sometimes even 24 hours a day for several months straight. Windowsill pot, on the contrary, has the sun as its source of light, which makes it sort of a fusion between indoor and outdoor-grown weed.
Of course, while growing weed on a windowsill is cheap and easy, it definitely has its cons. Windowsill weed is usually smaller and less productive than cannabis cultivated outdoors or in grow rooms/tents. This happens because the light intake of windowsill pot will always be smaller than that of outdoor weed, and the amount of soil that can be put on a windowsill isn't sufficient for growing huge marijuana bushes. Another major con is privacy – often, your cannabis windowsill grow can be detected from the outside. We'll cover this issue in more detail later, so read on.
Cannabis Seeds For Indoor Growing
VIEW ALL
Windowsill Pot Cultivation: Who Is It For?
While not all growers have access to land, many more of them have empty windowsills on which to grow weed. Hence, if you want to grow weed in an apartment but don't have the space for a grow tent, windowsill pot might be the perfect option for you. Alternatively, you may be a grower on a budget or an aspiring marijuana cultivator who wants to dip their toes into this hobby without investing too much money right away. Just grow weed on a windowsill – you probably won't get the biggest yield possible, but you'll definitely get enough bang for your buck.
How To Grow Weed On A Windowsill
By now, you've probably already decided whether windowsill weed cultivation is for you. Honestly, there's no harm in having an extra plant enjoying the sunshine on your windowsill! In this part, we'll guide you through some main points crucial to growing weed on a windowsill successfully.
Pick The Best Windowsill For Your Pot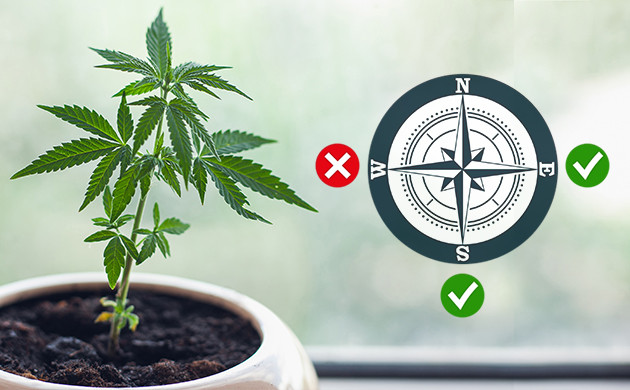 If you only have one windowsill available, there's obviously nothing to decide on here. However, if you have a choice of where to put the plant, preference should be given to the windowsill that receives the most sunlight during the day. East or south-facing windows are clearly the most beneficial. Windowsills facing west should be avoided, as this would add another problem to your daily growing routine – this windowsill area often gets too hot in the afternoon, and your weed plant will be in danger of overheating.
If you live in a highly populated city area with other buildings blocking the sunlight, you may want to consider installing additional lights to meet the needs of your windowsill weed. If you decide on growing cannabis indoors in winter on a windowsill, shorter daylight will prevent your plant from getting enough light – additional lights will also be required in this case, especially if you pick photoperiod weed strains to grow on your windowsill. Besides this, windowsills in winter can be quite cold – make sure your plants are warm and don't suffer from temperature fluctuations. To achieve this, don't open the windows too often if it's freezing outside, and when you do, put the weed plant on the floor while the window is open.
Small Plants
VIEW ALL
Pick The Right Windowsill Weed Strain
You've picked the windowsill, now let's decide what you're going to grow on it. For an easy-breezy yet successful windowsill weed grow op, you want to choose smaller cannabis strains that will fit well in the tight area and won't fall from it, even when the plant reaches maturity. If you're asking yourself, "Can automatic weed grow on a windowsill?", we have the answer – autoflowering cannabis strains are simply perfect for this! These strains are compact, sturdy, and don't require changing the light schedule, so you can grow them on your windowsill basically all year long! To avoid problems with light schedules, we wouldn't advise having photoperiod strains on your windowsill. Instead, here are three autos that will thrive by your window!
Jack Herer Auto
Jack Herer Auto (GHS)
Autoflowering

Stone that blows your mind and body

20 %

700 g/m² indoors
80 - 100 g/plant outdoors
View strain
Green House Seeds put a lot of work into creating an auto version of the legendary Jack Herer strain, and they succeeded! This speedy auto finishes in just 9 to 10 weeks and has the same effects as its famous father: it's fast-hitting and electrifying thanks to its 20% THC. This bush produces up to 120g (4.2oz) of citrus, pepper, and mint-flavored buds while reaching a maximum height of only 80cm indoors (2'7") – a perfect fit for a windowsill!
Extreme Impact Auto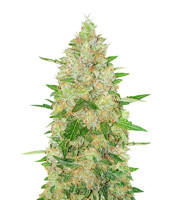 Extreme Impact Auto (Heavyweight Seeds)
Autoflowering

Crushing blow

650 g/m² indoors
50 - 150 g/plant outdoors

21 %
View strain
Extreme Impact Auto should be chosen by those cannabis gardeners who rely on the unpretentiousness of their plants. It's a tough and stress-resistant bush that doesn't require much attention – just don't forget to water it! With a height of only 80cm (2'7"), Extreme Impact Auto will also fit great on your windowsill. Even better, this 21% THC autoflowering Indica is a hard-hitter! Better suited for nighttime use, Extreme Impact Auto provides extreme-level relaxation of the body and mind, all packed into spicy buds with notes of lime and lemon.
Auto Orange Bud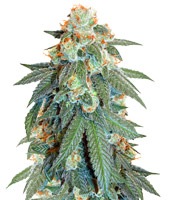 Auto Orange Bud (Dutch Passion)
Autoflowering

Activation of creativity

400 - 500 g/m²

26 %
View strain
Dutch Passion's Auto Orange Bud became popular for its uplifting effects and bright appearance – you'll love these fluffy buds covered in fiery orange pistils. Despite the prevalence of its Sativa genetics, this autoflowering cannabis strain has a fast lifecycle of just 10 weeks. The effects of Auto Orange Bud are a pure Sativa high that clears the mind, energizes the body, uplifts the mood, and stimulates creativity. With 26% THC, it's hard to find a more potent weed bush to grow on a windowsill!
Pick The Container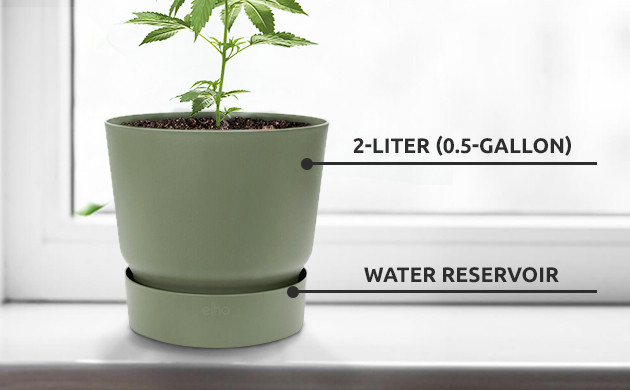 For everything to go well with your windowsill cannabis growing, you'll need to choose the right weed pot that fits your windowsill. Since windowsills are most often narrow, it's better to choose a container that matches in size so that it can occupy the available free space as tightly as possible.
A good idea when growing weed on a windowsill is choosing a taller pot. There will be enough space inside for the root system of your weed bush to develop much better. As a rule, a 2-liter (0.5-gallon) pot is enough for a small plant. This will also be small enough to fit on a windowsill, yet large enough for hemp bushes to grow a decent size. However, if you can go bigger than that, certainly do so – the harvest will only benefit from it.
Another important factor to consider when growing cannabis on a windowsill is the aeration quality of the pot. Pretty often, windowsills are located above radiators, which can quickly dry the soil out throughout the day. If this is your case for you, we advise considering a pot with a water reservoir to ensure the plant has access to moisture if you forget to or cannot water it on time.
Privacy First!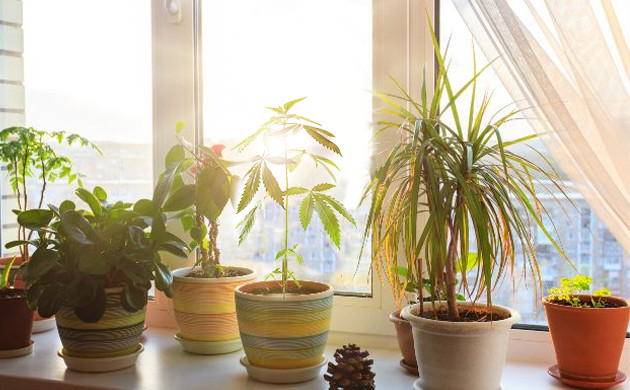 Windows are the most exposed part of your living space, so it's clear that when growing weed on a windowsill, you should think of privacy, especially in places where growing cannabis is still illegal. Luckily, a weed plant can be camouflaged to attract less attention from the outside. Try surrounding it with other house plants to create an illusion of a regular windowsill garden. Another great trick is using fake blooms on your bush to make it look like an exotic flower in a pot. And remember, window screens can not only save you from mosquitos, but also make your windowsill weed less visible! So there are definitely options for keeping your cannabis plants discreet even on windowsills.
Growing Weed Indoors? Easy With Windowsill Weed Growing!
When you think your living space just isn't suitable for growing weed, think again and look at your windowsill! It could be a perfect spot to grow a nice compact cannabis plant that will soon give you a decent yield of potent buds. Have you already tried this method? If so, we're intrigued – don't forget to share your experience in the comment section below.
Herbies Head Shop expressly refuses to support the use, production, or supply of illegal substances. For more details read our Legal Disclaimer.