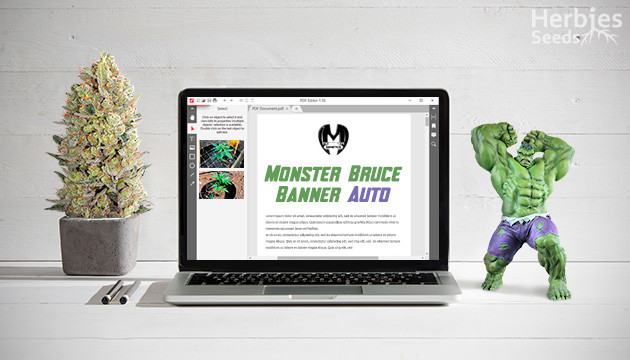 Hey, y'all! I'm an amateur grower from mid-West, who is not that experienced yet, but very eager to keep growing my own cannabis. This grow journal is dedicated to Bruce Banner Auto from Monster Seeds, which I had only 1 seed of, therefore I'm very happy it sprouted very easily. I decided to grow outdoors, as we have lots of sun in my area and I didn't want to worry about grow lights. The same reason is also why I chose an autoflowering strain.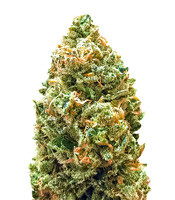 Monster Bruce Banner Auto (Monster Genetics)
Autoflowering

Carried by the flow

25 %

550 g/m² indoors
700 g/plant outdoors
View strain
Monster Bruce Banner Auto: Grow Report On 4 Weeks Of The Vegetative Stage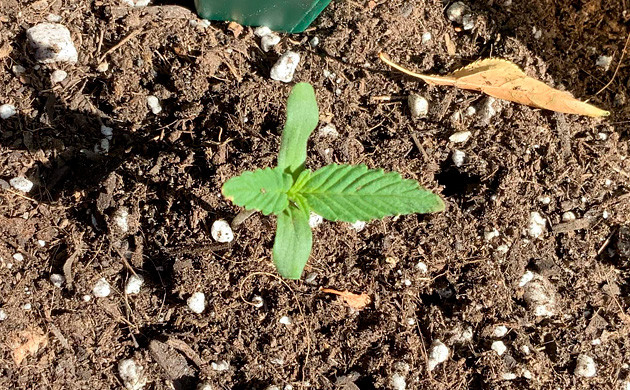 Week 1, Day 1 (July 24). I've planted the Monster Bruce Banner Auto seed straight into the final 15gal pot, and I was happy to see it broke the ground in less than 24 hours! The area I picked receives around 15 hours of light each day (8 hours of direct sunlight), and the temperature gets quite high, around 90F (32C) at peak.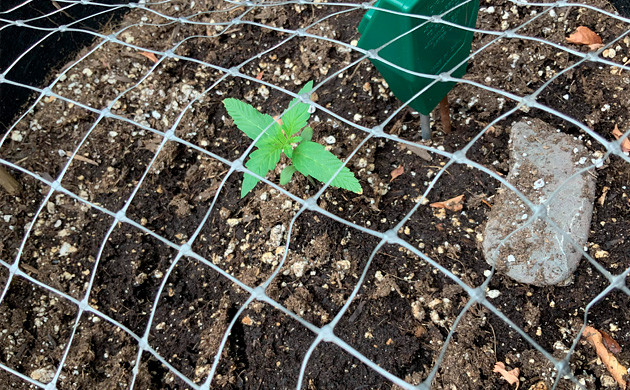 Week 2, Day 9 (August 2). My Monster Bruce Banner Auto plant is now 2,5 inches tall (6,35cm) and looking healthy. I've covered it with a net because my cat almost dug it out a day before.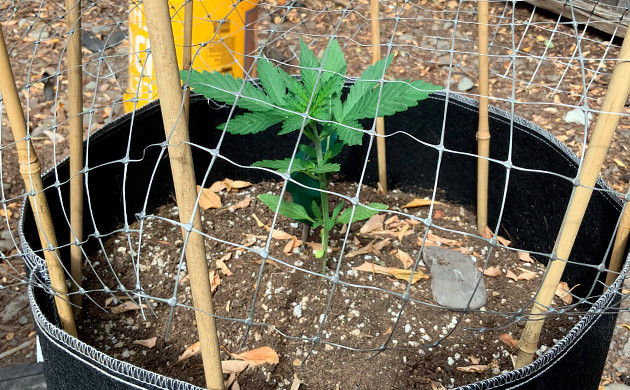 Week 3, Day 15 (August 8). The seedling is stretching nicely and seems to love its spot despite the hot air and sunlight. It's 8,5 inches (22cm) tall now, and I've decided not to train it because I'm scared to mess anything up.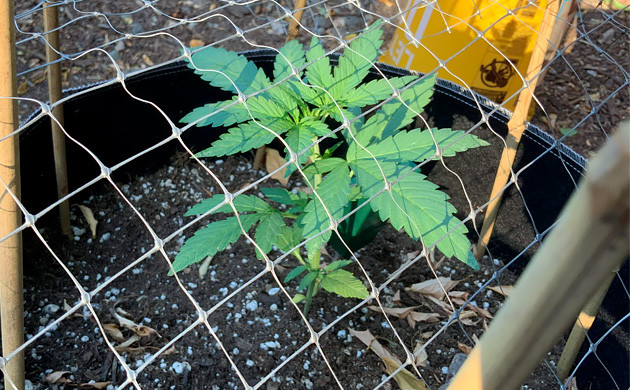 Week 4, Day 22 (August 15). Watering my Monster Bruce Banner Auto for the first time in 12 days, I guess because my pot is so huge for such a small seedling (16 inches/40cm tall this week).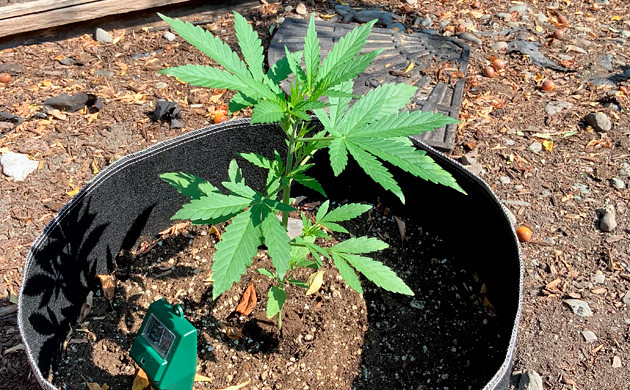 Week 4, Day 26 (August 19). I've started using Spinosad and preemptive sprays because leaves look a little as if they were affected by thrips. I had a failed grow because of them before, so I want to take this issue more seriously this time.
Monster Bruce Banner Auto: Grow Journal For The Flowering Stage
Week 5. She's now 23,5in (60cm) tall and looking beautiful with her bud sites starting to develop.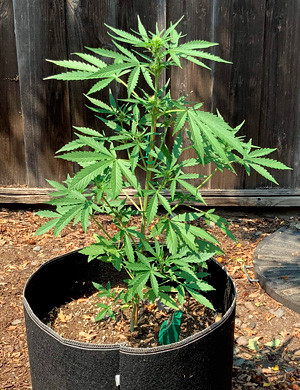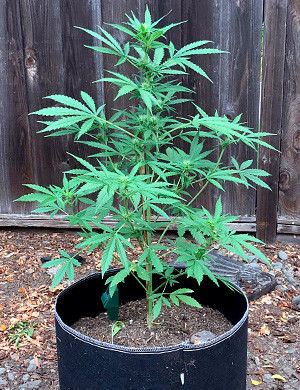 Week 6. My Monster Bruce Banner Auto keeps stretching, and now 27 in (70cm) tall. There are no signs of thrips anymore, but I keep spraying.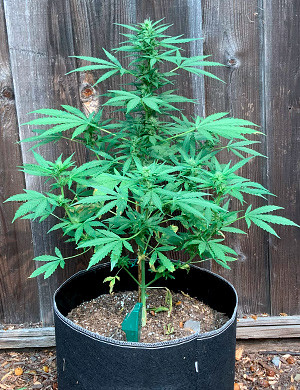 Week 7. The heatwave has hit, and it's been 110F (43C) for two days already. The bigger fan leaves started burning and turning brown on the edges, so I'm putting her away in the shadow.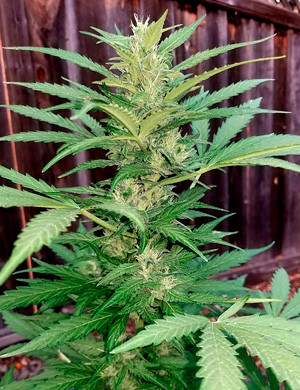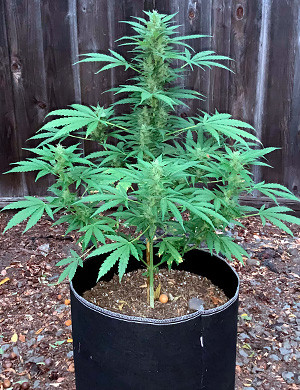 Week 8. No sunlight this week at all, the sky is cloudy, but I'm happy about it, we've survived the heatwave! The hottest it gets these days is 85F(29C). I forgot to track the growth because I was too worried about the sun, but by day 50 my Monster Bruce Banner Auto bush is 30in (74cm) tall. Lots of buds everywhere along the cola! We love to see it!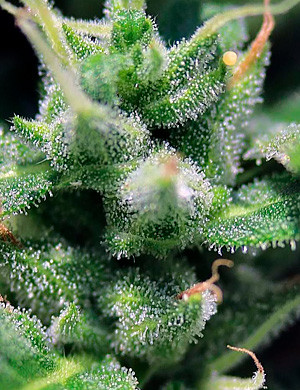 Week 9. She seems to have stopped stretching. I've read about an experimental technique called bud back building, so I've decided to try it out and see if it's going to help buds fatten up. All I had to do is FIM the tops of each cola.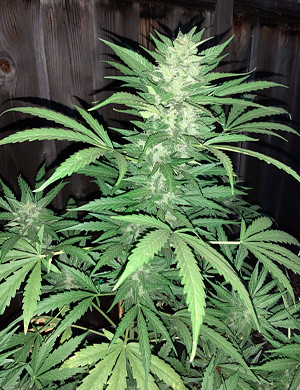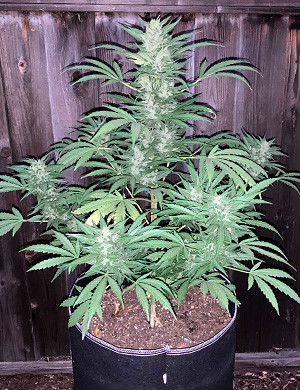 Week 10. It's been around 40 days since the flowering started, and I can see the buds getting whiter and stickier. She's still doing great, and despite the heat, I only water this Monster Bruce Banner Auto once a week or so.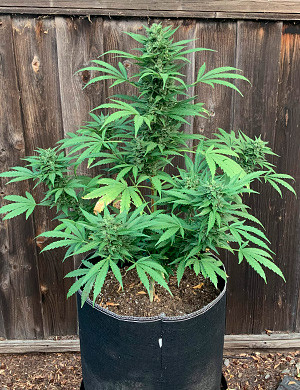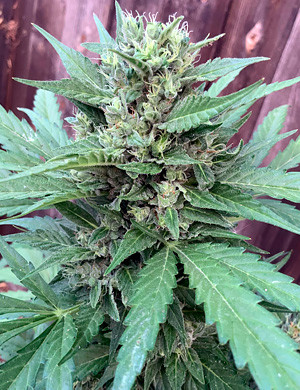 Week 11. It's hit 100F (37C) again! The trichomes start to get milky white, so it means the harvest day is not too far away. However, the buds are getting really hairy, if I can say so. I've never seen anything like this since it's only my second grow, but from what I've read online this could be foxtails due to extreme heat. I don't think it's anything to worry about, though.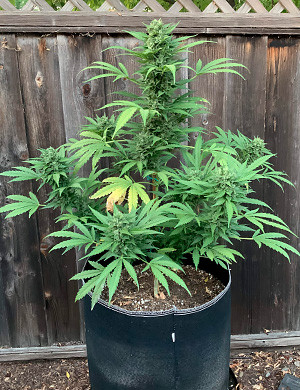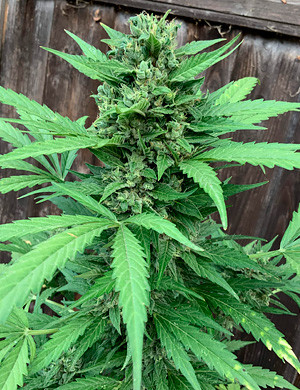 Week 12. I can see that the bud back building has worked! It seems like if I haven't FIMmed the tops 4 weeks into flowering, the buds would be thinner and more pointy. Also, this week I once again found spider mites and thrips on a small area of the main cola, so using Spinosad again! I used the old batch first, but it didn't seem to work, so I opened a new bottle, and the pests stopped moving right away.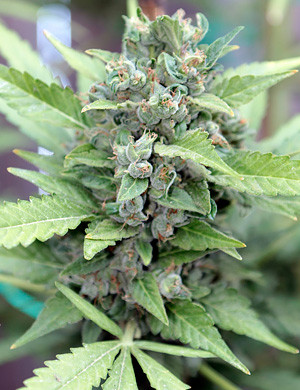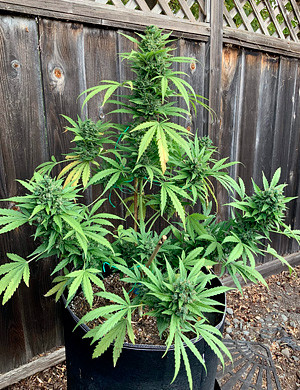 Week 13. Monster Genetics says Monster Bruce Banner Auto should be ready after 8 weeks in flower, which is now, but the pistils are still white, so I keep waiting. Also, I decided to LST the plant to open up the middle section a bit. Thanks to that I received some bad news:
There was a nanner on the main cola where I saw bugs before, clipped it off.
There are aphids! I've collected as many as I could with tape to slow them down.
Anyway, the buds are looking super dense and sticky, and there's a pleasant smell coming through.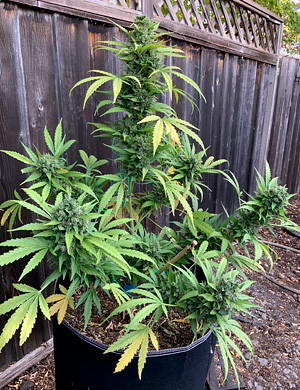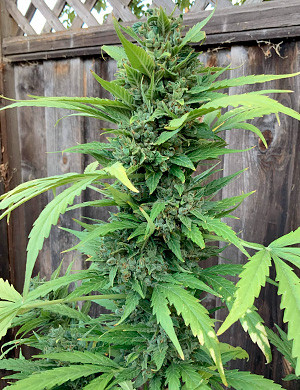 Week 14. The leaves are starting to fade, and pistils have turned brown. The trichomes are partly amber, and I think it's enough! So I'm cutting it down to dry and cure. The result is 16,44oz (466g) from this single plant!
Finishing My Monster Bruce Banner Auto Strain Grow Journal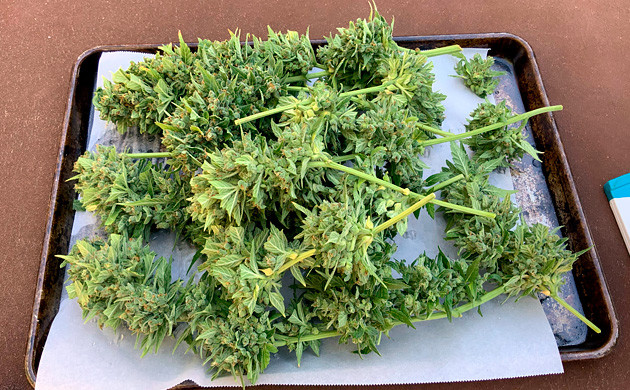 Monster Bruce Banner Auto by Monster Genetics is a great grow! It's much more vigorous than I would think, because it could withstand such extreme weather conditions. Very lucky I didn't have to bring it indoors! The buds are super sticky and smell like a very good quality weed, sweet and dank with some light pine aroma. If you can get yourself some Monster Bruce Banner Auto, I'd say definitely grow it, it's easy and rewarding! Just make sure you have everything on hand to take pest invasions under control in case they happen.
Really hope you enjoyed my Monster Bruce Banner Auto grow journal! I had fun documenting my experience.
Original Sensible Seeds Strains
VIEW ALL
Herbies Head Shop expressly refuses to support the use, production, or supply of illegal substances. For more details read our Legal Disclaimer.