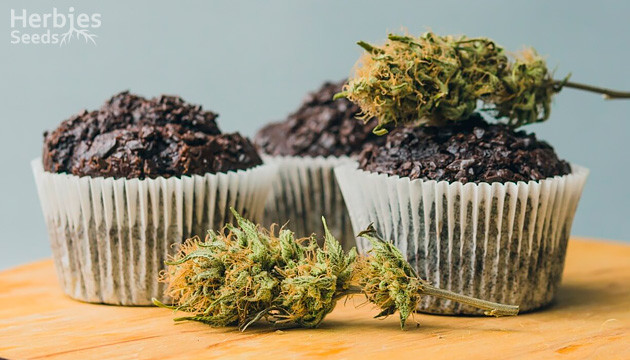 Every sweet tooth out there knows that an energizing sugar rush is not just a myth, and that a good dessert can significantly increase the level of the happiness hormone, endorphin, in one's body. Luckily for us, some genius once decided to combine the pleasure of eating sweets with getting a high from cannabis, and edibles flooded our world. Today, we want to introduce to you a recipe for a weed-infused chocolate cupcake worthy of the best coffee shops around the world!
Chocolate Weed Cupcakes With Caramel Buttercream From Scratch
This recipe might catch inexperienced bakers off-guard, but trust us, you shouldn't be intimidated! Yes, the list of ingredients and steps is quite long, but the results are sure to exceed your expectations. The reward for all your hard work in the kitchen is a decadent and moist chocolate cupcake with a sweet heart and a fluffy top made of salted caramel buttercream. Heaven!
Equipment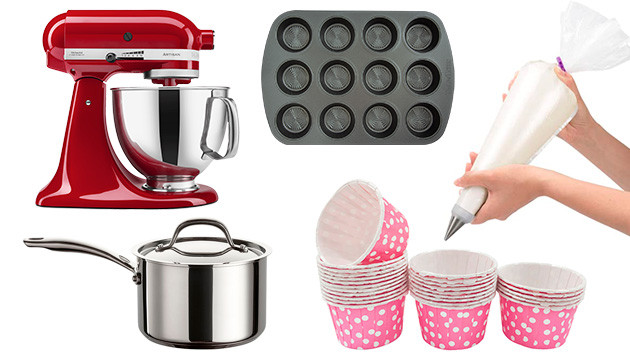 For this recipe, you're going to need a pretty standard set of baking equipment. The one appliance that's absolutely essential here for achieving the best possible texture of both the cupcake and the buttercream is a mixer. It doesn't matter if it's a fancy stand mixer or just a hand one! However, a simple whisk might not be effective enough.
You'll need:
A mixer
Muffin tins
2 saucepans (although you can make it work with 1 if necessary)
Cupcake papers
A candy thermometer (optional)
A piping bag or spatula for decorating
Ingredients
Don't let the lengthy list of ingredients scare you – with our detailed step-by-step instructions, bakers of any level will be ready to fill their fridge with tasty and heavy-hitting bits of this chocolate and caramel delight.
For The Cupcakes
To make the batter for 36 mini (or 18 regular) chocolate cupcakes, you'll need to prepare the following ingredients:
Sugar – 450g (1 lb) or 2 cups
Brown sugar – 200g (7 oz) or 1 cup
Eggs – 4
Oil – 2 cups
Milk (lukewarm) – 2 cups
All-purpose flour – 450g (1 lb) (you can substitute it 1/1 for cake flour)
Cocoa powder – 113g (4 oz)
Cinnamon – 1 tsp
Baking powder – 1 tsp
Baking soda – 1 tsp
Salt – 1 tsp
Unsweetened chocolate – 113g (4 oz)
For The Caramel Sauce
To make the cupcakes truly special, you can't skip the caramel sauce. This will become the base for our buttercream and the perfect finishing touch, our caramel drizzle. The ingredients are as follows:
Heavy cream – 1 and ¼ cup
Cannabutter (check out our recipe) – 5 tbsp
Sea salt – 1 tsp
Sugar – 1 and ½ cups
Corn syrup – ¼ cup
Water – ¼ cup
For The Salted Caramel Buttercream
Finally, you're going to use the freshly-made caramel for the buttercream. Besides the caramel itself, you're going to add just two more simple ingredients:
Butter – 220g (8 oz)
Confectioners' sugar (sifted) – 2 cups
Salt – 1 tsp 
How To Make Weed Cupcakes: Directions
To create the multiple layers of crave-worthy taste, we'll make three separate parts of the canna dessert: the cupcake base, the THC-infused salted caramel and the salted caramel buttercream.
Making The Cupcakes
To make the actual sponge for our cupcakes, we'll cover five steps in total. The best part about it is that the cupcakes will have a rich taste and light texture, but most of the work to achieve this result will be done by your mixer.
Step 1: Beat Sugar And Eggs Together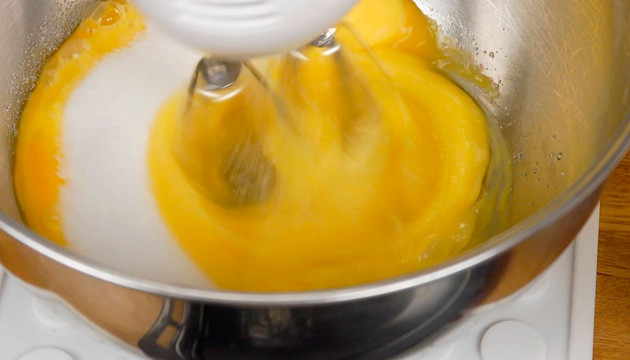 To start off, you need to beat both the regular sugar and brown sugar together with 4 eggs. Using your mixer, beat the eggs until they turn into fluffy yellowish foam and gradually add brown and regular sugar – the order is not important.
Step 2: Add Oil And Milk To The Mix
Slowly add your oil to the mixture, then the milk. Remember that the milk shouldn't be cold. If everything is done correctly, you'll see the mixture emulsify. Keep beating for a little longer and get to the next step.
Step 3: Sift And Add The Dry Ingredients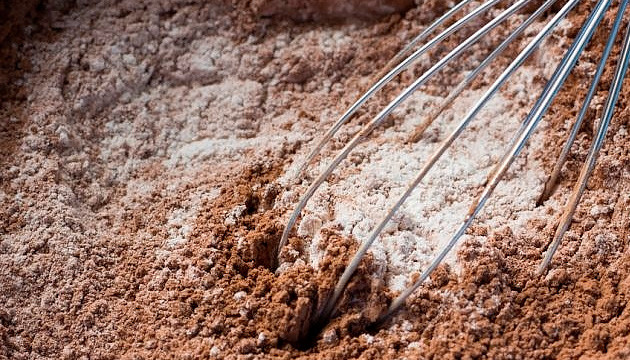 For this step, you need to sift all the dry ingredients (all-purpose flour, cocoa powder, cinnamon, baking powder, baking soda, salt) and add them into the mix of sugar, eggs, oil and milk. Sifting them will add some extra air and lightness to the batter. You can choose to either mix all of them first and then sift them together into the liquid, or sift and add them one by one. If you choose the latter, we recommend adding the flour last so as not to beat the batter for too long – if you overmix the flour, you risk ending up with denser and dryer cupcakes.
Step 4: Add Melted Chocolate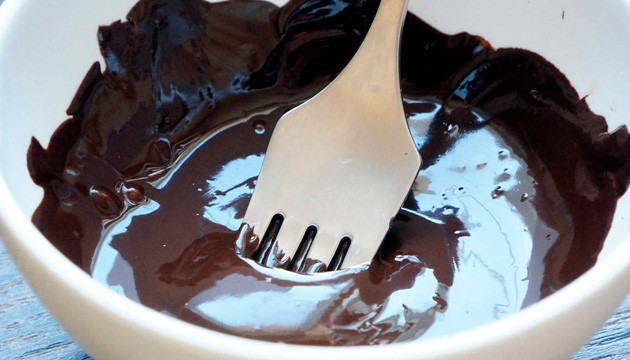 Melt the chocolate in the microwave (10 seconds at a time and stirring after each turn) or in a double boiler. Add it to the batter and beat a little more until the melted chocolate is fully incorporated into the mix – you'll know that by the even color and consistency of the batter.
Step 5: Fill The Tins And Bake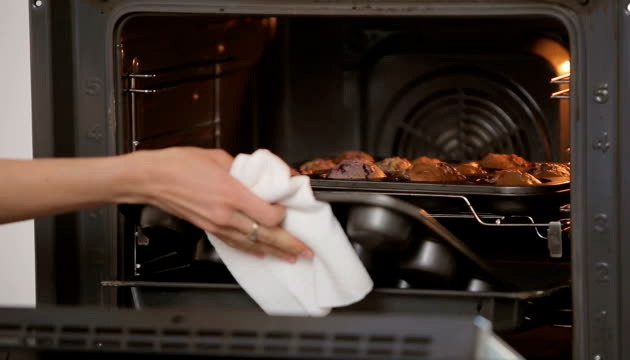 You're done with the batter! Now it's time to line your tins with cupcake papers and bake everything in the oven at 180 C (350 F) for 10-15 minutes if you're making mini weed cupcakes, and for 20-25 minutes if you're making regular-sized cupcakes. It may take a little longer than this depending on your oven – just insert a toothpick in the middle of one of the cupcakes to check. If the toothpick comes out clean, the cupcakes are ready. Take them out to cool to room temperature.
Making The Caramel Sauce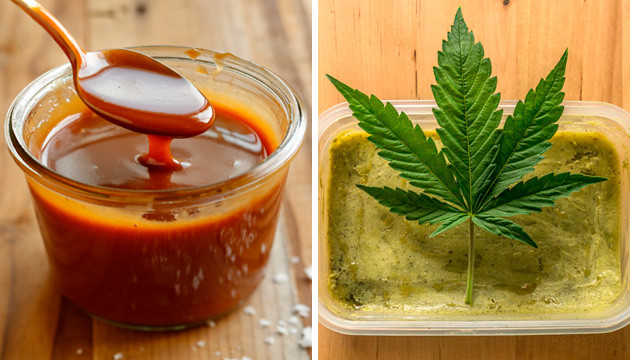 The caramel sauce could rightfully be called the most important part of our cupcakes, as it's going to deliver that THC kick we're looking for. It's going to form the base for the buttercream. 
Step 1: Sugar + Corn Syrup + Water
In a medium-sized saucepan, combine the sugar, corn syrup and water. Check the sides of the saucepan – they need to be clean from any sugar granules. This is important to ensure a smooth caramel with perfect texture.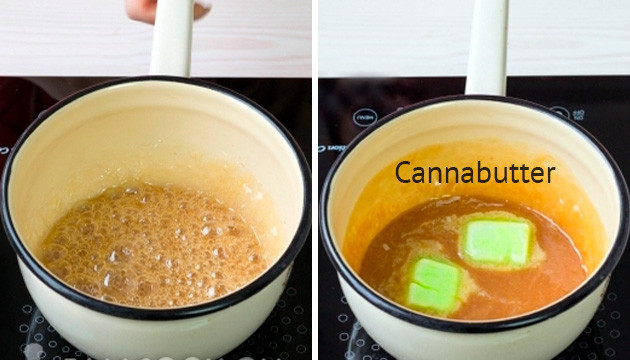 Step 2: Cream + Cannabutter + Sea Salt
In a different medium-sized saucepan, mix together the heavy cream, cannabutter and sea salt. Heat it over low to medium heat until butter is completely melted, then set aside.
Step 3: Combine The Two
Cook the sugar mixture over low to medium heat until it starts boiling. Watch the mixture carefully: when it turns to light amber in color, start slowly pouring in the cream and butter liquid until both mixtures are in the same pot.
Step 4: Cook And Stir, Cook And Stir*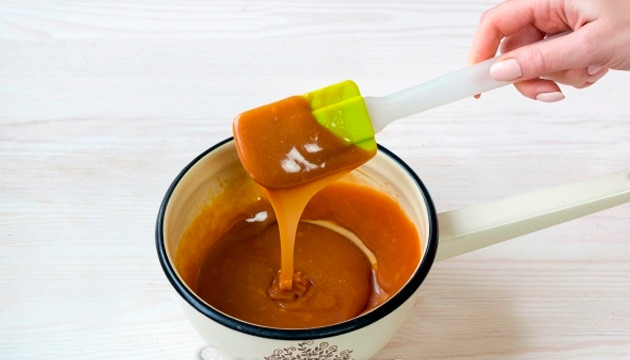 Stir the mixture well and continue cooking the caramel sauce. It's okay if it bubbles up a little – just make sure it doesn't boil over. For that, you'll need to keep stirring occasionally. The caramel is ready when the candy thermometer shows 120 C (248 F). If you don't have a thermometer, just stop cooking after around 12 minutes, when the caramel is still a little more liquid than you're used to – it will thicken once cool.
Making The Salted Caramel Buttercream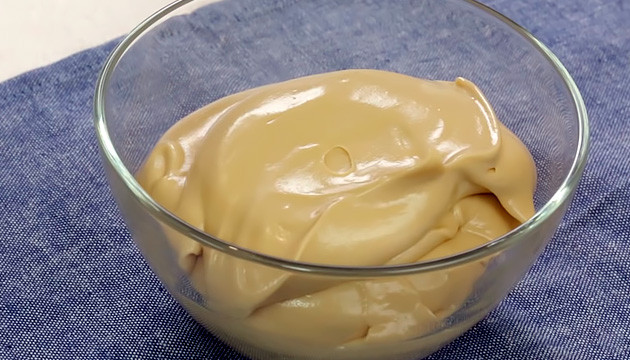 Finally, you've reached by far the easiest part of making our canna dessert! Clean the bowl of your mixer. Also make sure your butter is nice and soft and that your caramel has already cooled down to room temperature.
The First And Last Step: Let The Mixer Do The Work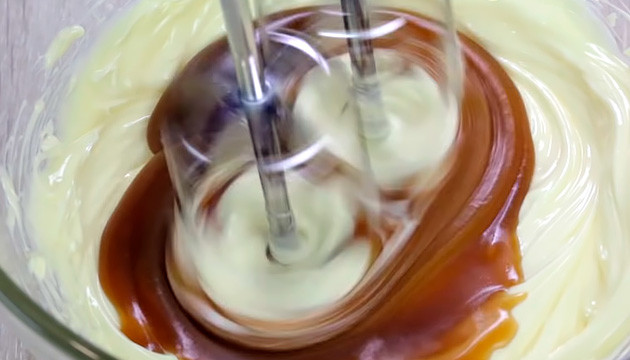 Put all the ingredients – sugar, soft butter, room-temperature caramel (make sure to leave a couple tablespoons for drizzling) and salt – in a bowl. Beat the mixture on high until fluffy and light. Depending on the mixer, this may take from 5 to 10 minutes. If you're unsure, try a simple finger test! Take a small amount of the buttercream and roll it in between your fingertips. If it feels light and airy and there are no sugar granules, the buttercream is ready to top the weed cupcakes.
Assemble The Marijuana Cupcakes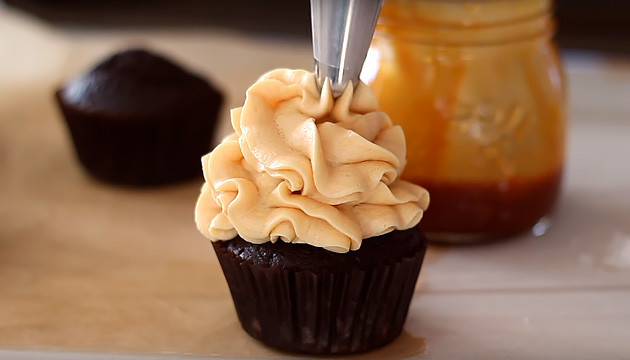 One more step and there's nothing else between you and the long-awaited, 100% heavenly bite. Using either a piping bag or a small knife and offset spatula, inject the cupcakes with salted caramel buttercream hearts. Next, pipe out or just smear a big swirl of buttercream on top of each cupcake. Finish with a generous drizzle of cannabis-infused salted caramel.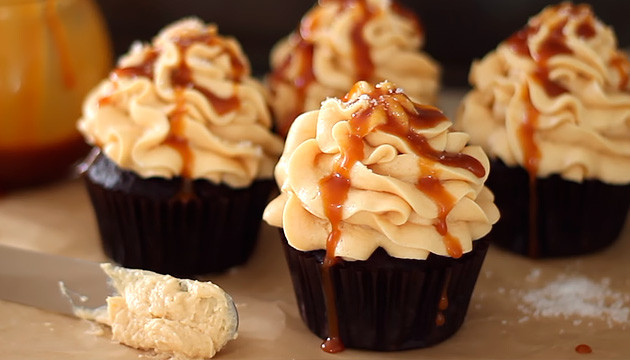 Pro tip: If you used a knife to carve out some space for the buttercream centers, you'll have some sponge pieces left. For an extra fancy final touch, crumble up the pieces, dry them out in the oven and sprinkle on top of your frosted marijuana cupcakes.
If You're Feeling A Little Lazy
Now you see that the process is actually not that difficult! However, there are times when we just don't have much time to cook but still want to treat ourselves with a delicious edible. For moments like this, we always have a couple of tricks up our sleeve. Check them out.
Trick 1: Use A Cupcake/Cake Mix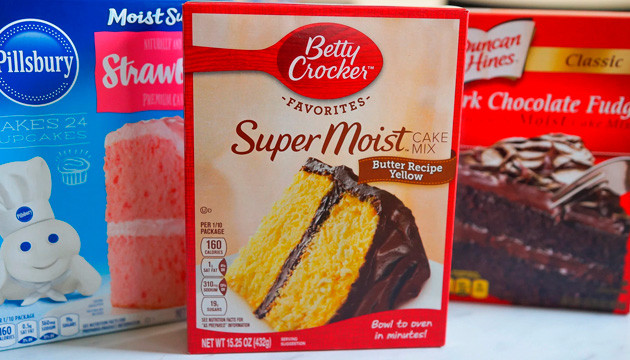 For a quick baked edible, you can always use a good old store-bought cake mix. Be it chocolate, vanilla or funfetti, simply follow the directions on the package and use your cannabutter, depending on its potency, instead of the 1/3-1/2 of required fat. Also, we'd definitely recommend topping it with our caramel buttercream (it's just so delicious). However, make sure you're aware of the exact potency of each portion.
Trick 2: Use Cannabuttercream On Any Cupcake
While we encourage you to try the salted caramel buttercream from the recipe above, sometimes you need something quick and simple. If you have some cake or banana bread ready and want to add an extra kick of THC to it, just beat 3 cups of icing sugar, 1/3 cup of cannabutter and 5 tbsp of milk until smooth. It's a basic recipe that you can flavor however you want by adding vanilla, melted chocolate or peanut butter.
Trick 3: Use Store-Bought Icing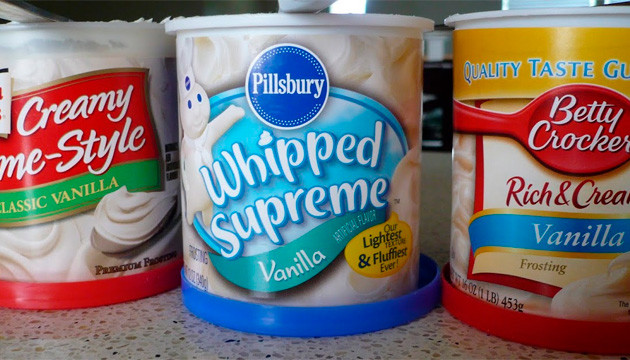 Another trick for a quick and simple edible is to mix some cannabutter into store-bought icing or an icing mix. Again, always make sure you know the potency of the cannabutter you use. In case you don't, it's always good advice to add less rather than more.
Treat Cannabutter Potency Seriously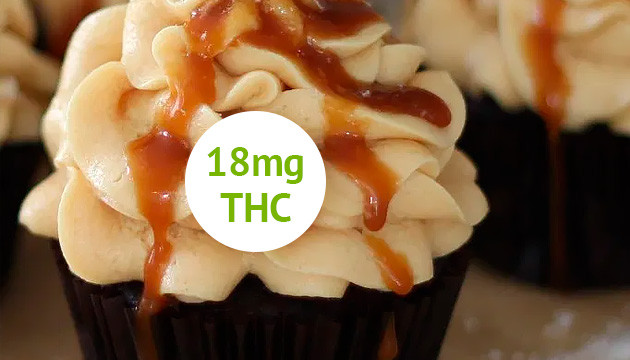 We've mentioned cannabutter potency a dozen times in this post for a single reason – the high from edibles can be overwhelming and even uncomfortable if your green treat isn't dosed correctly. Always remember that the safe dosage per person is up to 15mg for unaccustomed consumers and up to 30mg for seasoned users. So, even before starting to work on these cupcakes, make sure you know how much THC each of them will contain. Check out our foolproof cannabutter recipe. If you use it for making these chocolate cannabis cupcakes, each of them will contain 18mg of THC (considering you're making 36 mini cupcakes). It's always easy to tweak this dosage by adding either more cannabutter or more regular butter to the recipe.
So Good You'll Be Licking Your Fingers
Cannabis desserts are a wonderful treat for the taste buds and mind alike. Shared with a huge party of friends or enjoyed alone over a quiet wake and bake session, these luscious cupcakes with caramel buttercream and a drizzle on top are THC-infused perfection. Are you getting hungry already? Then let's get cooking and share the results of our kitchen adventures in the comments below.