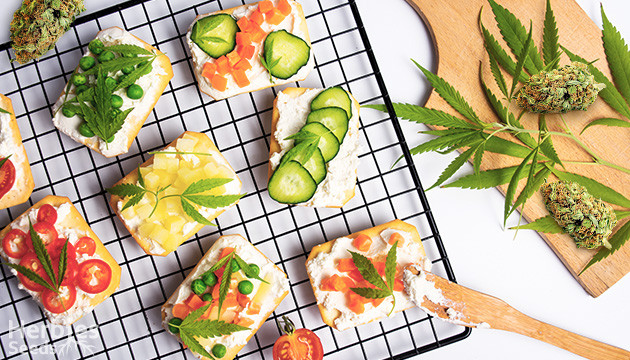 It's time to talk edibles. Whether you want to make infused brownies, cocktails, or an Italian pasta dish, there's still one thing left to consider: which strain to use! In this article, we'll tackle the various factors you should consider when making marijuana edibles, then clue you in on what we consider to be the best strains for them.
The Difference Between Smoking Weed And Eating It
Is it really worth all the effort to make edibles instead of just rolling a doobie? Well, yeah! Most stoners agree that getting high via edibles has a more powerful effect than smoking. Not only that, it lasts far longer (even though it takes a while to hit) and is often described as a full body and even psychedelic experience. Plus, you don't have to worry about the harshness of smoking, and it's discreet! We don't have to tell you that edibles are also delicious, right? If you've got a sweet tooth, check out our recipes for infused cupcakes and brownies.
Things To Consider When Choosing A Strain For Edibles
There are a few things to keep in mind when picking out a strain for your edibles. Do you want a Sativa or an Indica effect? What about the potency, cannabinoids and terpenes? Knowing what you want will help you narrow down what strain is best for you.
Picking The Perfect Potency
It's important to know the cannabinoid content (THC and CBD) of the weed you're working with before you get started so that you can more precisely measure how strong your edibles are going to be. This really depends on the potency you're seeking. If you're a novice to edibles, it's not a bad idea to make some low-dose edibles so you don't get high out of your mind. And did you know that edibles can be made with not just cannabis flowers, but also other parts of the plant like the leaves or even stems (which still contain THC, just not as much as the buds)?
Sativa Dominant Cannabis Strains
VIEW ALL
Sativa Vs. Indica Edibles: What's The Difference?
Generally, Sativa strains are more euphoric and uplifting while Indicas are relaxing and sedating. Although only the most resilient cannabinoids survive the decarboxylation process, your edibles can still exhibit "a faint allegiance" to the strain's Sativa or Indica characteristics. Some people don't agree with this conclusion, so it's up to you to decide if you can spot any difference between them. However, we at Herbies definitely think the strain you choose has an impact on the edible high... and the flavor!
Indica Dominant Cannabis Strains
VIEW ALL
Terpenes Are Where The Flavor Is
Terpenes are responsible for the different scents and flavors associated with weed. They develop in the trichomes of the buds and can be piney, fruity, herbal, citrusy or peppery. Choosing the right strain for your edibles also means paying attention to the terpene profile present in the cannabis strain you want to use. Although many of the flavonoids and terpenes are destroyed when you decarb your weed, some of those attributes remain in the final product. For example, a fruity strain is going to be perfect for baking, while something more herbal and peppery might be better for an infused pasta dish.
Our Favorite Strains For Edibles
We've done the research and hand-picked the best strains for making edibles based on their effects and terpene profiles. That makes these strains not only great for smoking, but also ideal for cooking a variety of dishes. Let's dive in.
Get Baked With Blueberry
Blueberry (Dutch Passion)
Photoperiod

Legen - wait for it - dary

20 %

300 g/m² indoors
Go to strain
First up is Blueberry, a fast-hitting Indica-dominant hybrid with up to 26% THC. This strain has a simply heavenly aroma and flavor – earthy with strong berry notes – that will have your mouth watering before you even start making some edibles. Perhaps you find yourself a little inspired by the name of this strain: try making some infused blueberry muffins and you won't be disappointed. However, resist the temptation to eat more than one, because this strain has a strong couch-lock effect!
Strongest Strains
VIEW ALL
Purple Punch Cookies For Dessert
Purple Punch Cookies (Original Sensible Seeds)
Purple Punch Cookies is another hybrid that doesn't waste any time kicking in. This strain is a cross between Gelato, Granddaddy Purple and Girl Scout Cookies, so you can already guess that she's pretty potent. Her ancestry points to a complex flavor profile that's sweet and fruity, and contrasted by incense and hash notes. Flavor aside, Purple Punch Cookies will deliver a cerebral high followed by a balanced sedating effect. We think this strain would be super fun in some infused Rice Krispies Treats.
Start Cookin' With Franco's Lemon Cheese
Franco's Lemon Cheese (GHS)
Photoperiod

2 in 1: medical and social

21.58 %

750 g/m² indoors
1000 g/plant outdoors
Go to strain
For those that don't have much of a sweet tooth, edibles don't always have to be dessert! Whether you make cannabutter or infuse some cooking oil, you can diversify your edible experience with Franco's Lemon Cheese. This Sativa-dominant hybrid provides an energizing high when smoked, so it follows that it would also be appropriate for making some of the best Sativa edibles. And we haven't even mentioned the unique lemony smell and cheesy flavor! Put on your apron and bust out some olive oil infused with this strain – Franco's Lemon Cheese is perfect for lasagna or spaghetti aglio e olio.
Treat Yourself With Glue Gelato Auto
Glue Gelato Auto (Barney's Farm)
Autoflowering

Unique sense of cheerfulness

High

600 g/m² indoors
400 g/plant outdoors
Go to strain
If you're a fan of a high that starts invigoratingly before fading into a body stone, you need to check out Glue Gelato Auto, a 70% Indica-dominant strain with lots of THC. Both of her ancestors, Gorilla Glue and Gelato, have impressive terpene profiles that are hugely influential on Glue Gelato's own flavors and aromas. Chocolatey and spicy, this strain will make some killer brownies.
Chow Down On Blueberry Gum
Blueberry Gum (G13 Labs)
Photoperiod

Stone allmighty

No official information

500 g/m² indoors
1100 g/plant outdoors
Go to strain
It isn't hard to figure out what Blueberry Gum tastes like: like a deliciously fruity chewing gum! This strain provides the typical Indica buzz that offers relaxation and long-lasting calm, and is a lot of fun to mix into cocktails and mocktails alike. Try our recipe for infused lemonade with this strain as the perfect way to chill out after a long day.
Edibles Are A World Of Possibilities!
The bottom line is that the best weed for edibles is a strain that has the traits you desire. If you're looking for something to start your day, go for a Sativa. If you're just trying to have a lazy Saturday on the couch, an Indica strain will keep you there. Just remember, homemade edibles aren't usually uniform in potency, so start with a little bit before you dose again!
Herbies Head Shop expressly refuses to support the use, production, or supply of illegal substances. For more details read our Legal Disclaimer.