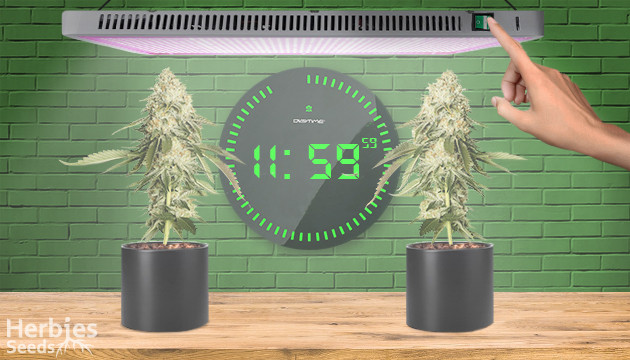 Some of the most sacred rules of cannabis growing tell us that in order to grow and successfully harvest photoperiod strains, you need to let the plants grow and gain mass during their vegetative period. Now, what if we told you that some rules are meant to be broken? Thanks to some daring enthusiasts who weren't afraid to take a risk, we now know that even photoperiod strains can be grown 12/12 from seed – in other words, put straight into the flowering phase the day they germinate. Should you try it? Is it worth it? What about the yields from 12/12 from seed? In the true spirit of experimentation, we're going to answer these questions and many more in this Herbies article, so read on!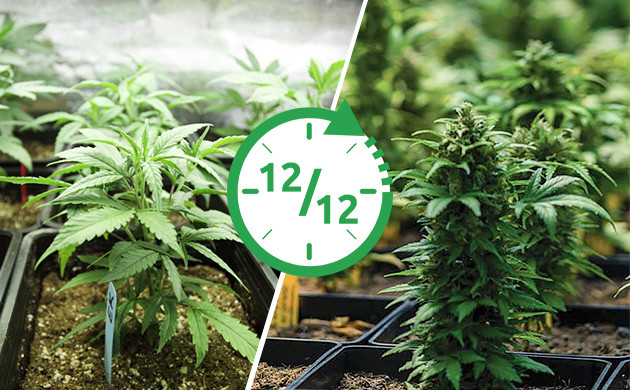 12/12 From Seed: The Method Explained
We know, it's exciting to find out that there's a way to stop all the questions about exactly how and when to transition plants grown from photoperiod seeds into the flowering stage. With the 12/12 light cycle from seed, you give your weed plant 12 hours of light and 12 hours of darkness every day without exception, from the day the seed pops until the day you snip off the buds. That's one problem less – but at what cost does this convenience come?
The Role Of Veg And Flower
Of course, if cannabis plants naturally go through both vegetative and flowering stages, they need these periods for certain reasons. During the vegetative stage, which lasts while photoperiod strains receive more than 12 hours of light per day, cannabis plants actively grow, become thicker and taller, and often reach their maximum possible height, signaling that they're mature enough to procreate and make buds.
When the schedule is switched to 12 hours of light per day or less, the plant can still stretch a little, especially if it's a Sativa, but from that moment on, it will direct all its accumulated power to making those sticky and smelly buds we grow cannabis for in the first place.
Apparently, however, you can skip the vegetative phase entirely and set your cannabis to 12/12 from seed. So, what are the consequences of skipping the veg?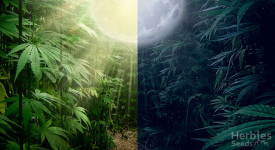 Cannabis Light Schedule
READ NOW
What Happens When You Skip The Veg?
If you decide to skip the veg and carry out the 12/12 from seed grow at home, you need to understand that by switching cannabis plants to flowering straight after germination, you deprive them of the time and light energy they would normally use to grow, mature, and prepare themselves for developing buds. With the 12/12 light cycle from seed, your photoperiod cannabis plant will only reach the minimal mass and height that it can use to start procreating. As the result, plants grown on 12/12 from seed become extremely compact, and thus yield less than their counterparts that went through the standard vegetative period.
However, such a bold move proves that there's still much to learn about cannabis growing. While we wouldn't have dared to even think of skipping the veg before, we now know that cannabis won't die, and indeed will still yield buds, if we use 12/12 from the day the seed pops. If you're looking for proof, there's lots of it in the special 12/12 from seed Growdiaries section, where growers share their experiences with skipping the vegetative period.
Now let's move on to the pros and cons of this growing method. Give it a read-through and decide whether 12/12 from seed is worth it for you.
Pros Of 12/12 From Seed
Shorter grow cycle. When growing 12/12 from seed, how long do you have to wait until harvest? By skipping the vegetative period, which usually lasts at least a couple of months depending on the strain, you save all that time and can harvest buds up to three months earlier than you normally would.
Compact plants. Depending on whether you choose a Sativa or an Indica for your 12/12 from seed grow, these marijuana plants can be smaller or bigger. However, they'll rarely exceed 50cm (1'7"), resulting in a so-called bud stick plant – which, by the way, looks super adorable!
Stealthiness. The previous pro brings us to the exceptional stealthiness of 12/12 from seed cannabis plants. Smaller plants are easier to hide, and they also smell much less pungent.
Cheaper grow. Smaller marijuana plants grown at 12/12 from seed can help you save lots of money on water, nutrients, grow space, and especially electricity, the latter of which usually results in the most spending when growing weed at home. 
Cons Of 12/12 From Seed
Limited training possibilities. As most training techniques are used during cannabis' vegetative stage, when this is gone, so are most of the training possibilities! If you decide to skip veg, you should realize that the only available training methods for your plants will be some light LST and SOG.
Low yields. By far the main con of growing weed 12/12 from seed is that yield per plant becomes quite low – in some cases, extremely low! Some cannabis forum posts report yields as low as a couple of grams. However, everything will depend on the strain and your skills. For example, this grower reports harvesting 280g (10oz) of dry buds from six plants, and another one 21.5g (0.8oz) from a single 12/12 from seed weed plant.
However, there are ways to minimize the disadvantages of this experimental growing method while still benefitting from faster, cheaper, and smaller cannabis plants. Let's find out how.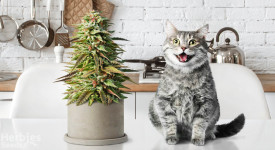 Short Sativa Strains
READ NOW
Proven Ways To Increase 12/12 From Seed Yield
If you grow 12/12 from seed, the yields you'll harvest as a result may be disappointing. So that this doesn't happen, we've collected some secrets that will help you yield more and still skip the veg.
Start With Longer Daylight
Even though the method we're discussing is still quite fresh and relatively unfamiliar, some growers have noticed that when you grow weed 12/12 from seed, it doesn't start developing buds until 2-3 weeks after germination, even under this shortage of light. This is the period of gaining minimal mass and height that we were talking about earlier. Therefore, if you don't mind making your plants a little bigger and sturdier, you can start from 18/6 and keep it for the initial three weeks, after which you'll switch to 12/12. By doing so, you won't make the whole cycle longer, but the size of the plant (and hence its yield) will get much bigger thanks to the increased light intake during those first weeks.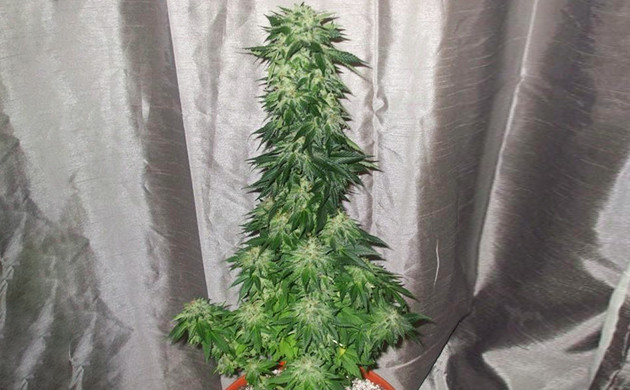 Use LST
To improve 12/12 from seed yield, you can try LST (low-stress training). Don't be afraid to gently bend and tie the stalk while it grows to expose bud sites to more light. It's also a great idea to defoliate your little pal once in a while to improve airflow and light penetration. All of this will positively impact your yields. The key here, however, is to be careful, start slow, and watch your 12/12 plant's reaction to training.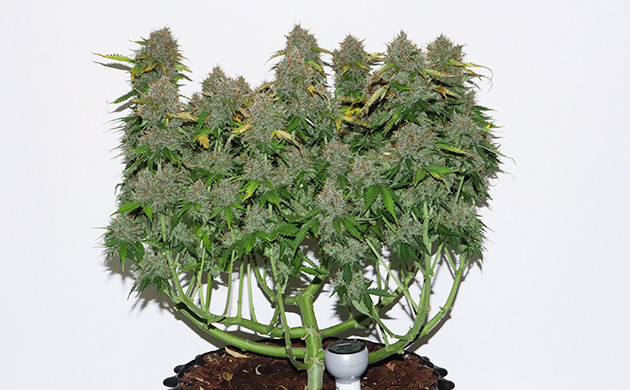 Use SOG
SOG, or Sea of Green, works great together with 12/12 from seed. The technique is not difficult at all and basically implies growing many small plants together instead of a single larger one. To truly harvest decent yields from 12/12, grow them together! For best results, switch to 12/12 in the second or third week after germination. Just remember that if you do so, the plants won't be as tiny.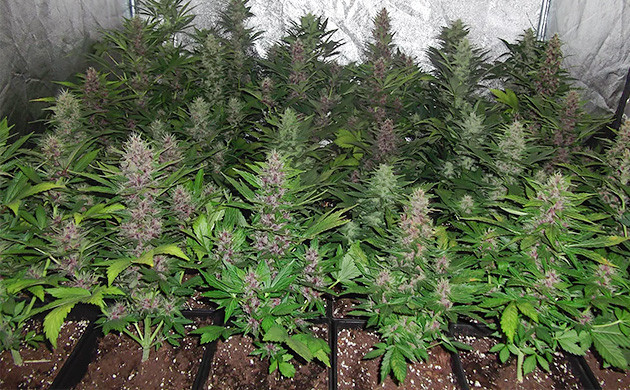 What Cannabis Seeds Are Best Suited For 12/12 From Seed?
We recommend turning your attention to Indicas and Indica-dominant strains for the 12/12 from seed experiment, as they tend to stretch the least during flowering anyway, giving you more control over the process. Next are some examples of cannabis seeds that are perfect for a 12/12 light cycle grow.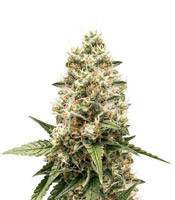 Critical Kush (Barney's Farm)
Photoperiod

Enormous relaxation

25 %

650 g/m² indoors
View strain
Critical Kush (Barney's Farm)
Critical Kush from Barney's Farm is your ticket to happy nights by the TV, laughing your heart out beside good friends and delicious snacks. This cannabis strain is not only euphoria in its purest form, but also a 100% Indica that's ideal for 12/12 from seed. It's naturally high-yielding, so there's going to be more buds on that cute stick weed tree you grow.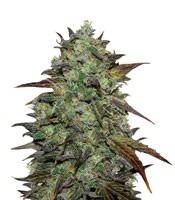 Eleven Roses (Delicious Seeds)
Photoperiod

600 g/m² indoors
2000 g/plant outdoors

11 steps to bliss

24.8 %
View strain
Eleven Roses (Delicious Seeds)
Eleven Roses from Delicious Seeds is likewise a high-yielding Indica, whose ability to grow an abundance of buds will perfectly translate into a 12/12 from seed schedule. This strain will guarantee you won't be left with a miniscule harvest. Besides that, these buds pack a bunch in terms of their narcotic-like, relaxing effects, and they boast a complex flavor profile combining notes of fruit and metal.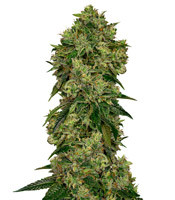 Glookies (Barney's Farm)
Photoperiod

Begin your own mind trip

700 - 800 g/m² indoors
2000 - 3000 g/plant outdoors

25 %
View strain
Glookies (Barney's Farm)
Cerebral and mind-bending, Glookies from Barney's Farm is a perfect choice for growers of any level due to its inherited resilience. It will easily withstand any experiment, 12/12 from seed included, to produce extra-sticky and fragrant buds ideal for making concentrates or smoking on their own. The added bonus is a rare combo of flavors: nuts, lime, and diesel.
Want Your Plants Smaller And Quicker? Go For 12/12 From Seed
12/12 from seed is a great way to experiment with cannabis growing and learn more about the development of each weed bush. However, these experiments come at the price of lower yields. Is 12/12 from seed worth it? To answer that question, you need to decide what factors you value more based on the pros and cons of this growing method. And if you really want to have a cute bud stick plant in your collection, come back to this article and follow our advice for getting the most productive 12/12 from seed grow.
Herbies Head Shop expressly refuses to support the use, production, or supply of illegal substances. For more details read our Legal Disclaimer.