Sea of Green or SoG is a popular and efficient cannabis cultivation method for indoor growers that allows them to quickly grow a large number of smaller plants instead of a single or a couple of bigger ones. Therefore, Sea of Green results in large harvests of dense buds using a minimal amount of space.
This technique originated from the realization that the best buds in a plant are those that are closest to the light – the lower part of a plant tends to yield a sizeable amount of smaller, airy flowers that don't get the chance to fully develop. While there's nothing wrong with these, they don't compare to those found closer to the top of the plant. The purpose of SoG is to create a flat canopy of tops with high-quality buds only, while also benefitting in terms of the harvest size since growing lots of small plants is better than having fewer big plants.
Pros And Cons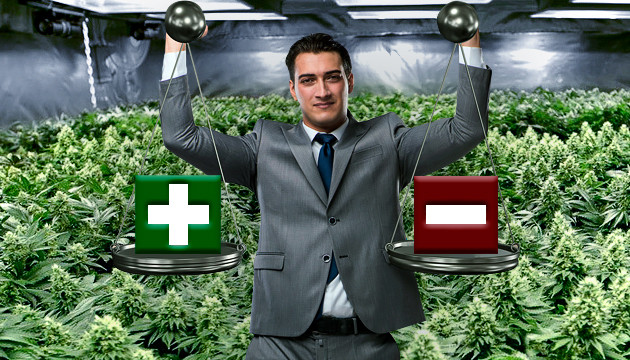 While there is a full range of advanced cultivation options out there such as lollipopping and monster cropping, no technique can replicate the yields and quality of cannabis associated with SoG. This technique is for growers who want to get as much as possible from an often small indoor growing space. Whether this is a closet, a tent, or an entire room, SoG allows growers to stretch each square foot further! Here are some pros and cons of SoG:
Pros
A short grow cycle
Improved quality of harvest (more plants means more tops)
More efficient use of lighting and space
Cons
If the legality of cannabis is an issue where you reside, it may not be a good idea to have lots of cannabis plants
Pests and diseases can spread easily and quickly
It's preferable to use only one strain for the whole SoG grow
How To Make Your Own Sea Of Green
If you're an indoor grower (and even if you grow outdoors), there's no reason why you wouldn't want to try out the Sea of Green method. Stick with us, because we're starting to explain the process, from choosing the source of your plants to actually implementing them into a Sea of Green setup.
First, Choose the Source of Your SoG Plants
SoG grows can be done with multiple plants grown from multiple seeds, or by taking clones from a mother and taking these forward to flower. Next, we're going to explain the pros and cons of each method.
Growing From Clones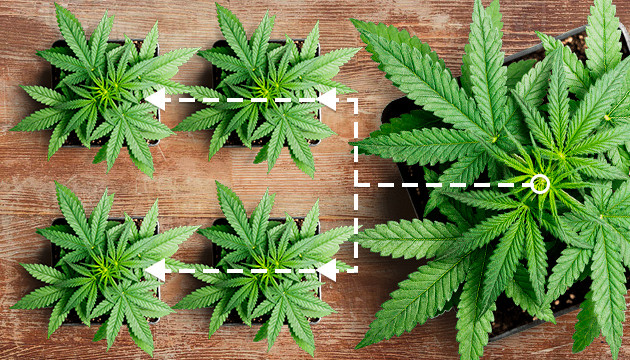 Cannabis strains have variations between seeds that cause differences in the smell, taste, appearance, and growth patterns of the plant (known as phenotypes). When growing using Sea of Green, it's important that all plants are of the same height and have predicable grow patterns, and the best way to achieve this is to take clones from a promising mother and grow these for 12-16 days before flowering.
Growing From Seeds
Growing from seeds is the most straightforward of the two methods. Kicking off your SoG grow this way involves germinating a seed and planting as you normally would, although in greater numbers. One of the downsides to this is the high cost of cannabis seeds. However, there's also a lot of time saved in not having to grow a mother plant and waiting for clones to mature.
Once your plants/clones are ready, transfer them into larger pots (5-11 L is the sweet spot) and grow them for a further two weeks before switching to a shorter photoperiod and inducing flowering.
Sea of Green Step by Step
Step one: Germinate the seeds of the same strain or create clones from a mother plant in your desired amount. It's always better to germinate more seeds and take more cuttings than the number of plants you want to grow using Sea of Green, because there's always a chance that some seeds won't sprout or a clone doesn't root.
Step two: Plant the seedlings/clones as usual and place them under the lights for 18 to 24 hours a day until they reach 10"-12" (25-30cm) in height. Depending on the vertical space you have available in your grow room, you may also grow them until the plants only reach 6" (15cm) in height. Remember, after the switch to 12/12 and the start of flowering, the plants in your Sea of Green setup will continue stretching.
Step three: Change the light schedule to 12/12 in order to force your plants to start flowering.
Step four: Cut the underlaying branches off after you see that a dense canopy has formed. You can let them root as clones to use in the next Sea of Green grow!
Step five: Once the buds are ripe, harvest, dry, and cure!
These steps can be repeated again with the clones you took during step four.
Which Strains Are the Best For SoG?
The ideal strains for SoG growing are those that remain relatively short, respond well to pruning, and have a predictable growth pattern. When creating a Sea of Green, it's important to get this right from the start! While the strains listed below all have very steady and predictable growth patterns, each has its unique strengths as well. So, what are the best cannabis strains for SoG?
Shiskaberry (Barney's Farm)
Photoperiod

26 %

Complete harmony

500 - 600 g/m² indoors
1500 - 2000 g/plant outdoors
Go to strain
Shiskaberry
Shiskaberry is a fantastic cannabis strain by Barney's Farm. Known for its excellent yields of up to 600g/m2 (2oz/ft2) and rapid growth cycle, Shiskaberry is an excellent candidate for SoG grows. In just under 56 days of flowering, you'll reap a bountiful harvest of 100% Indica bud with 26% THC and a long-lasting body-buzz effect, all enveloped in delightful spice and berry smoke.
Mimosa Shot (Herbies Seeds)
Photoperiod

30 %

Unapologetic glee

600 - 800 g/m² indoors
1300 - 1600 g/plant outdoors
Go to strain
Mimosa Shot
Mimosa Shot is a photoperiod cannabis strain offered by Herbies Seeds. A cross between two amazing Indica-dominant parents, this strain guarantees indoor yields of up to 800g/m2 (2.6oz/ft2) with SoG grows after only 55-65 days of flowering. As it's a photoperiod strain, it's best to grow Mimosa Shot as a mother to take clones from rather than growing multiple plants from seed. This Sea of Green will result in a crazy-potent 30% THC harvest that tastes like sweet citrus and make you feel happy and euphoric.
Bruce Banner #3 (Original Sensible Seeds)
Photoperiod

28 %

A good balance between high and stone

800 g/m² indoors
1000 g/plant outdoors
Go to strain
Bruce Banner #3
Bruce Banner #3 is a photoperiod cannabis strain offered in feminized form by Original Sensible Seeds; a cross between American legends that created a Sativa-dominant hybrid with excellent growth properties ideal for Sea of Green. With yields of up to 800g/m2 (2.6oz/ft2) of dense flowers containing 28% THC with uplifting effects, an SoG grow will take Bruce Banner #3 to the next level.
We're always keen to learn about the latest and greatest, so let us know your favorite SoG strain in the comments!
Important Details of a Successful SoG
As the goal with SoG is to grow a large number of small plants rather than a smaller number of large plants, it's important to get the number of plants per square foot right from the start! You don't want to overcrowd your grow space, but at the same time, it's essential to maximize the usage of light. As cannabis strains don't all grow the same, there is no single correct number of plants for an effective SoG. Depending on how much space you have to work with, you might be able to get away with more, although one plant/ft2 is a good rule of thumb. SoG grows tend to have a quicker vegetative period than traditional growing methods, which is without doubt one of the biggest benefits of this grow technique.
Ready to Swim in a Sea of Green?
This cannabis SoG guide covers all the basics of SoG growing, and should contain everything you need to get started in the world of indoor cannabis cultivation using advanced techniques. It can be a little tricky to coordinate an SoG grow if you're new to cannabis cultivation, but with the right know-how and attention to detail, even the most novice growers can soon have their very own Sea of Green!
Herbies Head Shop expressly refuses to support the use, production, or supply of illegal substances. For more details read our Legal Disclaimer.