Critical Kush feminized seeds (Barney's Farm)
Description
Critical Kush Strain Info
Critical Kush by Barney's Farm is a 100% Indica. With a THC level of 25%, simplicity in growing, and high resistance to temperature fluctuations, it's a firm favorite of many growers.
Genetics
The lineage of Critical Kush isn't markedly different from many of the most popular varieties on the market today. Her parents are Critical Mass and OG Kush, and their immediate predecessors include Skunk #1, Afghani, Hindu Kush, and an unknown strain from Northern California. The resulting mix of genes, however, is anything but ordinary.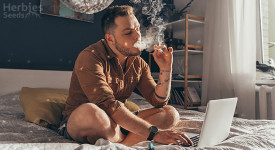 Critical Kush Trip Report
Effects
Critical Kush buds provide a classic Indica stone effect, which can help to get rid of fatigue, insomnia, or stress. All you have to do is sink into the sofa and relax.
THC And CBD Levels
Critical Kush boasts an incredible THC level of 25% to provide a long-lasting effect. Plus, although this strain wasn't bred for high CBD content, it also turned out to be very rich in this therapeutic cannabinoid at 1.8%.
Smell And Taste
Though it doesn't have a delicious-sounding name to lure users in with a promise of some sweet treat, this strain contains many tasty terpenes that give the smell notes of earth, herb, and fuel. Meanwhile, the flavor is intensely piney, with an aftertaste of lemons and tangerines.
Yields
As a cash-crop variety, Critical Kush can bring a generous 650g/m² (2.1oz/ft²) of smelly, dense, THC-rich buds in an indoor setup.
Flowering Time
55-60 days of flowering is an incredible speed, even for an Indica – yet another reason to choose this wonderfully rewarding strain.
Grow Tips
The Critical Kush strain has a relatively small size when cultivated indoors, reaching just 100cm (3.3 ft). When harvest time comes, the top of the plant becomes purple, and resinous buds covered in crystals begin to appear. The plant has a strong smell during the flowering period, so carbon filters will be a real help for indoor growers. Outdoors, Critical Kush can be cultivated throughout a temperate climate zone and is ready to harvest by the end of September.
Beware that high humidity can cause molding.
Defoliation and good ventilation are needed to prevent powdery mildew.
LST bending and ScrOG are the best ways to increase yields.
Critical Kush Seeds
This strain is 100% feminized, and though the price isn't exactly low, rest assured that every penny spent on these seeds will be more than worth it. The genetics are really incredible, and you'll harvest a generous amount of bud from every seed you plant.
Characteristics
*Herbies sells cannabis seeds exclusively as souvenirs that aren't meant for cultivation or germination. Customers should be aware that the germination of cannabis seeds is illegal in most countries. Herbies sells cannabis seeds exclusively for collecting and preservation for future generations. We advise customers to check with their local laws before germination, as Herbies does not accept responsibility for the illegal use of our products.