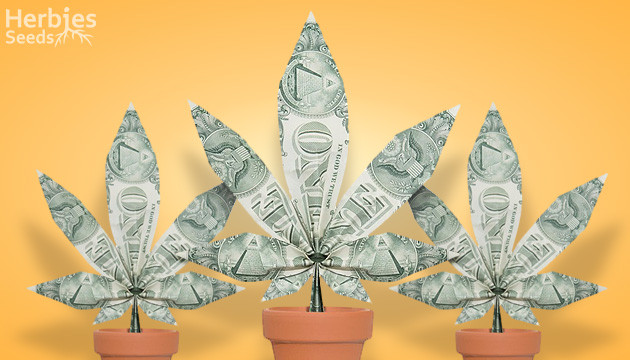 Whether you're beginning to dabble in commercial growing and need to compile a good strain menu or are an experienced commercial grower looking for the best new genetics, we'll cover the best commercial strains for you today.
What Makes The Best Commercial Cannabis Strains?
There are a couple of key factors you should consider in order to select the best weed strains to sell.
Yield: Obviously, a bigger yield means more profits. However, it's not always the case that bigger is better. Consider the actual space you have to grow – if it's relatively small, prioritize compact plants with generous yields.
Potency: Generally, more potent strains have better-quality genetics, but that's not always the case. Include a variety of potencies and chemical compounds (like THC, CBD, and terpenes) in your menu.
Bag Appeal: This isn't one to overlook. Cannabis dispensaries report significantly higher sales for weed with good shelf appeal. Opting for strains that produce luscious buds, intense colors, and fragrant aromas is likely to improve your sales.
Novelty: Although those just starting in commercial growing may overlook novelty strains, unusual colors and flavors are growing in popularity!
Genetics: Better-quality seeds have undergone more extensive R&D (research and development) and testing. They sprout more than the average weed seed (1 in 3) and grow consistently high yields of resinous buds in every plant. Buying your seeds from a reputable supplier like Herbies ensures you're never getting scam seeds!
Selection: It's a good idea to have a range of strains in your portfolio in order to cater to a wider client base. From there, you can start specializing based on buyer feedback. For example, if you're just starting to commercially grow weed, an ideal starter package could be:

2 x Indica/Kush strains
2 x Sativa/Hash strains
2 x Hybrid strains
1 x CBD strain
1 x Novelty strain
Now that we've covered what makes a good strain for a commercial cannabis grow, let's move on to the list itself. Get your pen and paper ready!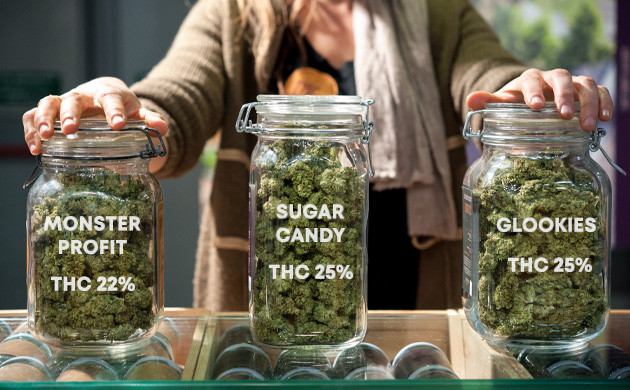 Monster Profit: The Gold-Standard Bag Appeal
Starting at just $7.15 per weed seed and yielding 1kg of bud per plant outdoors, you can see where Monster Profit gets its name. With 22% THC content and a 60% Sativa/40% Indica genetic split, this strain sells well for customers looking for an energizing, clarifying high that's great for parties or working. Bag appeal? Check. Monster Profit boasts a money-gold hue thanks to its long orange hairs. Plus, these genes produce a whole lot of resin, so expect frosty white trichomes to cover the entire plant.
Glookies: The High-Yielder
An Indica-dominant cross between Gorilla Glue and Thin Mint Girl Scout Cookies, how was Glookies ever not going to be a hit? Long-time fans of GSC convert to this strain for its complex nutty smell and delicate taste of diesel and lime. Thank Glookies' impressive, medical-grade genetic mix for a warming head and full-body high that lasts a minimum of 4 hours. You'll have to be patient with this strain – flowering time is 9 weeks – but it's more than worth it. With THC content of 25% and 2.5kg of bud per plant when grown outdoors, this really is bang for your buck.
Money Maker: The Cost-Effective Commercial Marijuana Strain
Coming in at $4.75 per marijuana seed and producing yields of 1kg/m2 indoors or per plant outdoors, Money Maker is one of the most cost-effective strains out there for commercial growers. The genetic makeup is a blend of Skunk, Original Master Kush, and Hindu Kush, making for a complex and fruity flavor profile and a unique high – even though Money Maker is Indica-dominant so perfect for full-body bliss, it also provides a stunning head high.
Dos Si Dos 33: The Tardis
Enter Dos Si Dos 33 for 28% THC in-your-face stoned. A 40% Sativa/60% Indica split, its genealogy includes Face Off OG, Cookies Kush, and Gelato #33 phenotypes. This is a great strain if you've got a small setup or are looking to add another strain to your collection but have limited space. Plants only grow to 90cm, but yield 2kg of bud when grown outdoors! There's expect excellent bag appeal here too – get ready for neon-green and purple buds with an aroma of sherbet and freshly baked cookies.
Girl Scout Cookies: The Worldwide Classic
A tried-and-tested worldwide favorite that's easily considered one of the best commercial strains out there, GSC is an all-rounder: a 50/50 body and head high with a whopping 28% THC content that only takes 55 days to flower. Users love the woody, citrusy flavor with hints of baked dough. Although Girl Scout Cookies is a hard-hitter, customers can also expect a rush of creativity and inspiration.
Sugar Candy: The Short & Sweet Strain
As sweet as it sounds, Sugar Candy is popular for its complex flavors, including mango, lavender, and cookies. With THC content of 25%, yields of 2kg (4.4lbs) of bud when grown outdoors, and a flowering time of only 50 days, this is maximum THC in minimal time. If you already grow Caramelo or Sugar Black Rose and experience good demand, expect Sugar Candy to be a real hit – it's a cross between the two strains and boasts the best of both, with a 40% Sativa/60% Indica split. It has great shelf appeal too, with so much resin that it sometimes obscures the green-purple tinge of the bud.
Super Silver Haze: The No-Introduction-Needed Bud
Make way for this potent Sativa that's got the credentials to sell itself. Super Silver Haze won HTCC's first prize in 1997, 1998, and 1999. It's a cross between Skunk, Northern Lights, and Haze – a killer combination that results in a clarifying head high and body-relaxing experience. Due to its legendary status, this strain is incredibly consistent, with THC content of 19.11% and CBD content of 0.74%. Although you can easily grow the plant indoors, to get the full 1.5kg (3.3lbs) yield outdoors, expert commercial cannabis growers should follow the specific growing instructions for this strain.
Purple Lemonade Auto: The Not-So-Novelty
Purple Lemonade Auto is the ultimate novelty strain in that it's not all about the shelf appeal. The intense purple color is an immediate eye-catcher, but there's so much more to this strain. Users report an uplifting, giggly high ideal for social environments, which then mellows out into that deep, full-body Indica experience, which can also be used to treat glaucoma, anxiety, nausea, and migraines.
Jack Herer: The Old-Timer
We're all for exciting new genetics fresh out of R&D. Still, there are a few strains that weather the trends every time, and Jack Herer is definitely one of them. Named after the legend of the pro-cannabis movement, its 40% Sativa/60% Indica genetics make for a creatively energizing high. In terms of variety, consider growing Jack Herer alongside sweeter commercial cannabis strains – Jack Herer has an earthy, woody taste that will make your portfolio more versatile.
Strawberry Banana Auto: The Fruity One
A delicious fruity strain with a heavy 27% THC content, Strawberry Banana Auto's impeccable genetics have been selected for out-of-this-world trichome production that generates a cerebral, alert head high that slowly works to sedate the whole body. That trichome production means this is a great strain for commercial growing if it's going to be made into hash or other extracts.
Bruce Banner #3: The All-American Crowd-Pleaser
Bruce Banner #3 is a cross between Colorado Ghost OG and Strawberry Diesel, with a sweet and earthy flavor profile that's taken North America by storm. The result is a 28% THC bud that provides a balanced high, somewhere between relaxed and euphoric. Expect dense, sticky flowers and yields of 1kg (2.2 lbs) per plant. Check the reviews – huge, luscious buds are consistently found on every plant.
CBD Auto 20:1: The Healer
This autoflowering hybrid is the ideal plant to branch out into more medicinal commercial cannabis growing. CBD Auto 20:1 is named after its strong cannabinoid content, with 10-20% CBD, and a minimal 0.3-0.75% THC. Starting at $11.64 per weed seed, this specialty marijuana can provide impressive profits. It's also an excellent candidate for compact growing, reaching just 70-90cm in height.
Commercial Cannabis Growing: What Are Your Best Weed Strains to Sell?
That's all there is to know about the best strains for commercial growers. We've rounded up the factors you need to consider when choosing your marijuana seeds and given you the top choices, whether you're an expert commercial grower or a newbie. Do you have your own favorites that make a big buck? Let us know in the comments below!
Herbies Head Shop expressly refuses to support the use, production, or supply of illegal substances. For more details read our Legal Disclaimer.