Potent and flavoursome, cheese lovers everywhere are sure to love the Blue Cheese strain. Combining the best of sweet and savoury, their relaxing properties make it the perfect way to end the day, but perhaps not with crackers and cheese!
Origins and History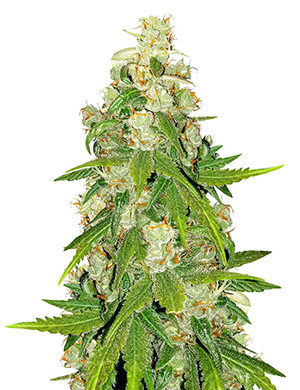 As you might expect from its name, the Blue Cheese strain is a member of the ever-popular Cheese family. Developed in the UK, this home-grown favourite is the result of a creative genetic twist on the original.
The traditional Cheese strain has been the basis for some of the best cannabis hybrids of recent times, and this one is no exception. Its breeders were working on bringing their own unique traits to the traditional strain by crossing it with the Blueberry variety. The final outcome was a THC-packed hybrid with a wonderfully strong aroma that leaves users wanting more.
Blue Cheese THC and CBD Level
Blue Cheese is unofficially classified as an Indica. It has a ratio of around 80% Indica to 20% Sativa in its genetic profile and a low CBD level. When it comes to THC, this strain packs a serious punch with a potency level of around 20%.
Effects of Blue Cheese
Although this marijuana variety is technically Indica dominant, it can confuse new users with its Sativa-like effects. Despite being composed of around 80% Indica genetics, it produces all the euphoria of a classic Sativa. Whether you need a stress-relieving boost or muscle relaxation, this strain is the one for you. You'll enjoy a warm buzz paired with exhilarating mental stimulation, but don't expect to be hit like a ton of bricks – the strain's potency creeps up on you so your relaxation will feel completely natural.
Taste and Terpene Profile
Don't be put off by the name – Blue Cheese takes its title more from its illustrious heritage than from its taste. This variety is packed with delicious terpenes and the result is a complex, flavoursome aroma with notes of fruit and fresh berries. Be ready for the undertones though – they're distinct and pungent, with more than a hint of a well-cured cheese. When it comes to flavour, you'll find plenty of tongue-tingling fruitiness with a surprising aftertaste of cheesecake tarts.
Therapeutic Qualities
If you're looking for information about strains that will help you manage chronic stress, Blue Cheese could be where your search stops. This hybrid not only helps you to relax, but it also wards off insomnia thanks to its slow-onset sedative effects. Its therapeutic qualities are completely in-line with its Indica heritage, meaning that you can rely on Blue Cheese to help boost your appetite and reduce chronic pain.
Blue Cheese Strain and Sex
If you're feeling anxious in the bedroom, a hit of Blue Cheese could represent the perfect solution. Its Indica qualities mean that your anxiety will slowly dissipate, helping you to feel less nervous about having to "perform" and ensuring you can let go and really enjoy yourself.
Blue Cheese Strain Growing Tips
If you're a complete novice to growing your own, you'll be delighted to hear that the Blue Cheese plant is fairly easy to cultivate.
If you're growing outdoors, this could be a good choice for you since even in the UK's cold climate, this strain will thrive. It's naturally resistant to mould, mildew and pests too, meaning there's even less to worry about when you plant your crop.
If you're cultivating indoors, you'll definitely need a good filtration system – this is a pungent strain, so if discretion is key then carbon filters are a must. Soil growth techniques and hydroponics both help this strain to grow well indoors and thanks to its shorter-than-average height it works well with the Sea of Green technique.
Flowering Time
The flowering period for this strain is fairly short at just 8-9 weeks when cultivating indoors.
When to Harvest
If you're growing indoors, the short flowering period means you can enjoy multiple harvests. Meanwhile, if you're an outdoor cultivator, you can expect to harvest earlier than with most other strains, in September rather than October.
Blue Cheese Strain Yield
Whether you're growing indoors or out, you can expect roughly the same yield from your crop. Indoor growers can expect around 500g per square metre, while outdoor growers can expect a slightly higher yield at around 550g per plant.
Best Blue Cheese Strains
If you're keen to try Blue Cheese, you'll soon discover that a number of seed banks have created their own versions of this strain. RQS (Royal Queen Seeds), Dinafem, and Big Buddha Seeds are just three of the major players to produce their own varieties, and all offer something slightly different to enjoy. If you're looking for more info about the best Blue Cheese strains, read on.
Blue Cheese (RQS)
Blue Cheese (RQS)
Photoperiod

500 - 550 g/m² indoors
500 - 550 g/plant outdoors

Packed with intense effect

19 %
View strain
This hybrid is 60% Indica dominant and boasts a fruity and sweet flavour that is a mix of delicious berries and a skunky aroma. With its high potency, this feminized strain has a compact stature, a 7 to 8-week flowering period, and a high yield of around 500g per square metre.
Blue Cheese Automatic (Big Buddha Seeds)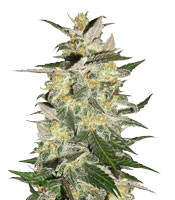 Blue Cheese Automatic (Big Buddha Cheese)
Autoflowering

Cosmic high

No official information

25 g/m² indoors
45 g/plant outdoors
View strain
Bred for potency, this elite hybrid from Big Buddha Seeds combines all of its ancestors' key traits to result in a fruity and cheesy variant. Composed of 35% Sativa and 65% Indica genetics, this variety of Blue Cheese has a wonderful berry aroma and a fruity, cheesy taste.
Blueberry Cheese (Barney's Farm)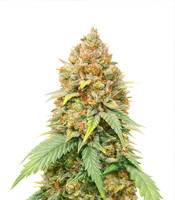 Blueberry Cheese (Barney's Farm)
Photoperiod

23 %

Joy and enthusiasm

650 g/m² indoors
View strain
Also known as Blue Cheese, this version from Barney's Farm is based on the original Cheese genetics crossed with Blueberry. Along with 23% THC, this strain sports 0,8% CBD for a complex effect.
Blue Cheese Autoflowering (Dinafem Seeds)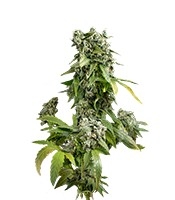 Blue Cheese Autoflowering (Dinafem Seeds)
Autoflowering

20+

Reaching perfect balance

40 - 135 g/m² indoors
60 - 150 g/plant outdoors
View strain
This cannabis strain has been created by Dinafem Seeds from a combination of Blueberry Auto and Cheese Auto. The result is an artisanal hybrid that has a gorgeous purple colour and an exquisite taste.
FAQ
Is Blue Cheese Strain for Night or Day?
Blue Cheese is an ideal strain for nighttime use as it can help to relieve insomnia due to its Indica genetics. Producing a slow-onset relaxing effect, this strain represents the perfect way to end a hard day.
How Does the Blue Cheese Strain Smell?
It's quite hard to give a description of the aroma of this strain. Its smell is surprisingly intriguing, with more than a hint of cheese, but with undertones of earthiness and herbiness, along with a touch of fresh berries.
Who Has the Best Blue Cheese Strain?
There are several versions of the Blue Cheese strain, and there is no one size fits all answer to this question. You'll have to try them all yourself to see which one gives you the best experience.
Who Created the Blue Cheese Strain?
The original Cheese strain was created in the UK, but when it comes to its descendant, the Blue Cheese variant, there is more than one creator. Several seed banks including RQS, Big Buddha Seeds, and Expert Seeds have all created their own versions that have slightly different features and attributes.
Is Blue Cheese a Good Strain for Pain Relief?
If you suffer from little aches and pains, Blue Cheese represents an effective solution. Its relaxing effects help to relieve tension in the body, which, in turn, helps to reduce discomfort all through the body.
Blue Cheese Strain - Indica or Sativa?
Blue Cheese strains are a hybrid of both Indica and Sativa genetics. Depending on the seed bank you choose, the ratio of Indica to Sativa will vary, however, you can expect there to be approximately 80% Indica genetics to 20% Sativa.
Herbies Head Shop expressly refuses to support the use, production, or supply of illegal substances. For more details read our Legal Disclaimer.