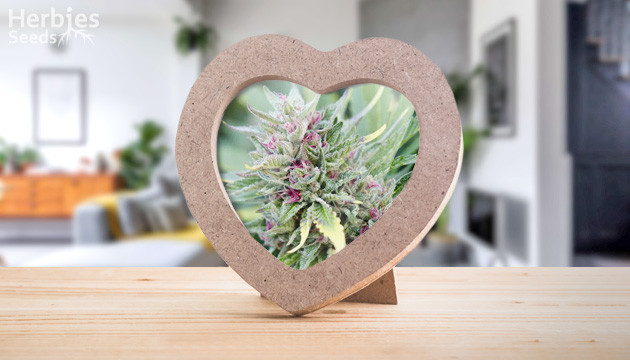 Choosing a cannabis seed to grow can be one hell of a challenge, especially considering that only at Herbies we have more than 2000 strains available for purchase. That's why, to help facilitate your choice, we asked some stoners from all over the globe to share their favorite weed strain to grow. Perhaps, their choice can give you some direction on the way to finding your own favorite strain of weed?
WeedKB and His Favorite Strain to Grow, OG Kush Auto
After more than a decade of growing, I'm still a rookie. So I prefer low-maintenance strains. My latest go-to batch of seeds for any occasion, especially for a greenhouse or outdoor grow, is OG Kush Auto. This strain has an insane amount of branches which stretch like crazy and give the plant a rather feral look at first, like your regular ditch weed.
You start to wonder how this see-through flimsy bush is ever going to get filled with flowers. But then it does. The buds swell and swell and seem to do it on their own, feeding on soil and rain and nothing else. The airy structure of both the plant itself and its bulky colas is the best protection from mold. I harvest up to 5 oz (150g) of stinky frosty buds per plant easily. And they produce a very enjoyable smoke — strong and mellow at the same time.
George on His Favorite Weed Strain, Lemon Haze
I'm gonna go out on a limb here and say Lemon Haze is one of my favorite strains to grow. I first got introduced to it at one of the indoor gardens I worked in.
Lemon Haze was easily one of the happiest strains we grew there. It loved the HPS lights that we put it under. Even though it's a sativa-dominant hybrid, it doesn't grow too tall for indoor gardens. I love the way it smells, too. As soon as it gets into the later flower period (around day 40 or 50), it fills whatever room it occupies with a bright fragrance combining herbal, floral, and citrus motes.
Rowan and Exodus Cheese, His Favorite Strain of Weed to Grow (and Smoke)
My favorite strain to grow would be Exodus Cheese since it's my favorite strain to smoke and I could never have enough of it. Growing other strains that I don't enjoy would be a waste of time for me as I am the only one who smokes my yields. But if I had to pick anything else besides Exodus Cheese to grow, I would say El Monstre and Chemdog #4 are next in line. El Monstre is great because of its delicious berry-like taste, and purple hue on the leaves, however, I have never been able to find seeds available online as it was grown locally. Chemdog #4 on the other hand is the runner-up winner of the Growers Cup for 2008! It is a pretty simple grow, but in experienced hands can produce major yields of almost 1000g per plant. Have I managed to produce this much? Almost, although for the most part, I did not accurately weigh how much my yield was so it could have been more or less. Definitely in my top 3 grows though!
Adam and the Best Cannabis Seeds He's Grown, Bruce Banner #3
I've already paid tribute to one of my favorite strains to smoke, Grandaddy Purple, for another Herbies article, so I'll take this round do make another honorable mention: Bruce Banner #3 - is my favorite strain of weed to grow.
I live in a state with a strong continental climate, so winters here sometimes come unexpectedly. I've only grown weed outdoors once, and I was advised by a friend to try out Bruce Banner #3. I must say it was an absolute pleasure to grow. First, I managed to fully harvest it right before the first cold nights. Second, it seemed to be completely unbothered by my rookie behavior. I felt like a seasoned grower with it topping a marijuana plant for the first time, and tying branches right to the ground to create a canopy - my Bruce Banner #3 took it like a champ!
Luckily that summer was equal parts sunny and rainy, so I almost never had to water it, only gave it some nutes according to the instruction. I believe I harvested a little under 2 pounds from that tree, and the buds were absolutely delightful. They made me and my wife feel happy, calm, and chatty. She, by the way, collected all of the leaves and roots, after we cut the plant down, dried everything, blended into a powder, and we still have some of it left to drink as tea. I find it quite relaxing and enjoyable.
So, What Cannabis Seeds Do You Choose to Grow?
Let's continue the spread of this highly valuable knowledge! What is your personal favorite strain to grow (and smoke)? Share in the comments below - there's a big chance someone needs to hear your opinion!
Herbies Head Shop expressly refuses to support the use, production, or supply of illegal substances. For more details read our Legal Disclaimer.