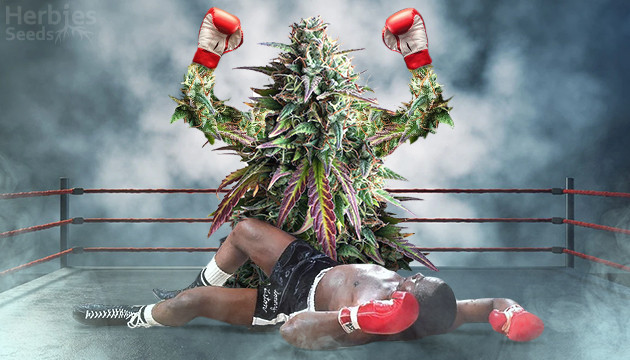 Long gone are the times when autoflowering cannabis couldn't come close to photoperiod cultivars in terms of potency! Nowadays, autoflowers bring much more than speed and ease of growth to the table – they serve these traits with a side of sky-high THC levels. In this article, we examine some of the most potent autoflower seeds on the market that can compete and even outdo some of the strongest photoperiod strains out there. Get your pen and paper ready for the top 10 most potent autoflowering seeds on the market!
Girl Scout Cookies Auto (24% THC)
Girl Scout Cookies Auto is an effective autoflowering Sativa strain that combines the aroma and flavor of freshly baked cookies with an instant euphoria. With 24% THC content, Girl Scout Cookies has one of the highest THC concentrations on the market. These super autoflowering seeds are self-activated and take about 10 weeks from planting to harvesting. This strain grows both indoors and outdoors to heights of 65-100cm.
Green Gelato Auto (24% THC)
Green Gelato Auto is a hybrid autoflowering strain that combines Sativa, Indica, and Ruderalis traits in various compositions. The impact of this royal combination is a sweet-smelling strain that guarantees a relaxing high and grants relief from pain. Green Gelato Auto is easy to grow and adaptable to both outdoor and indoor conditions. When grown indoors, Green Gelato Auto may be harvested in 8 weeks, while outdoor growth requires 10 weeks. Green Gelato Auto seeds combine an extremely high potency of 24% THC with a beautiful aroma and unmatched mood improvement.
Gorilla Glue Auto (25% THC)
Gorilla Glue Auto is one of the strongest autoflowers on this list – the mixed-breed plant packs a hefty 25% THC content. With its home in the Netherlands, Gorilla Glue Auto guarantees an adventurous and psychoactive journey. The autoflower's popularity is tied to its mood elevation, psychoactive potency, and long-lasting high. Gorilla Glue Auto packs a healthy mix of Sativa and Indica effects, ensuring you have a great time whenever you light up a joint. This potent strain takes an average of 10 weeks from growth to harvest and can be grown indoors or out.
Monster Bruce Banner Auto (25% THC)
If you found yourself marveling at Gorilla Glue Auto, Monster Bruce Banner Auto will continue to wow you. First, this cannabis cultivar doesn't grow tall, making it ideal for indoor growth. Monster Bruce Banner Auto is a crossbreed of OG Kush, Auto Diesel XXL, and Fast and Vast. This ancestral lineup is underscored by Monster Bruce Banner Auto's potency and pungent citrus smell. Named after the Hulk, its effects are strong enough to bring calm to the most furious of beasts – a 25% THC monster that offers a calm and effective high.
Auto Orange Bud (26% THC)
Auto Orange Bud is a Sativa-dominant skunk-rich strain with a whopping 26% THC content. With a flowering time of around 11 weeks, Auto Orange Bud is easy to grow and ideal for cannabis-growing newbies. This autoflower is comfortable both indoors and outdoors, sprouting thick buds without light or temperature alterations. Loaded with 26% THC and an orange-like taste, it's one of the top autoflowering strains on the cannabis market today. Auto Orange Bud is ideal for discreet growers and leaves users feeling super creative.
Auto Cinderella Jack (26% THC)
Not all autoflowers need a royal name to rise to the top, and that's what makes Auto Cinderella Jack so special. Coming second at the Copa Esmeralda 2018, this autoflowering strain is extremely popular with indoor growers all over the globe. As unassuming as it looks, Auto Cinderella Jack is very potent with THC levels of 26%. This dainty cultivar is a hybrid of Sativa and Indica strains, and smells like an entire garden of its own with notes of sweet fruit and freshly-picked herbs. You should definitely consider this strain if you're looking to get high and smile through it all.
Wedding Cake Auto (25% THC)
As far as flavorful strains go, it's a real challenge to beat Wedding Cake Auto. This Indica-dominant strain comes with a rich terpene profile that's layered like a cake with notes of cream, fruit, and earthiness. With just under 11 weeks of flowering time, Wedding Cake Auto can be grown with equal ease indoors and outdoors. Another highlight is Wedding Cake Auto's 25% THC levels that help to treat stress, pain, and insomnia. The cherry on top is Wedding Cake Auto's rich terpene profile and 2% CBD to help achieve the entourage effect.
Wedding Glue Auto (26% THC)
Wedding Glue Auto is a sweet-tasting and relaxing autoflowering strain that's rich in THC. This strain may be grown outdoors or indoors with a flowering period of 10 weeks. Its varied terpene profile gives Wedding Glue Auto a sweet vanilla aroma that leaves a luscious scent in your room. If you're also looking to extract resins from your cannabis plants, Wedding Glue Auto will be a perfect fit. These marvelous traits, combined with THC levels of 26%, rank Wedding Glue Auto as one of the best autoflower seeds of 2021.
Forbidden Runtz Auto (26% THC)
Forbidden Runtz Auto is not just an easy grow, but also a high-yielding autoflower that will knock out even the most experienced smokers. With 26% THC and a flowering time of 9 weeks, cannabis growers are in for a bumper harvest with this autoflower seed. Forbidden Runtz Auto is ideal for starting your cannabis growing journey, as it requires minimal attention. Smoke-wise, its buds give off a sensation of fruit candy melting in your mouth, easing you onto the couch with good vibes. Its rich terpene profile and high THC content make it a contender for the most potent autoflower strain on this list.
Strawberry Banana Auto (27% THC)
At a record-breaking 27% THC, Strawberry Banana Auto cements itself as the most potent autoflower of 2021. As the name implies, the strain is replete with terpenes that ensure a tasty puff – this cultivar's flavor is a nice blend of strawberry and banana. Being so rich in THC, Strawberry Banana Auto provides a blissful stone with mild headiness. Speaking of growing, this Cali-born autoflowering strain is a balanced mix between Sativa and Indica that reaches 150cm (4'9") in height by the end of its lifecycle. Strawberry Banana Auto is set for harvest after a flowering period of 11 weeks.
Autoflowers With Unhinged Potency
At Herbies, we have high-THC autoflowering seeds for sale and have taken the time to include purchase links for each of the strains listed above for your convenience. With autoflowering plants finally getting the recognition they deserve, it's about time we enter the era of autoflowering domination. See you there!
Herbies Head Shop expressly refuses to support the use, production, or supply of illegal substances. For more details read our Legal Disclaimer.