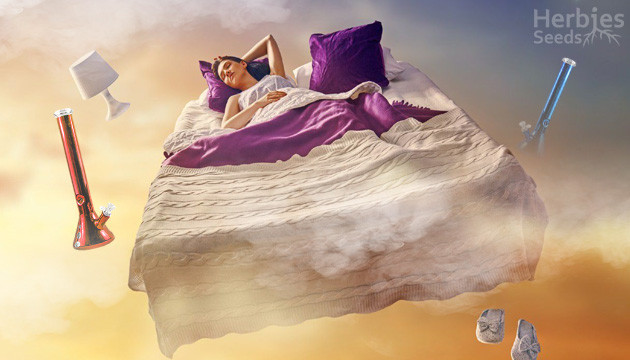 Often, 24 hours is not enough to get good sleep. In a world of omnipresent digital media filled with deadlines and stress, insomnia is our common companion. It's the most common sleep-related problem, and about one-third of adults experience insomnia symptoms at any given time.
Sure, there are over-the-counter and prescription medications, but these often come with undesired side effects. Luckily, mother nature has given us a remedy. Cannabis has been used as a sleep aid for centuries, with doctors today increasingly prescribing it to help with insomnia. We're going to give you a list of the best marijuana strains for sleep, but before we do, let's see how it works.
What Science Says on Cannabis and Sleep Quality
In what ways does cannabis soothe you to sleep? A growing body of evidence suggests that CBD and THC address the root causes of insomnia as well as treat it directly. For example, they help ease pain symptoms and reduce inflammation caused by chronic conditions such as arthritis and back problems. If that's what's keeping you up at night, cannabis may help put you to sleep.
Marijuana is also well-known as an aid against anxiety and stress – two other important factors that affect the quality of sleep. Overall, cannabinoids can improve sleep quality, decrease waking during the night, and help you fall asleep faster. One study from 2008 revealed that THC consumption before bed can reduce the amount of REM sleep the user gets. This makes it possible to get more deep sleep, as REM sleep is when most dreams (and nightmares) occur.
THC vs. CBD: What Kind of Weed Makes You Sleepy?
When looking for the best marijuana strains for sleep, cannabinoid content is important. Research on this topic is sparse, but it's believed that both CBD and THC may have benefits for chronic conditions linked with sleep disorders.
For example, THC has shown potential for reducing PTSD-related sleep disturbances and nightmares, while also improving sleep for people living with chronic pain. CBD, on the other hand, can be helpful in treating REM sleep behavior disorder symptoms and excessive daytime sleepiness.
However, researchers have found that CBD decreases symptoms of insomnia more effectively than THC. Plus, it doesn't cause a "high," which can influence your choice on how to best treat insomnia.
With so many different kinds of weed on the market today, it can be hard to find the best pot for sleep on your own. That's why we've done the legwork and rounded up our favorite all-natural sleep pills for you below.
Herbies Picks: The Best Marijuana Strains for Sleep
Eleven Roses
Let's start things off with a bang! Eleven Roses is a feminized pure Indica that will blow you away with her 25% THC content. She works hard and fast, delivering a strong body stone not long after consumption. Eleven Roses has a pungently fruity scent that's accented by earthy notes and a touch of metal. This powerhouse will bring you into a mellow state perfect for catching some Zs.
Extreme Impact Auto
Next up on our list of the best strains for insomnia is Extreme Impact Auto, an Indica-dominant hybrid from Heavyweight Seeds. She's packed with 21% THC and 0.6% CBD, making for an intensely chill high accompanied by a spicy, lemony smoke. As you can probably tell from this strain's name, the effects are totally extreme, sending you down a magical river of relaxation headed straight for dreamland! Expect your eyelids to get heavy even before you've finished smoking, making Extreme Impact Auto perfect for combating insomnia.
Grandmommy Purple
Grandmas always know how to keep a baby asleep. With a rare and potent 33% THC content, this Indica dom will put you straight to sleep, tucking you in with a soft blanket of purple smoke. To top it off, this herb will wrap you with a zesty aroma of wild berries and sweet flavors of fruity hard candies.
Holy Grail Kush
Enjoy the best of both worlds with Holy Grail Kush's genetics – a 40% Sativa/60% Indica hybrid. The combination leads to a phenotype with balanced effects that are incredibly chill yet super euphoric. The aromas of Holy Grail Kush are reminiscent of mulled wine on Christmas, deliciously piney and citrusy. Although her effects are mentally stimulating, the high develops into full-body relaxation with a quiet mind, perfect for getting to sleep.
Critical Kush
This list wouldn't be complete without a few pure Indica strains for sleep, making Critical Kush one of our essential picks. Her earthy smoke leads to a piney flavor, accentuated by notes of lemons and tangerines. Of course, we'd be remiss not to mention Critical Kush's potency: 25% THC paired with 1.8% CBD puts this strain on the medicinal level. Whether it's fatigue, anxiety, or insomnia that's keeping you from getting some good shut-eye, Critical Kush will help.
GG#4 Original Glue
Of course, while pure Indicas are great for sleep, don't forget about hybrids! GG#4 Original Glue is an equally balanced feminized hybrid, bred from a cross between Chem's Sister, Sour Dubb, and Chocolate Diesel. Her sticky buds exude a pungent, slightly citrusy aroma that translates into piney, chocolatey smoke. GG#4 is one of the best weed strains for sleep out there; with THC levels hitting 28%, this strain is destined to glue you to your couch! The effects are truly hybrid in nature, inducing a pleasant euphoria combined with complete body relaxation that will put you in the mood for bedtime.
Pineapple Chunk
Due to her potency in both THC and CBD – 25% and 1.1% respectively – Pineapple Chunk easily qualifies as a medical cannabis strain and is exceptional at combating symptoms related to chronic pain and insomnia. Sit back, relax, and enjoy the Hawaiian pizza vibes of this strain as you're transported to paradise. Sensations that are initially euphoric but mellow out into a calming couch-lock will have you yawning in no time!
Afghan Kush
Our picks wouldn't be complete without one of the best Indica strains for sleep on the market: Afghan Kush by World of Seeds. This lovely lady has her roots in the Hindu Kush mountain range in Northern Afghanistan, and her heritage is obvious in the hashy flavors and aromas of her smoke. The effects are relatively narcotic and not very cerebral – with 20% THC, Afghan Kush is sure to have you melting into the couch and appreciating the medicinal value of this strain!
Herbies Head Shop expressly refuses to support the use, production, or supply of illegal substances. For more details read our Legal Disclaimer.