Holy Grail Kush Feminized Seeds from DNA Genetics
Netherlands
DNA Genetics' Holy Grail Kush cannabis seeds produce a highly sought-after marijuana strain known for her ridiculously happy high with a super relaxing yet balanced edge. The big and beautiful buds of Holy Grail Kush create dense smoke that tastes like Christmas with its delicious mix of pine and citrus notes. The effects of this variety are balanced between mental stimulation and body relaxation, making it ideal for toking day and night.
Read more
All characteristics
Holy Grail Kush Strain Info
As an award-winning Cannabis Cup hybrid, the Holy Grail Kush cannabis strain is one that offers the kind of quality high you'd expect from such a name. Holy Grail Kush has proven easy to cultivate for beginner and seasoned growers alike. She produces gorgeous buds dripping with resin that are as pungent as they are potent. It's easy to see why this strain is a favorite among the staff at High Times, as well as countless Kush-loving cannabis consumers worldwide.
Genetics
With her award-winning lineage, it's no wonder the Holy Grail Kush cannabis strain received the Cannabis Cup's first-ever perfect score given to any hybrid. Holy Grail Kush's genetics are a cross between two-time Cannabis Cup winner Kosher Kush and OG #18, a winner of multiple awards in several cannabis competitions.
Flowering Time
Holy Grail Kush produces her huge resin-drenched colas over a 9-week flowering period, which you should count from the day you flip your light to 12/12.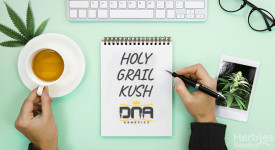 Holy Grail Kush Grow Report
Yields
The Kush family tree is known, among other things, for extraordinary yields, and these seeds are no exception, as they let you harvest up 500-650g/m² (1.6-2.1oz/ft2) indoors.
Effects
Right after smoking this sacred beauty, you'll feel a warm relaxation spread easily throughout the body. The effect makes its way quickly to the head for a pleasing and stimulating heightened mental arousal, but with no trace of brain fog or burnout. Holy Grail Kush will leave you feeling relaxed and so happy that it'll be hard to wipe the smile from your face.
Medical Properties
If taken late in the evening, Holy Grail Kush can improve your quality of sleep. Her relaxing properties are also great at reducing stress and anxiety and helping people with depression. In general, it's a superb all-around medicine that can be used as a muscle relaxant and painkiller as well as an appetite stimulant.
THC and CBD Levels
The buds of Holy Grail Kush are known to be exceptionally resinous – try this yourself for concentrate production. These copious amounts of resin contain a high level of THC – up to 21% in samples tested at US dispensaries.
Smell and Taste
The Holy Grail Kush marijuana strain is as tantalizing to the senses as it is to the body and mind. The pungent and piney terpene profile that made Kush cannabis famous is beautifully complemented by Holy Grail Kush's strong citrusy aroma.
Grow Tips
This strain is a holy grail for those who've only just begun to learn the art and science of cannabis growing, as she's resilient and easy to grow. However, there are a couple of things to keep in mind if you want to make the outcome even more spectacular:
Plants grow tall, and LST/HST is a must in indoor spaces
Install a new carbon filter to get rid of pungent, dank aromas
With enough skill, you can push the plant's nutrient uptake to the limits
Holy Grail Kush Seeds
By making Holy Grail Kush seeds available in feminized form, the breeder made sure that both amateur and commercial growers can focus on the only thing that matters – the production of a great number of female buds.
Characteristics
Brand

DNA Genetics

Sex

Feminized

Flowering type

Photoperiod

Suitable for

Outdoor

Suitable for

Indoor

Effect

Medicinal delight

Genetics

Kosher Kush x The OG #18

Awards

1st Hybrid HT Cannabis Cup 20112nd Indoor Hydro Spannabis 2012

Height

High

Yield

500 - 650 g/m² indoors

Flowering indoors

63 days

Genotype

40% Sativa / 60% Indica
How To Post Your Review?
Thank you for sharing your opinion about our website!
Your feedback will be posted shortly after our moderator has reviewed it.
Please note that we do not publish reviews if they:
Written in all CAPS
Contain aggressive or offensive language
Have a promotional content (contact details or links to other websites)