Wedding Glue Auto Feminized Seeds (FastBuds)
Description
Wedding Glue Auto Strain Info
A blend of two notorious strains with the addition of autoflowering traits turns out to be a winner with Wedding Glue Auto. Its history has been proven to deliver sweet and crave-worthy flavors, along with hefty yields and heightened levels of THC. Wedding Glue Auto is also gaining popularity for her ease of growth, making this autoflowering variety ideal for beginner growers, especially those seeking the kind of sticky, resinous buds that Wedding Glue Auto can easily produce.
Flowering Time
You'll not only fall in love with Wedding Glue Auto's appearance, aromas, and effects, but also her quick lifecycle, as the strain has a flowering time of just 9-10 weeks.
Yields
Not only is Wedding Glue Auto covered in a potent, resinous coating of trichomes, but she also produces maximized yields. The strain grows with ease in any environment, treating growers to bounties of buds come harvest day. Indoors, expect to harvest 450-550g/m2 (1.5-1.8 oz/ft2), while outdoors, Wedding Glue Auto can produce 60-160g (2-5oz) per plant.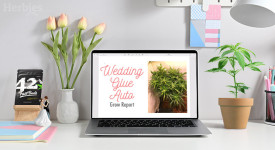 Wedding Glue Auto Grow Report
Effects
You'll be treated to the best of both worlds with the balanced Indica and Sativa effects of Wedding Glue Auto. Upon your first inhale, you'll feel a rush of euphoria that kicks off the strain's heady high. This cerebral stimulation is highly beloved for fueling motivation, focus, and creativity. On the Indica side of things, your body will melt with a soothing comfort that effectively alleviates soreness and pain. Overall, Wedding Glue Auto provides a unique experience of uplifting relaxation.
THC And CBD Levels
If you're a lightweight, proceed with caution when consuming Wedding Glue Auto. The strain easily reaches THC levels of up to 26%, with minimal levels of CBD under 1%.
Smell And Taste
You'll find yourself lusting after Wedding Glue Auto's terpene profile of sweet, delicious aromas and tastes. Like her icing of trichomes, the strain is rich in luscious vanilla aromas on the inhale, which transform into a distinct earthiness as you exhale. Its sweet side is balanced out with hints of crisp sour notes and a slight peppery flavor.
Grow Tips
All dressed in white, Wedding Glue Auto is sticky-icky with its heavy coating of resinous and crystal-like trichomes – be ready with gloves and rubbing alcohol for her glue-like harvest! Height-wise, the strain reaches a moderate 70-120cm (28-47 inches), making her perfectly discreet for outdoor environments. For the most successful grow, keep the following tips in mind:
LST techniques can maximize yields with increased light exposure.
Flushing near harvest heightens the strain's impressive flavors.
Wedding Glue Seeds
Today's the big day to get your hands on Wedding Glue Auto feminized seeds. Buy this impressive autoflower simply and discreetly online and for a good price at Herbies.
Characteristics
*Herbies sells cannabis seeds exclusively as souvenirs that aren't meant for cultivation or germination. Customers should be aware that the germination of cannabis seeds is illegal in most countries. Herbies sells cannabis seeds exclusively for collecting and preservation for future generations. We advise customers to check with their local laws before germination, as Herbies does not accept responsibility for the illegal use of our products.