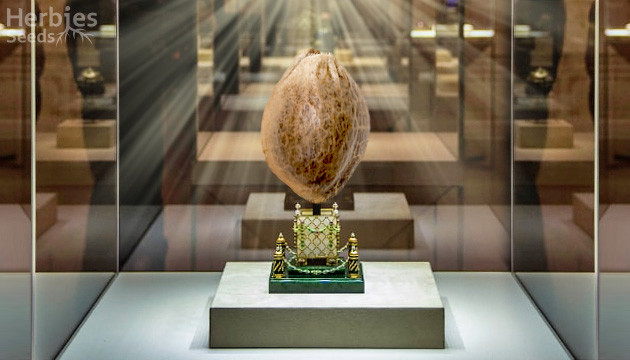 Weed has grown in popularity around the world, and some strains have become extremely popular – these strains can be easily found in most seed shops and dispensaries. While they have earned their celebrity status for a reason, that doesn't mean you should limit yourself to commercially popular strains. You can also steer clear of trends by picking out rare cannabis seeds that will give you a truly unique growing and smoking experience.
Even if you're an avid smoker, you might not be familiar with most of the rare marijuana strains on our list. There are more than 2000 varieties of cannabis seeds for sale at Herbies, so, naturally, some of the hidden gems are REALLY hidden. Luckily, we are here to show you everything! So, if you're interested in learning more about the top 10 most rare cannabis strains you can cultivate right now, stick around till the end - you'll be ready to start your own quest for the rarest strains next.
Dark Devil Auto - Dream-Like in and out
Dark Devil Auto is a hybrid strain that's characterized by its very short flowering stage, and an almost pitch-black bud color that's instantly recognizable. It won't take long for your Dark Devil Auto plant to form potent buds with a THC level of up to 20%.
Dark Devil Auto (Sweet Seeds)
Autoflowering

Leaving sorrows behind

15 - 20 %

400 - 600 g/m² indoors
50 - 200 g/plant outdoors
Go to strain
This strain can produce yields of around 600 g/m² (2 oz/ft²) indoors. That is impressive, especially taking into consideration its incredibly short flowering time of 60 days, incredible bag appeal, and autoflowering resilience.
These rare cannabis seeds produce plants with long-lasting happy and creative effects that are instantly felt in both body and mind. The flavor profile of Dark Devil Auto is sweet and quite rich, with subtle notes of citrus fruit and berries and a pronounced incense smell.
CBD Jam - A Sweet Cure-All
An offspring of a legend Marmalate, CBD Jam is the ultimate rare cannabis genetics with a sweet and fruity flavor and an overall rich terpene profile.
CBD JAM (Delicious Seeds)
Photoperiod

Delicious remedy

7 - 10 %

500 - 600 g/m² indoors
800 - 1000 g/plant outdoors
Go to strain
CBD Jam is a 50/50 hybrid that reaches high levels of both THC and CBD in a 1-to-1 ratio – 7-10% and 7-14% respectively. These rare weed seeds have been specifically bred to satisfy both recreational and medicinal users, so it's a great choice for people who are seeking to heal their mind and body. CBD Jam is particularly effective for people dealing with sleeping and eating disorders, pain, muscle tension, and more.
CBD Jam has a short flowering stage of 50-55 days and produces yields of around 600g/m² (2oz/ft²) indoors or up to whopping 1000g (35oz) per plant outdoors. It boasts amazing resin production, as well as big and potent premium-quality buds that are quite hard to find these days.
Ketama - Rare Cannabis Seeds from Morocco
Ketama is a Moroccan indica strain with moderate potency. It has THC levels ranging from 17% to 19%, along with a CBD level of 1%. The strain is primarily marked by woody, minty flavors and earthy, hash-like aromas.
Ketama (World of Seeds)
Photoperiod

Gentle stone

17 %

450 g/m² indoors
700 g/plant outdoors
Go to strain
As a 100% indica strain, its effects are mostly calming, relaxing, and comforting. Ketama can mellow you out and soothe you after a long and hard day, while making it easier to slip into your nighttime routine and have a pleasant and peaceful sleep.
If you decide to plant these rare cannabis seeds, you can expect to harvest around 450g/m² (1.5oz/f2) in indoor environments, and up to 700g/plant (2.3oz) if you grow your plants outdoors.
BubbleGummer - Rare Weed Plants For Your Sweet Tooth
Are you looking to buy rare cannabis seeds that are loved by crowds and can help you in social situations, but aren't sure which strain to try? If that's the case, BubbleGummer from Female Seeds, one of the rarest cannabis strains at Herbies, might be just right for you.
BubbleGummer (Female Seeds)
Photoperiod

When you want the best of both worlds

15 - 19 %

350-500 g/m² indoors
250 - 500 g/plant outdoors
Go to strain
With two legendary parent strains – American Bubblegum and Skunk Special – BubbleGummer provides exceptionally soothing and euphoric high with mind-bending cerebral effects. First, these rare genetics will boost your energy levels and heighten your senses, but then this strain will help you sleep better and de-stress. This versatile touch is what makes BubbleGummer stand out from the rest of its family.
This strain's THC level is high yet manageable – it has been measured at 19%. As you can expect from a Bubblegum strain, its flavor is rich, with sweet notes of fruit and even balsamic vinegar.
Galaxy - for Incomparable Mood Elevation
At Herbies, you can find many rare cannabis seeds for sale. However, if you're looking to get something that's potent but can keep you energized, active and motivated, Galaxy is the way to go. The balanced effect is possible thanks to the combination of a 21% THC level and high levels of CBD and CBN.
Galaxy (Pyramid Seeds)
Photoperiod

Happy austronaut

21 %

500 g/m² indoors
500 - 1500 g/plant outdoors
Go to strain
When grown indoors you can expect these marijuana seeds to bring yields of 550 g/m² (1.8oz/ft²). Outdoors, the strain can produce up to 1500 grams (53oz) per plant.
Possibly the rarest weed strain at Herbies, Galaxy has a refreshing flavor with rich notes of mint, pine, and a touch of citrus thanks to its complex terpene profile.
Kush Fromage - a Rare Meeting Point of UK and US Genetics
If you're on the market for rare cannabis seeds that produce potent buds with high THC levels, Kush Fromage is definitely a strain you should consider. With THC levels reaching 26%, Kush Fromage is the dream for experienced cannabis connoisseurs. The stain is quite potent, which leads to a strong and intoxicating high that can mellow you out, soothe your pain, and relax your mind and body.
Kush Fromage (Medicann Seeds)
You can expect to harvest around 500-600 g/m² (1.64oz/ft2 - 2oz/ft²) when growing this strain indoors.
Kush Fromage has an extremely potent smell and taste. It is known for its cheesy, spicy, and herbal flavors, as well as its earthy, herbal, and woody aromas.
Pakistan Valley - as Indica as It Gets
Pakistan Valley is a 100% Indica strain with a high THC level of about 20%. It produces average yields of 450g/m2 (1.5oz/ft2) indoors and 700g (24oz) per plant outdoors. The buds have an earthy, musky aroma with floral notes and a classic Kush smell and taste.
Pakistan Valley (World of Seeds)
Photoperiod

Elevating stone

20 %

450 g/m² indoors
700 g/plant outdoors
Go to strain
This strain is a potent one, so you can expect to feel long-lasting and strong sedative effects. Because of that, Pakistan Valley is suitable for managing pain, boosting appetite, and improving sleep.
Desfrán - a Treat for All Your Senses
Desfrán is a 100% sativa strain that provides a powerful, cerebral high. This strain is high in THC, easily reaching THC levels of 22-26%. Some of the rarest weed in the world, it's perfect for seasoned smokers and those who are looking for a psychedelic adventure.
Desfrán (Dutch Passion)
Photoperiod

22 - 26 %

Mind-blowing

500+ g/m² indoors
Go to strain
Its yields average around 500 g/m² indoors (1.64oz/ft2), and it usually takes around nine weeks for the plant to start producing buds.
Desfrán is known to have an interesting and exotic flavor profile, with fruity aromas of pears, green apples, grapes, and notes of melon.
Mendocino Skunk - a Mix of Contrasts
Taking just seven to eight weeks to flower, while boasting large yields of 500-600 g/m² (1.64oz/ft² - 2oz/ft²) indoors and 1000g (35 oz) per plant outdoors, marijuana seeds of Mendocino Skunk are the perfect choice for novice growers.
Mendocino Skunk (Paradise Seeds)
Photoperiod

Sweet body relaxation

16 - 20 %

700 g/m² indoors
1000 g/plant outdoors
Go to strain
These rare cannabis seeds are a 60/40 indica/sativa bland with a high THC level of 16-20%. As a balanced sativa/indica combo, Mendocino Skunk has uplifting and stimulating effects and can give you a pleasant brain buzz or a cerebral high.
When it comes to its flavor, you can expect to find both fruity and skunky notes with sweet whiffs of strawberry.
Nebula - Expect the Unexpected
While we're on the subject of rare strains of cannabis, we cannot neglect to mention the Nebula strain, which is a real growers' and smokers' delight. The strain is a perfect 60/40 indica/sativa bland that can reach high THC levels of up to 22%.
Nebula (Paradise Seeds)
Photoperiod

18 - 22 %

Trippy just as this world is

500 g/m² indoors
600 g/plant outdoors
Go to strain
You can expect its yields to extend to 500 g/m² indoors (1.64oz/ft2) and 600 g/plant outdoors. It produces large, trichome-rich buds with a sweet, honey-like taste and smell that is accompanied by earthy, woody, and fruity notes. Its effects are mainly euphoric, uplifting, and relaxing, but it can also have hallucinatory, psychedelic effects.
Woohoo! You found a bonus seed promo code!
Stock up on Rare Cannabis Seeds at Herbies
Whether you order just one of these rare cannabis strains or choose to go with multiple varieties, we're sure you'll have a great experience growing and smoking your strain of choice. Most of the rare exotic strains listed here are quite easy to cultivate, making them suitable for novice growers. They produce medium to large yields, and have high THC levels. However, due to them being some of the rarest weed on the market, you can expect unique, complex effects and taste profiles - a sure way to blow away your friends and yourself.
Have fun growing!
Herbies Head Shop expressly refuses to support the use, production, or supply of illegal substances. For more details read our Legal Disclaimer.