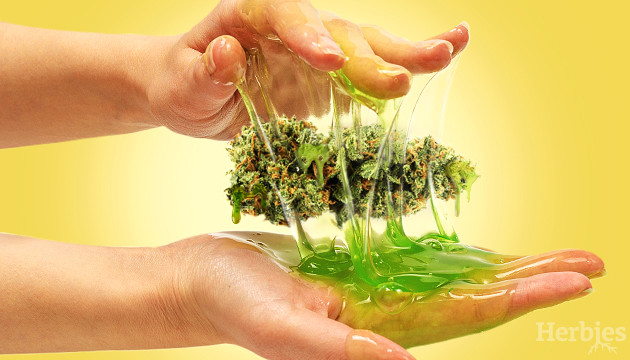 Enormous resin production is one of the most sought-after features of a great weed strain because it means a mouth-watering terpene profile and knock-out potency. We've compiled for you a list of the best sticky weed strains that you can grow and smoke this season.
Our top ten list of the most resinous strains contains both autoflowering and photoperiod varieties and covers the whole Sativa-Indica spectrum, but one thing these seeds have in common is that they all produce the most resinous weed on the market. You can smoke these sticky-icky buds straight or make all kinds of concentrates from them – in either case, the experience will be top-notch.
What Makes Cannabis Sticky?
We all know that sticky strains are the most potent, smelly, and flavorful and that the secret ingredient is the cannabis resin, but what is this resin exactly?
Resin is not unique to cannabis. Many other plants, such as pine trees, produce it too. Resin mostly consists of water but is also chock-full of aromatic substances called terpenes. It's exactly these terpenes that make resin so sticky and gooey – and smelly as well.
However, the cannabis plant also manufactures a whole class of other chemicals – cannabinoids – that you won't find in any other species. Cannabinoids, such as THC, CBD, and dozens of other less-known compounds, create a weed strain's individual potency profile. Cannabinoids are another major component of cannabis resin, and they're produced and stored alongside terpenes in trichomes – prominent glands that cover flowers and the little leaves sticking out of them.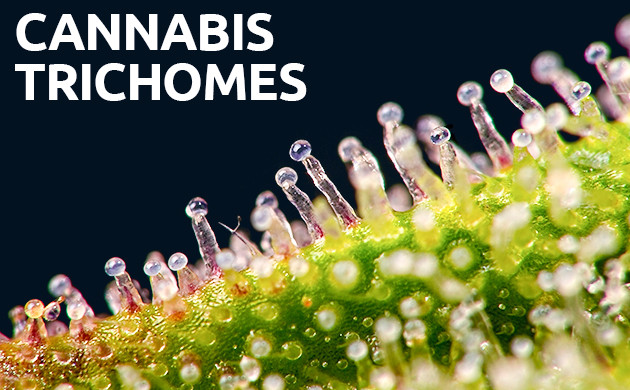 At the moment, we can only guess what the function of trichomes is or why their resin is full of cannabinoids. One theory is that super sticky weed strains use their strong aromas and psychoactivity to deter pests and grass-feeding animals. Another theory says that high amounts of THC protect flowers from UV light and that's why the strongest weed grows in tropics and mountainous countries like Afghanistan (where sunlight is very rich in the UV spectrum). Whatever the reason, the stickiest strains of weed are the most potent.
Why Would You Want Your Weed Sticky?
Sticky weed strains are amply covered in trichomes, and when you touch them, the trichs get damaged and ruptured, creating a burst of aroma and oozing resin that all but glues your fingers together. And since trichomes are the main depo of cannabinoids and terpenes, the more of them there are, the danker your buds.
Some heirloom Sativas may have almost no visible trichomes yet still be crazy potent, and some high-CBD strains may look super frosty while having close to zero THC. However, in most commercial varieties of today, a frosted appearance is synonymous with potency. And of course, super sticky weed strains are never low-odor and tasteless. If you see an abundantly sugared bud, you know you're in for a treat.
Resin from sticky strains is also the main ingredient for all kinds of cannabis concentrates, from hash to shatter. Therefore, if you want to start making concentrates yourself, you need to grow stickier strains.
Top 10 Most Resinous Strains
We've done the searching for you. Here are our top ten most resinous strains that you can grow for some really potent and most importantly sticky buds.
Gorilla Glue Auto
We start our list of super sticky weed strains with one that has the same name as a popular brand of glue, which speaks volumes on its own. Gorilla Glue Auto by Barney's Farm is really that sticky. It also 'glues' you to the couch when you're seduced into smoking too much of this silky-smooth and creamy goodness. However, if taken in moderation, this balanced Indica/Sativa hybrid provides a mood-elevating and stimulating effect that peaks immediately and lasts for hours. Expect massive yields from this cultivar, with THC content above 25%.
Runtz Punch
Herbies' in-house creation, Runtz Punch was bred for extreme potency. With 29% THC, she's one of those resin-producing champions that jam your scissors and clog your grinder. The buds are drenched in sticky trichomes and smell like a bowl of sweet tropical fruit with hints of lavender. They induce a powerful dream-like and narcotic stone, making you get lost in weirdly creative and happy thoughts of the most profound nature. Only the most seasoned tokers with a high tolerance can hope to stay motivated and functional after a bowl of Runtz Punch.
Gorilla Girl
Gorilla Girl is a Sativa-dominant hybrid of two American sticky bud strains – Gorilla Glue and Girl Scout Cookies. Both gave the offspring an insane amount of resin-dripping trichomes, mind-blowing potency, and an earthy flavor with citrus notes. If you're lucky, you may even get a smell of menthol – the legacy of the legendary GSC 'Thin Mint' phenotype. This is also a fast-flowering plant that takes only 9 weeks of 12/12 to mature, and it can be harvested in late September outdoors.
Bruce Banner Auto
With indoor yields reaching 600g/m² (2oz/ft²), Bruce Banner Auto is definitely a super producer. This towering green giant is actually not so green at harvest because of layers upon layers of frost that conceal the buds completely. The THC content is very high at around 25% – exactly as you'd expect from such a 'white' variety – and the pungent flavor combines hot diesel exhaust with fruity sweetness. This is a wake-and-bake type of smoke that's better than morning coffee – it purges all your worries and makes you focused only on what's important while bubbling euphoria provides enough fuel for a long busy day.
White Crystal Meth Auto
The perfect source material for concentrates, White Crystal Meth Auto is an incredibly fast 8-week autoflower with record-breaking yields and above all, extreme resin production. The high is both relaxing and mentally stimulating and can provide a much-needed shot of energy after a long day. Smoke it alone to binge-watch Netflix 'til long after midnight or go out for a party – the 20% THC will suit any purpose (except sleeping), while the old-school skunky and citrusy taste will make you want to refill that bowl again and again.
Sticky Zkittlez Glue
Yet another one of the pack of Gorillas, this time crossed with a delicious candy-like Indica, Sticky Zkittlez Glue has an aroma so intoxicating that you can get high by simply smelling these resin-drenched buds. The taste is that of extreme sweetness, and the smoke fills you with all-around buzzy euphoria that makes you forget the real world exists – you just keep floating on a cloud of pure bliss for hours and care for nothing at all.
Super Hash
With parents like G13 and Hash Plant by Mr. Nice, this amazing hybrid can't be anything but the sweet and herbal-smelling resinous miracle that she is. If you want to roll a huge ball of finger hash or dry-sift some premium kief, Super Hash is the strain you're looking for because you get the signature smell and taste of the old-school imported hashish. Now you can get the same authentic results at home in a short 55 days of flowering.
Grandmommy Purple
The exquisitely beautiful frosty buds of Grandmommy Purple pack an astounding 33% THC. If you think the rest of the sticky weed strains on our list are strong, imagine what this potency bomb will do to you! Hint: just one toke can send you straight into a trance-like euphoria with an irresistible desire to lie down pronto, or else you'll simply fall asleep standing up. With power like this, the weed should probably be off-putting, but no: it's actually exquisitely delicious and lures you into smoking more than you should.
Glueberry OG
And just like that, we're back to the Gorilla line, which is so sticky we just can't get rid of it. Its next descendant is Glueberry OG by Dutch Passion. With 84 days of 12/12 needed for buds to mature, this plant is longer-flowering, but the wait is totally worth it because at harvest, you'll get tons of huge and dense colas shimmering with crystals and smelling of pine and pepper. The smoke packs 22-26% THC and leaves a beautiful earthy aftertaste of a classic Indica. The effect is pure happiness, where you love the world and everything in it, yourself included.
Wedding Glue Auto
Dressed all in white and looking fresh and beautiful, Wedding Glue Auto is the kind of weed you'd want to profess your undying love to. Her buds are frosted with a thick layer of 'sugar' that smells like sweet cake or pastry and leaves a taste of earth on your palate when you smoke these dense and resinous buds. Packing up to 26% THC, this is a very potent autoflower that's ready for harvest in 9-10 weeks from seed and yields as much as 550g/m² (1.8 oz/ft²) indoors.
Stick to These Strains for Flavor, Potency, and Resin
We hope that our top ten list of the best sticky weed strains will be enough to send you on a quest for that ultimate resin-producing cultivar. Start with some fearsome beast of the Gorilla family – this is where you can't go wrong – or feel free to explore any other of the high-potency genetics. The chances are that super-potent strains will also be resinous as hell and brimming with tastes and aromas.
Herbies Head Shop expressly refuses to support the use, production, or supply of illegal substances. For more details read our Legal Disclaimer.