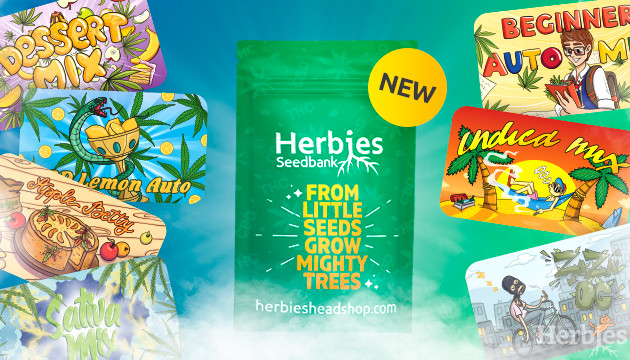 Just in time for St. Patrick's Day, Herbies has prepared not one but two surprises, one for each end of the rainbow!
On the one end, you get 4 days of low prices. Only from March 17th to March 20th, 2022, enjoy 17% off all strains from Herbies Seeds, including the treasure on the second end of this lucky rainbow: 7 brand-new strains and mixes made by yours truly and ready to show extreme potencies up to 33% THC, unexpected flavors, and beginner-friendly sturdiness.
As always, versatility is at the core of this launch. This one will unite the THC-heads, terpene gurus, and CBD-centric growers – whatever you value most in your cannabis, you can get that from these seven new additions, all in hefty harvests. Check out these glorious newcomers and put them in your cart: when else, if not now, will you get a discount on the latest genetics?
Want to Get High on the Trendy Apple? Apple Betty
Taking inspiration from a classic American dessert, we've created, Apple Betty, a lip-smacking cannabis strain with an insane twist – 33% THC! If you need something to keep you from succumbing to negativity, Apple Betty will come in handy with her heavy uplifting effect with a touch of oceanic feeling to feel completely at peace.
Looking for a Natural Medicine? CBD Lemon Auto
Ideal for growers who love to use their harvests medicinally, CBD Lemon Auto comes with a balanced cannabinoid content of 17% THC and 17% CBD. The therapeutic effects start as soon as you open the jar of these citrusy, lemony buds that smell like a new-age aromatherapy place. The effects will quickly get you high and medicated, lifting your mood, relieving stress and aches, and filling you with energy without any risk of anxiety or paranoia.
Ready to Feel the Real Euphoria? Za-Za OG
Hailing from the Afghani family of cannabis, the 25% THC Za-Za OG strain is bred to be more potent than any Kush that came before. Only two words can describe the effects of this strain: intense euphoria. Get ready to feel the corners of your lips go up and your eyes roll in pure ecstasy – this happy bud is the real deal. People who've been lucky to try Za-Za OG also report its effectiveness against pains, migraines, and ADD/ADHD.
Want to Feel Terpene Magic? Dessert Mix
To let you get the most out of weed's entourage effect, we've compiled this mix of three dessert strains filled to the brim with flavorful terpenes. The complex chemical composition of Apple Betty, Banana Pudding, and Mango Mousse not only gives them an incredible, layered sweet flavor but also long-lasting effects "with character." The 33% THC Apple Betty is psychedelic, 25% THC Banana Pudding is almost numbingly relaxing, and 26% THC Mango Mousse is happy and tranquilizing. Note that Banana Pudding and Mango Mousse are sold exclusively as part of this fruity mix.
Lacking Experience? Beginner Auto Mix
Even if you've never grown before, with this Beginner Auto Mix, you'll have three strains with up to 27% THC to learn the ropes on. All of them – Godzilla Cookies Auto, Ape Fruit Auto, and Purple Chill Auto – are forgiving to newbie mistakes and don't require sexing or changes in light schedule. The result is dispensary-grade weed with astounding effects: giggly and uplifting from Godzilla Cookies Auto, cerebral and happy from Ape Fruit Auto, and therapeutic and relaxing from Purple Chill Auto. The latter two are available exclusively as part of this beginner-friendly mix.
Ready to Grow Cerebral Sativas? Sativa Mix
All Sativa fans out there, listen up: this mix of Sativa strains is no joke! With potencies of up to 27% THC, our incense-like Yuzu Fantazy, choco-strawberry Choco Thai, and citrusy Orange Buddy Auto can easily make up your entire stash and provide a variety of bud for all occasions. Here's Yuzu Fantazy for an uplifting, motivating high throughout the day, Choco Thai for confidence in social settings, and Orange Buddy Auto for those nights when you want to explore your creativity. These strains come in a bundle only, so try them all, mix them up, and explore all the sides of Sativa.
Craving a Relaxing Indica? Indica Mix
These three outstanding strains – Philosopher's Stone, Za-Za OG, and Hypnotical Auto – are the crème de la crème of Indica lineage. With THC potencies reaching an ultra-high of 26%, these buds will help you reach levels of relaxation you could only dream of before. Philosopher's Stone provides a unique combo of tranquility, giggles, and a touch of psychedelia, while Za-Za OG is highly therapeutic and euphoric like no other strain. Meanwhile, Hypnotical Auto is narcotic-like and extremely helpful for the relaxation of tense muscles and lulling you to sleep at night. Note that Philosopher's Stone and Hypnotical Auto are sold as a part of this extraordinary mix only.
Now is the Perfect Time to Shop Herbies!
Hurry up: March 17th to March 20th is the best time to shop Herbies Seeds, including our best-sellers like 30% THC Mimosa Shot or 33% THC Grandmommy Purple and the newest additions that will soon take over the world. You can find the full list of 21 strains and mixes from Herbies Seeds here.
Go over to these strains' pages to read their full descriptions and get some growing tips to help you make an informed decision. Fill your cart and enjoy our gifts, bonuses, stealthy delivery, and the 17% off discount! Done? Don't forget to leave a review and maybe even write a grow report – we love to see them!
*UPD: This deal has ended, but more are coming - stay tuned!
Herbies Head Shop expressly refuses to support the use, production, or supply of illegal substances. For more details read our Legal Disclaimer.