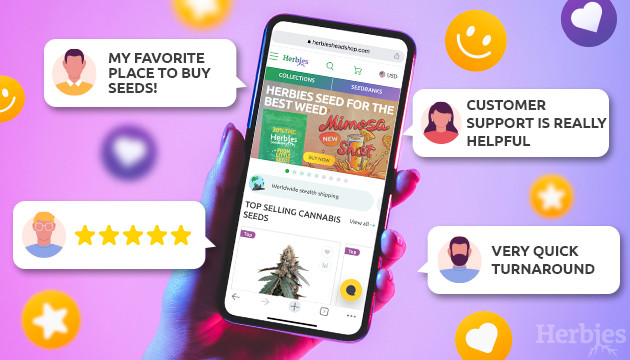 We understand that as a buyer of cannabis seeds you may feel vulnerable and afraid of many things to go wrong. So, in this post, we state our case that Herbies Seeds is indeed legit and one of the best online stores in the industry.
Key Facts about Herbies Seeds
Herbies is a legit place to buy cannabis seeds because we deliver what's promised and offer our customers a great shopping experience. We have thousands of weed strains in our catalog, deliver orders all over the world, give away freebies, and offer discounts and promos all the time. There are countless good reviews on independent platforms testifying to our integrity and dependability.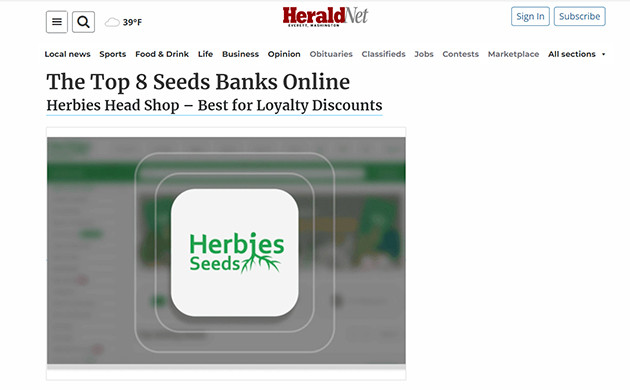 Herbies Seeds in Numbers
We are grizzly old veterans of the marijuana seeds market and have a lot to show for it:
Herbies Seeds was founded 20 years ago,
We deliver to over 100 countries,
We work with over 120 seed breeders,
We have 2000+ strains in our catalog,
We have successfully delivered over 100,000 orders.
What Do Reviewers And Press Say of Herbies?
If you want to find a Herbies Headshop review online, you won't be short of options. Twenty years is enough time to build a strong reputation. You may start with reading customers' reviews on our own website and then proceed to independent platforms or read publications in the industry's press.
Herbies Head Shop Reviews
On our website, you can read all the reviews ever left by our customers. We publish all of them, including negative ones. Needless to say, our customer support replies to all negative comments and strives to resolve the underlying issues. Most of dissatisfaction was caused by long delivery times during the spring of 2020, at the height of the COVID-19 crysis.
The average rating the reviewers have given us is close to five stars. At the time of writing people have left 641 reviews, and 589 of those rate our service at 5/5. Users praise Herbies for the wide choice of seeds, attractive prices, great germination rates, and, of course, fast and reliable delivery with the ability to track the parcel from the day it was shipped and to the moment it arrives at your address.
We're especially happy to see comments from satisfied customers living in remote places like Australia or South Africa. Or the US for that matter. We're currently operating from Alicante, Spain but guarantee a speedy delivery worldwide.
Independent Review Platforms and Forums
Traditionally, people put more trust in reviews from independent resources, and Herbies is in excellent shape in this respect, too.
Check out our company's profile on Reviews.io. Out of 555 users who have left a review, 96 percent would recommend our seed store, and the average rating is 4.82. This is a reliable indicator that Herbies Seeds is a legit source of cannabis seeds, that we deliver on our promises, and do all we can to uphold our reputation.
In practical terms, this means that we:
make sure all 2000+ strains are always in stock,
fill in orders on rare genetics upon request,
accept bank cards and Bitcoin + other payment methods wherever possible,
maintain 24/7 customer support,
ship orders on the same business day Monday to Friday,
use discreet packaging and stealth shipping,
guarantee germination,
allow return of the purchase with the full refund.
Users on cannabis forums can also testify that Herbies Seeds is a reliable company. They have only good things to say in a "business-as-usual" type of situation. More importantly, they say how helpful our team is when there're complications at customs or shipping company or some other issue. Our customer support doesn't stop even if things go wrong through no fault of ours.
In its overview of Herbies, Honest Brand Reviews concludes that "all in all, customers love the taste, smell, feel, look, price, and quality of the seeds they're buying from Herbies. Most are two-thumbs-up, would-and-will-buy-again happy about their ordering experience."
A reviewer at 10buds.com adds: "Overall, Herbies Seeds is the first online seed bank we shop at because their business model, ethics, and vision have proven that they value their customers and move mountains to get cannabis seeds to your door."
Herbies Seeds Was Featured in High Times Magazine
High Times is one of the oldest and most respected marijuana publications in the world, and this magazine has posted an article about our in-house Grandmommy Purple strain. This flagship genetics of ours boasts 33% THC (which is almost a freak of nature).
But besides this amazingly potent and mouth-watering Indica, Herbies' own seedbank offers several other powerhouse strains with THC levels ranging from 23% in autoflowers to 26% in photoperiod varieties. You can read what High Times has to say about them or look'em up in our catalog.
Of course, other cannabis-related websites are well aware of Herbies Seeds too. If you google something like "herbies seeds review", you'll find many lists of the world's top seedshops, and Herbies has a prominent palce among them. Also, don't forget to check out Reddit to find out what its users say about us. Spoiler alert: they LOVE Herbies!
What We Offer and Guarantee
Now, you're just a few clicks away from finding exactly how great the shopping at Herbies can be. So let's resume what exactly we offer and guarantee.
In our catalog, you'll find all the major players of the weed seeds market, including our own seedbank, as well as dozens of less known breeders offering rare gems. In an unlikely event that some seeds aren't in stock or aren't featured on the website, contact us — we'll do our best to get the strains you're looking for.
Our prices are very competitive, and we never run out of deals and promos because, with 120+ partnering breeders, at least some have a special offer at any given time. You also get a free seed with every order plus the ability to choose your freebie from a list. Besides, get an additional bonus seed for every $ 1.980 spent.
We accept credit and debit cards and Bitcoin in most geographies plus wire transfers and cash on delivery in some countries. And we ship our orders in discreet parcels with a special stealth delivery option if you're nervous about legal repurcussions. Stealth means that we remove seeds from the original packaging and send them in non-descript ziplocks hidden among other items.

Finally, we guarantee that at least 70% of our seeds will germinate and if this doesn't happen, we will send you a replacement. And if you decide you don't want our seeds after all, you can send them back and get a refund.
Talk to Us
We think we've done a pretty good job convincing you to try out Herbies. And if you still have reservations or want to ask a question, our 24/7 online support we'll be happy to talk to you. You can chat with us using an online form or dial our number and have a conversation with a live person. Find out for yourself how helpful and friendly we are.
Have a great shopping experience and happy growing!
Herbies Head Shop expressly refuses to support the use, production, or supply of illegal substances. For more details read our Legal Disclaimer.