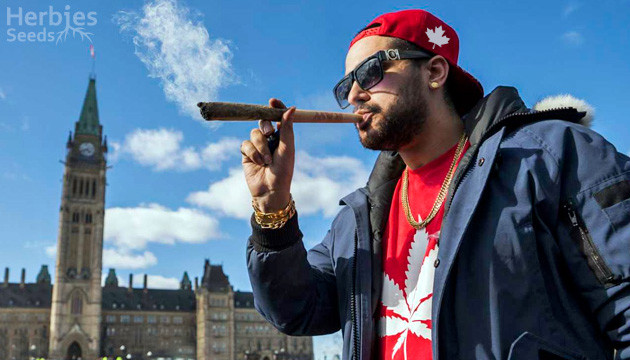 Whether you're a Canadian resident, moving there soon or just planning to visit, you might be wondering: is weed legal in Canada? Well, yes, since 2018, but there are a few things to know. First, the laws differ by province or territory. There are also a variety of restrictions. We'll give you the lowdown on the changes in Canada pot laws over the last few years and let you know what Canadian folks are legally allowed to do.
How Cannabis Became Legal In Canada
In 1923, cannabis was banned in Canada. That is, until 2001 came around and medical marijuana was legalized. This was a critical moment for patients with a variety of conditions: cancer, HIV/AIDS, chronic pain, etc. Access to cannabis got easier for those who needed it, and the fight for full legalization continued. Finally, recreational cannabis legislation, referred to as both the Cannabis Act and Bill C-45, was put into law as of October 2018. Since then, the recreational use and possession of marijuana is no longer a criminal offense in Canada. Canada is the second nation in the world (after Uruguay) to legalize cannabis.
Top 10 Low THC Strains
VIEW ARTICLE
Basic Rules To Cannabis In Canada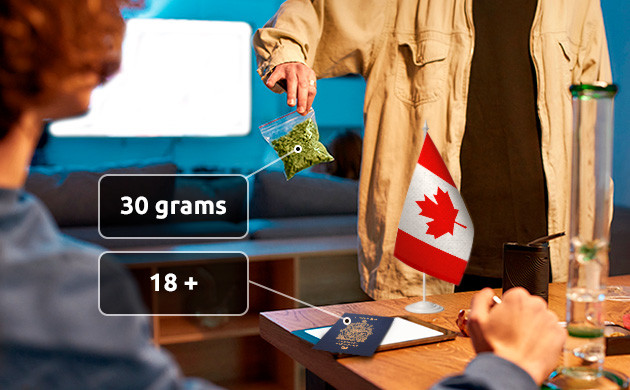 If you want to take advantage of the legal status of weed in Canada, there are a few important things to know. First of all, check out the restrictions specific to your province/territory, because they can vary depending on where you are. Generally, the federal rules are as follows: the Cannabis Act says that adults (18 years or older) may possess up to 30 grams of dried flower, can share it with other adults, and may purchase cannabis products and make them at home. However, many provinces have set the legal age for cannabis in Canada at 19 years.
Otherwise, in terms of public consumption, marijuana usage is legally similar to tobacco smoking: if you're allowed to smoke in public (depending on the province), you can usually only smoke where tobacco may also be consumed. If you're curious, you can also find possession limits for cannabis products other than dried flowers here.
Growing Cannabis In Canada And The Law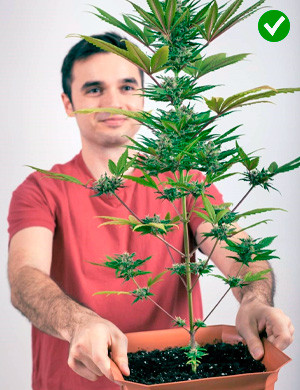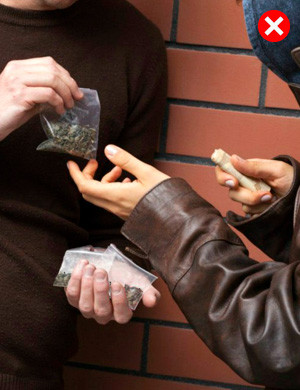 Along with the legalization of weed sales, recreational cannabis enthusiasts are also allowed to grow weed at home. However, that doesn't mean you can sell to others – this is still strictly illegal! Anything grown at home must be designated for personal use only. Adults of legal age may grow up to 4 cannabis plants per residence for personal use, with the exceptions of Manitoba or Quebec, where it is not permitted. Marijuana plants should be grown from licensed seeds or seedlings from a trustworthy seed bank.
What About Weed Seeds' Legal Status In Canada?
Since growing cannabis is legal in Canada, it makes sense that buying weed seeds would also be legal. After the Cannabis Act went into effect, adults of legal age in Canada were officially allowed to buy cannabis seeds from local or online seed banks. Although Canadians don't have to worry about the legality aspect anymore, it's important that they still choose a trustworthy source that will deliver quality weed seeds.
Where To Order Cannabis Seeds If You Live In Canada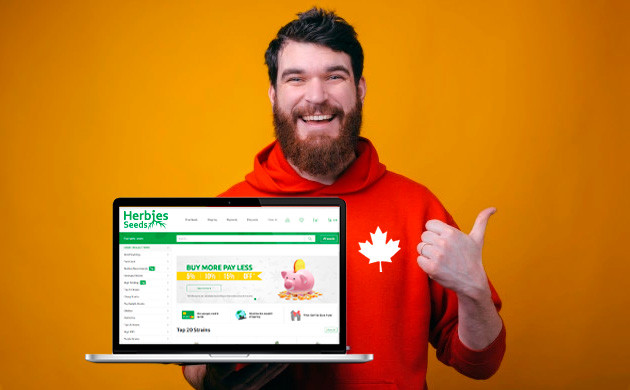 So, if you're in Canada and in the market to start growing your own weed, we recommend going with Herbies. Not only do we have a huge collection of seeds with a wide variety of strains and potencies, but also competitive prices and sweet deals. Compare that to a local bank, which may have a limited range of products with high prices. Of course, Herbies ships to Canada and offers the convenience of ordering online with discreet delivery.
Toke Responsibly!
This legal breakdown focuses mainly on the recreational use of cannabis in Canada, because it's still pretty new information. Medical patients are still, naturally, allowed access to cannabis in Canada, but the regulations have changed a bit along with the new Cannabis Act. Find more information here. In the meantime, if you're ready to start growing, check out our most popular strains at Herbies!
Herbies Head Shop expressly refuses to support the use, production, or supply of illegal substances. For more details read our Legal Disclaimer.