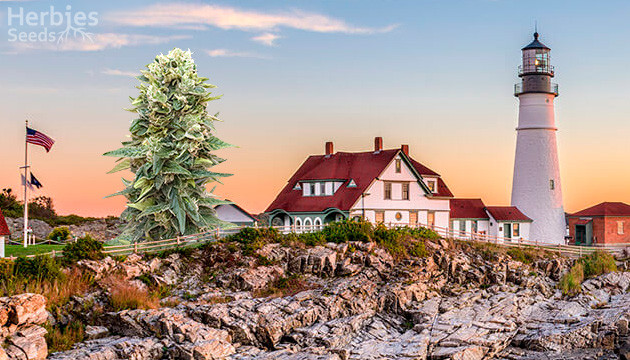 It may be hard for a beginner to navigate the complicated landscape of outdoor cannabis growing in the United States, both in terms of legality and climate conditions. However, in this series of articles, we'll attempt to guide you on your way to bountiful and legal harvests, starting with the state of Maine.
Can You Grow Marijuana Outdoors In Maine?
The law says yes. If you're 21 or older, you can grow up to 3 flowering marijuana plants, as many as 12 immature plants, and an unlimited number of seedlings. You can set up your garden within your home or in a fenced-in and secure area outdoors where your plants are out of sight.
Okay, But What About The Climate?
Although it's the northernmost state in the New England region, Maine has quite favorable weather conditions during the growing season. Marijuana plants flourish when daytime temperatures fluctuate between 73 and 83 °F, and this is exactly what you'll see on most summer days in Maine. More importantly, there's a lot of sun when it matters most, toward the end of summer. At the same time, fall arrives early and it can get really cold really fast. This raises a very important question: what are the best outdoor strains to grow in Maine?
Best Strains For Your Maine Outdoor Garden Are September Finishers
One unique thing about cannabis is that it enjoys the same weather as many people do. Since the best period for warm-weather activities in Maine is from late June to early September, it gives you an exact idea of when it's best to harvest your outdoor buds. Just look for strains that finish from early to mid-September.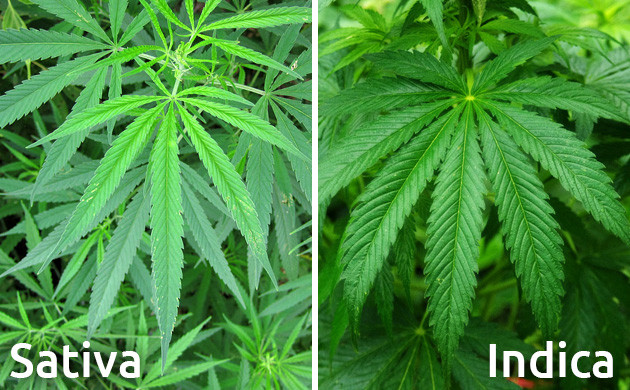 Most of these faster flowering varieties will be Indicas, probably of Afghani descent. However, Indica flowers are so dense that they can become like magnets for mold and bud rot. Balanced Sativa/Indica hybrids have a more airy bud structure and thus are better protected against mold, but they take a couple of weeks longer to mature. Sativas finish even later, likely not earlier than October, but their fluffy buds are more resilient to mold.
As you can see, there's always a trade-off between speed of flowering and mold-resistance, and you'll probably need a couple of seasons of trial-and-error before figuring out what strain works best for you.
It's Best To Choose An Auto For Your First Maine Grow
Luckily for you, you don't have to bite your nails while waiting for your first ever outdoor harvest. The season in Maine may be short, but there's a type of plant that requires an even shorter period of time to come all the way from seed to harvest. We're talking about autoflowers – and here are our top five candidates for a successful New England grow.
+ Speed Auto: Get Two Consecutive Harvests In One Season
Finishing in just 50 days from seed, + Speed Auto is ideal where there are restrictions as to the number of mature plants you can have at the same time, as is the case in Maine. Plant your first batch of seeds in late May, and by September, you'll get two harvests and a double yield without breaking the legal limits. If you germinate your seeds indoors at the end of April, put them into the ground two weeks later and begin the new cycle a couple of weeks before the previous one is over, you can even have three harvests in a single season. You'll also be rewarded by plenty of big and dense buds and the kind of uplifting social high that makes you happy and talkative.
AK420 Autoflower: A Gorgeous And Generous Sativa
This sage-green beauty will produce a lot of bulky yet airy colas that won't give you trouble with mold in the oppressively warm and humid July weather. It will perform even better if you time your grow so that the plants finish flowering in the drier conditions of late summer or early fall. With AK-47 genetics in its lineage, AK420 Autoflower is a classic Sativa: it produces a heady high that lifts your mood, dissolves anxiety, and makes you happy, social and creative.
Gorilla Glue Auto: A Summer's Harvest Will Last You A Year
Gorilla Glue Auto is famous for its over-the-top resin production. The plant's frosty and sticky appearance promises an unbelievably strong effect and an intense flavor. With notes of pine, citrus, diesel and even chocolate, the smoke is very rich and delicious. This autoflowering strain is also a high-yielder, although you'll hardly need so much bud – most users won't be able to smoke Gorilla regularly, except perhaps in the evenings or on weekends.
Auto Orange Bud: The Most Bang For Your Buck
You'll love the sweet fruity aroma of blood oranges that these tight and hard nuggets produce. Especially if your senses are sharpened by the previous hit, the smell and taste of the smoke will overwhelm you. The effect is equally strong, making you blissfully spaced out, so Auto Orange Bud is best consumed late in the evening. Plant seeds in the middle of June so that the buds see as many dry and clear days as possible during the late flowering stage.
Gelato Auto: Rocket Fuel For Your Energy And Creativity
Brimming with 26% THC, this strain is probably the strongest auto you can grow outdoors. It's also one of the most delicious: sweet and creamy, but also reminiscent of freshly baked cookies and with notes of pine forest soil. And the best thing is, you can keep savoring Gelato Auto without passing out or hitting the ceiling in your high. Every hit will only bring you to a new level of great mood and creative energy.
Don't Be Afraid To Experiment In Your Future Grows
As you can see, these five autos are a fail-proof way to grow premium-quality buds in Maine. And while they mature in your garden, you can go ahead and run some bolder experiments with photoperiod genetics. Look for an early finishing and mold-resistant strain according to our guidelines above, or simply type 'early version' or 'fast version' in our search box.
Herbies Head Shop expressly refuses to support the use, production, or supply of illegal substances. For more details read our Legal Disclaimer.