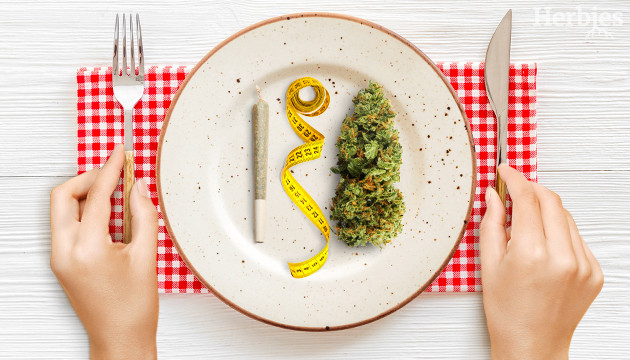 No, you didn't read the title of this article wrong! Marijuana can aid in effective weight loss, rather than contribute to it. Despite the popular notion of "the munchies" causing stoners to clear out the pantry after a late-night dooby, weed can actually act as an appetite suppressant rather than a stimulant.
With obesity rife in countries around the globe, drastic measures like surgery are popular for a chance at living a healthier, happier life. However, as an epidemic in itself, people suffering from obesity deserve relief without the risky treatment options currently available.
Now, marijuana is making headlines as a viable therapy to aid in weight loss without the many side effects associated with traditional treatments. The trick lies in knowing which strain of weed is best for weight loss.
What Is the Best Weed for Weight Loss?
Before thinking about marijuana strains for weight loss, it's worth knowing that overall, any weed can contribute to weight loss as cannabis smokers tend to have a naturally lower BMI and have lower obesity rates on average.
The reason for this has to do with the components of weed and their effect on the body and brain. These components that you should be paying special attention to when choosing your weight loss weed strains are CBD, THC, and a newly discovered THCV.
With the recent media focus on THCV, also dubbed "Diet Weed," it is no surprise that many people are jumping on the bandwagon searching for the perfect strains for weight loss.
Whether THCV is the secret ingredient or not is still going to require more studies, but for now, it seems strains with heritage allowing for good CBD and THCV levels while maintaining high THC is the sweet spot. Although pure CBD strains are also effective.
What we know for certain is that high THC increases energy (aka. calories burned), while CBD and THCV are proposed natural appetite suppressants.
Top 10 Best Strains for Weight Loss
The best part about smoking weed strains that suppress appetite is that there are so many great options to choose from. From high THC cookie flavored cannabis that'll get you buzzing, to CBD strains fit for a long day at the office sippin' vitamin water. There's something for everyone so, take a look!
Girl Scout Cookies (Original Sensible Seeds)
As a strain with high THCV lineage, Girl Scout Cookies is the perfect Indica-dominant appetite suppressant weed. Her delicious sweet cookie flavors with hints of fruit and spice are sure to curb your cravings while a THC content of up to 24% keeps you going strong with a powerful Indica buzz. As a strain dense with cannabinoids, you can also enjoy the medicinal effects of pain relief this strain can offer.
Durban Poison (Dutch Passion)
As one of the leading THCV strains for weight loss, Durban Poison is not only the parent strain for the famous Girl Scout Cookies, but also makes for a great daytime smoke curbing both appetite and anxiety as well. Her Sativa dominant THC percentage is a comfortable yet energizing 22% while her THCV levels are said to reach up to 1%. Get ready for a tasty burst of spicy licorice, anise, and clove while you nip those anxious eating habits in the bud.
Harlequin CBD (Kera Seeds)
Not all weed strains for weight loss have to contain high THC. Proving that notion is Harlequin CBD, a wonder-strain for stress relief and curbed appetite offering CBD levels of up to 17% and THC as low as 0.2%. As a Sativa dominant CBD strain, she is the ideal daytime or nighttime companion helping to suppress appetite, ease tension, relieve PTSD, soothe anxiety, and treat insomnia as well.
Purple Juice Auto (Herbies Seeds)
A giant purple anomaly, Purple Juice Auto is the Indica dominant strain that'll leave you energized during the day and blissfully relaxed at night with her 22% THC content and high-quality Sativa heritage.
Enjoy curbed munchies and energy burst while also feeling the body relief she offers as a medicinal weed that suppresses appetite. She doesn't disappoint in the flavor or appearance department either, blooming fantastic purple hues before maturing into a well-balanced sweet-and-sour flavor with hints of refreshing lemon to pull it all together.
Solomatic Auto CBD (RQS)
One of the high CBD strains for weight loss, Solomatic Auto impresses even the most experienced users with up to 21% CBD and only 1% THC. As an Indica dominant strain with a plethora of medicinal qualities enjoy an effective yet non-psychoactive result ideal for any time of day. With every puff a tasty exploration of sweet and fruity flavors, sparking the tongue with hints of pine and ginger, this is the ultimate appetite suppressant weed for CBD fans.
Malawi (Ace Seeds)
On the other side of the spectrum, we have Malawi by Ace Seeds, a 100% pure Sativa ready to rock any experienced smoker's world, or those looking to microdose high THC strains for weight loss. Coming in hot with up to 27% THC, her effects are wild and wonderful offering a uniquely strong psychedelic high. As she blows your mind and fills you to the brim with energy, you won't miss her citrus aroma accented by sweet carrots and mandarin.
Acapulco Gold (Barney's Farm)
Following suit on the Sativa dominant trail is Acapulco Gold, a 70% Sativa dominant hybrid with a high yet manageable 21% THC and almost 1% CBD – a combo that won't cause munchies. As one of the best weed strains for weight loss, her effects are uplifting and energetic while leaving you focused and alert for a great daytime experience. And, as a nice finisher, her rich Mexican terpene profile is complex with flavors and scents ranging from citrus and cream to coffee and wood.
Tangie'matic Auto (FastBuds)
Sitting at a desk all day can leave you pretty snacky. That's where Tangie'matic Auto comes in with her creative motivating high that can curb your appetite while keeping you focused! Her 23% THC content and 1% CBD profile are nothing less than enjoyable with medicinal qualities thrown in the mix, along with an utterly scrumptious tangerine, citrus, and spice terpene profile to top it all off.
Strawberry Amnesia (Herbies Seeds)
Exotic in effects and flavors, Strawberry Amnesia deserves her rightful place on this list of the best weed strains for weight loss. With 75% Sativa dominance and up to 22% THC content, her effects are mind-bending and amazing with an energetic cerebral upliftment. In combination with her effects for weight loss, get ready to savor her other-worldly wild woods flavor of berries, pine, and sandal.
Purple Lemonade Auto (FastBuds)
Last but not least another purple monster! One of the best Indica strains for weight loss is Purple Lemonade Auto with her 70% Indica dominance and high THC content of 22%. If you like to get goofy then you'll love this strain's giggly, uplifting high that transforms into a medicinally valuable full-body relaxation enjoyable both day and night in a zesty citrus haze.
No More Munchies
Using weed to help curb your appetite and lower your BMI is a safer and more enjoyable way of knuckling down on your weight loss goals. Choose between any one of the best weed strains for weight loss mentioned above and live your best life yet in a cloud of tasty cannabis smoke or vape. You've got this!
Herbies Head Shop expressly refuses to support the use, production, or supply of illegal substances. For more details read our Legal Disclaimer.