Malawi feminized seeds
Description
Malawi Feminized Strain Info
Malawi is a 100% pure Sativa landrace strain whose origins can be traced back to Southeastern Africa. A highly potent weapon in the arsenal of its breeder, ACE Seeds, this variety is recommended for die-hard stoners who are in for an experience that is simply off the hook.
Genetics
Powerful African genes make Malawi a perfect treat for Sativa connoisseurs, with the plants realizing their full potential in tropical and subtropical areas but also producing very good results in latitudes of up to 43º.
Flowering Time
Malawi requires a bit of patience to grow, but it's definitely worth the wait! The flowering period will last 10-13 weeks when planted indoors, while it takes till the end of October or early November to reach maturity for outdoor-grown plants.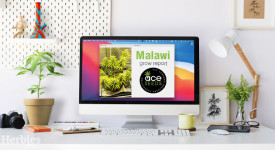 Effects
Malawi is beaming with classic Sativa energy and ready to take you on a psychedelic adventure you've hardly seen with other varieties before – that's why it's only recommended for experienced users. With a fast and powerful onset inducing a cerebral high, her effects are particularly intense and can last more than 4 hours.
THC Levels
Malawi is hands-down one of the strongest Sativa cannabis strains available on the market, with sky-high THC levels reaching 24-27%.
Smell and Taste
This cultivar sports an earthy and lemony terpene profile with a pinch of sweet carrot and ripe mandarin.
Grow Tips
Thanks to its medium node length, strong branching, and dense flowers with enormous trichomes coupled with a strong resistance to pests and diseases, this variety is easy to grow indoors. The plants grow lanky and tall, producing loose but large buds.
Malawi responds pretty well to height management techniques such as ScrOG and SOG setups.
For indoor grows, you might want to consider pruning to make efficient use of the space.
Malawi Feminized Seeds
Malawi feminized seeds fit the bill when it comes to finding a high-yielding cannabis strain willing to send you on a full-on psychedelic journey. Order your seeds online today from Herbies Seeds to get started with your grow right away.
Characteristics
*Herbies sells cannabis seeds exclusively as souvenirs that aren't meant for cultivation or germination. Customers should be aware that the germination of cannabis seeds is illegal in most countries. Herbies sells cannabis seeds exclusively for collecting and preservation for future generations. We advise customers to check with their local laws before germination, as Herbies does not accept responsibility for the illegal use of our products.