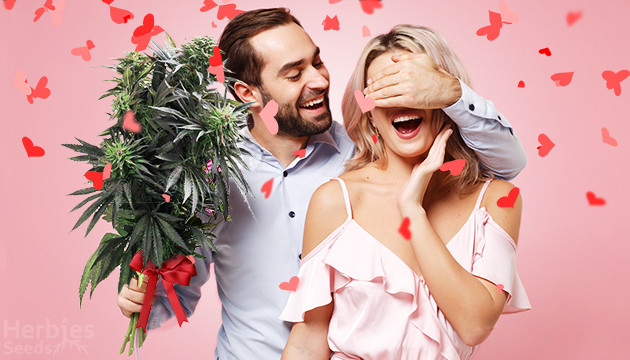 It doesn't get much better than sharing a love for cannabis with your loved one – unless it's also Valentine's Day, the international day of love! To light up this upcoming February 14th, we've put together a list of the perfect strains for the perfect stoner dates.
And by the way, you don't have to limit yourself to a single day, these date ideas work all year long!
Take A Stroll Under The Stars With Girl Scout Cookies
Girl Scout Cookies is the perfect strain to take on a nighttime hike and picnic as you settle in to watch the stars. GSC is deliciously sweet, treating your date to the flavors of blueberries, cookie dough, mint, and cherries. With a highly cerebral buzz, your creativity and inspiration will be elevated to enjoy the natural beauty of the sky and an enlightening conversation with your favorite stoner date.
Make Munchies A Competition With A Stardawg Cook-Off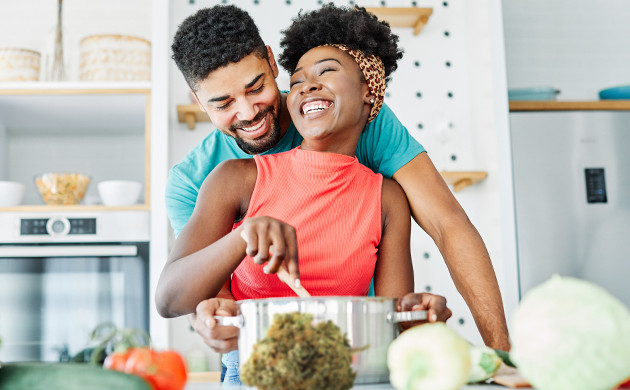 Why watch a cooking competition when you can host (and win) one yourself? Stardawg is the perfect starting course for turning the munchies into a lively cook-off with your elevated partner. Prepare for the night with your favorite ingredients and a heavy helping of Stardawg's pungent and potent buds. In no time, you'll feel its effects of an uplifted mood and mellowed mind to take on a friendly competition that will eventually turn into a perfect treat.
Get In Touch With Your Sexy Artsy Side And Gelato Auto
If you're down to have an exhilarating yet sensual stoner date, Gelato Auto is perfect for getting in touch with your artistic nature. Plan a sexy, fun, and explorative date chock-full of supplies to sculpt or paint one another's bodies. Gelato bursts with sweet and creamy flavors to set the mood, and boosts creativity and euphoric good feels. Giggle and smile your way through the perfect stoner date, with a piece of art (and partner) to enjoy at the end.
Truth Or Dare? Host A Game Night With Trippy Gorilla Auto
Throw it back to your teenage years and get lively with a fun game night with Trippy Gorilla Auto as the perfect third wheel. This Sativa-dominant strain is mentally stimulating to help your creativity with a game of Truth or Dare, allowing you to bond with your partner in a fun way while puff, puff, passing your way through the evening. Trippy Gorilla is potent enough to get the party started, yet clear-headed enough to keep you on your game.
Enjoy A Soothing Soak With Granddaddy Purple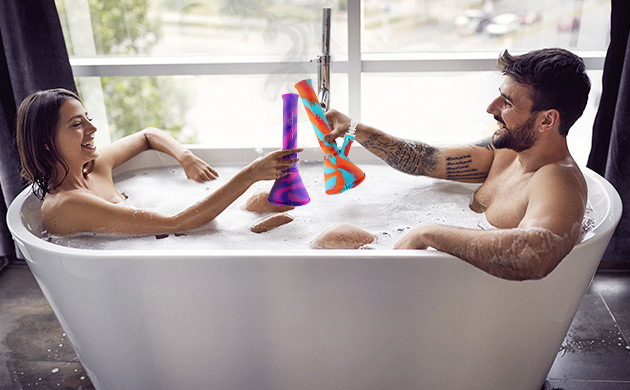 The couple that bathes together, stays together, and Grandaddy Purple (GDP) is the perfect addition to a soothing soak. The highly potent Indica-dominant hybrid will relieve all your aches and pains to help you relax both under the water and under the sheets. GDP is sophisticated in taste, elevating a sensual evening with flavors of wine grapes and wild berries. It's also a strain that's beneficial before bedtime play, adding a spark to your love life that's perfect for a Valentine's Day connection.
Host A Night Of Memories On The Big Screen With Runtz Muffin
If you're in a long-term relationship, you may be running out of ideas to keep the 'spark' alive. So, why not re-live them with the help of Runtz Muffin? Host a comfy night in with a 'big screen' to re-play your memories, accompanied by this lusciously relaxing strain. Before the big night, put together slideshows of photos that capture your best couple moments. Then kick back and relax to elevate and indulge. Runtz Muffin helps melt all stresses away for a leisurely trip down memory lane.
Begin Growing Together With Black Cherry Punch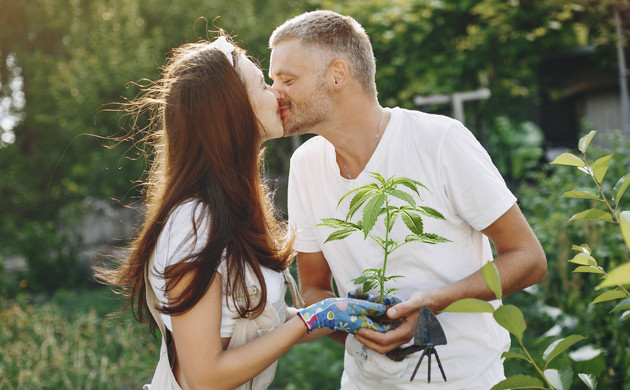 Use this Valentine's Day as an opportunity to grow together... and begin your own cannabis crop with the beautiful Black Cherry Punch. Over time, you'll nourish your plant to flourish just as your relationship does. In the end, you'll enjoy yields that serve as a symbol of your love and celebrate all the TLC it took to grow. Black Cherry Punch delivers sweet fruity flavors from loving shades of purple and pink that you've probably never seen before in a weed plant. This Indica delivers relaxing yet uplifting effects for the mood – perfect for any night in with your stoner loved one and growing partner.
All You Need Is Love… And Cannabis
This Valentine's Day, or any day for that matter, light one up and spark up your love life with a puff. Enjoy these dates, or better yet, get inspired for your own high date ideas to continue celebrating stoner love to the fullest. When you do, share your experiences in the comments below - it's never enough ways to spend time with your soulmate!
Herbies Head Shop expressly refuses to support the use, production, or supply of illegal substances. For more details read our Legal Disclaimer.