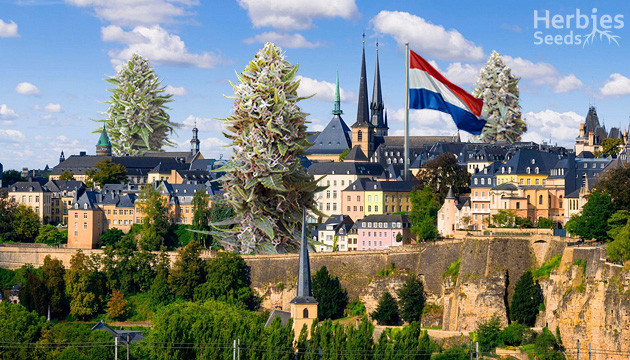 Big news on cannabis in Luxembourg: it's set to become the first country in Europe to legalize the production and consumption of cannabis.
Cannabis lovers in Luxembourg are therefore getting ready to take advantage of this groundbreaking legislation and start growing their own cannabis.
Today, we're talking you through everything you need to know about cannabis in Luxembourg, as well as the best strains to grow outdoors in this region.
Is Weed Legal in Luxembourg?
Luxembourg has long spearheaded Europe's cannabis legalization journey. Currently, cannabis in Luxembourg is decriminalized for recreational use and legalized for medical use. If you're caught with cannabis without a medical license, prosecution depends on the amount of cannabis you possess.
However, the government is planning to legalize growing and using cannabis in Luxembourg – with some caveats. The plan was to implement legalization by late 2021, but due to COVID-related delays, this legislation is still in progress.
However, cannabis will soon be legal in Luxembourg, with adults over 18 years old allowed to grow up to four cannabis plants per household (not per adult) for personal consumption. Currently, there are no plans to limit the number of seeds that a person can possess, nor are there going to be THC potency tests.
Key to the legislation: you can only trade cannabis seeds. Trade in other forms of cannabis, whether free or for payment, is still illegal. However, if you're found to be trading under 3g of cannabis, it will be classified as a misdemeanor rather than a criminal offense.
Cannabis & Luxembourg: The Best Photoperiod Strains
Photoperiod strains are perfect for growers who want an abundance of bud from a single plant and the option for real control over how the strain turns out. These strains require the correct light cycle in order to flower, but they've all been specifically chosen to thrive in Luxembourg's mild climate.
Sour Diesel from Blimburn Seeds
Sour Diesel is the go-to for lovers of pungent cannabis. One inhale of these buds and a strong scent of fuel will hit you. When toking on this bud, expect a blissful aftertaste of fresh lemon.
While the flavor profile of Sour Diesel is deep and heavy, the Sativa-dominant genetics makes this an uplifting strain. With a THC content of 25%, smoke some Sour Diesel for a euphoric, social feeling at parties or a clear, focused high for work sessions.
Sour Diesel weed finishes earlier than the onset of cold weather in Luxembourg – in late September – and brings hefty yields of 700g/plant.
Runtz Punch from Herbies Seeds
Here's some friendly advice – go slow with Runtz Punch! Even experienced tokers find that this bad boy packs serious potency. We're talking a mind-blowing 29% THC that delivers a potent, hazy body buzz thanks to its 70% Indica dominance.
Runtz Punch is the cannabis version of dessert before bed. Enjoy the strain's signature sweet, creamy flavor, then relax into its calm, dream-like high.
Indica dominance makes Runtz Punch the perfect cannabis to grow in Luxembourg – it will grow into a mighty tree with an early finish and up to a 1 kilo of bud per plant yield!
Sugar Black Rose Early Version from Delicious Seeds
Do you have a refined palette? Take on the flavorful journey of Sugar Black Rose Early Version, and travel from sweet and fruity to spicy and skunky. This strain's complex flavor profile has been recognized worldwide – Sugar Black Rose EV has the awards to prove it!
It's not just tasty either – expect a euphoric Indica-dominant body high, with a potent THC content of 25%. The yields you get here are 900g/plant – insane for such a fast, compact strain that's ready for harvest by early September.
Purple Punch from Barney's Farm
Settle in for an evening of relaxation with Purple Punch. With a heavy Indica dominance and a hard-hitting high of 25% THC, you'll be high as a kite within a few tokes. Enjoy a complex terpene profile that creates a spicy, sweet flavor with hints of berries and cookies.
Not only does Purple Punch deliver a heavy-hitting high, but it also has medicinal properties. Thanks to its 2% CBD content, this strain is great for relieving anxiety after a long day or for treating body pain.
While it's pretty stocky for an outdoor plant (only 150cm), if you decide to grow Purple Punch weed in Luxembourg, you'll get up to 2000g/plant before the end of September!
Pure Kush from Original Sensible Seeds
Owing to its genetic heritage in the mountainous regions of Hindu Kush, this bud really is one of a kind. Inhale nutty, earthy flavors with an aftertaste of citrus and mint.
Perfect for the evening, Pure Kush is strong, euphoric, and almost narcotic. Some tokers enjoy this strain for its heavy high that clears the mind and soothes pain, while others report an anxiety-calming effect that's perfect for weekends and social scenarios.
Pure Kush cannabis and the Luxembourg climate were made for each other – the strain will thrive here and bring 700g/plant with the finish in September, when it's still warm outside.
Sweet Skunk F1 Fast Version from Sweet Seeds
This is the ultimate easy-to-grow, fast-harvesting, dense-bud strain. Meet Sweet Skunk F1 Fast Version – an Indica-dominant hybrid with an 18-23% THC content and 1% CBD content.
A cross between Sweet Skunk Auto and Early Skunk, Sweet Skunk F1 FV delivers a full body and mind high that numbs pain, puts you in the right headspace, and relaxes tired muscles. Thanks to its genetics, you'll get that signature skunky taste, along with sweet and spicy undertones.
This cannabis strain for growing in Luxembourg will perform amazingly in the country's conditions – expect to yield 600g/plant in September.
Luxembourg & Cannabis: The Best Autoflowering Strains
Autoflowering cannabis strains are well-suited for beginner growers and people who don't have time to cultivate photoperiod strains. The big pro of growing these autoflowering strains in Luxembourg? If you plant them early enough, you can reap two harvests in one season!
Godzilla Cookies Auto from Herbies Seeds
This is the big hit for experienced tokers but inexperienced growers. This autoflowering strain is ridiculously easy to grow and delivers enormous buds with a whopping THC content of 27%.
Enjoy a moreish flavor that blends lemon, diesel, and cookies, along with a pungent smell of fuel. Feel an uplifting, social head high, perfect for socializing and being creative, then wait for the buzz to melt through your body.
The 75-day turnaround will allow you to start growing cannabis in Luxembourg pretty late in the season – for example, in June – and still successfully harvest a hefty yield!
Bruce Banner Auto by FastBuds
The go-to daytime smoke, Bruce Banner Auto is a Sativa-dominant strain, boasting a heavy THC content of 25%. Wake and bake, enjoying a euphoric body high that leaves you feeling clear-headed and relaxed. Get stuck into a creative or a work session and wait for the buzz to melt through your body, alleviating aches and pains.
What's more, this is a super easy-to-grow strain for cultivating cannabis in Luxembourg's temperate climate. You'll harvest up to 200g from each bush in well under 3 months!
Auto White Widow CBD by GHS
Auto White Widow CBD is the ultimate versatile strain, delivering a delicate high along with powerful medicinal effects. This strain's genetics are a 40% Sativa, 40% Indica, and 20% Ruderalis split. It boasts 5-8% THC and 5-8% CBD, giving a perfect balance of body buzz, head high, and pain relief.
Auto White Widow CBD fans swear by this strain for its therapeutic qualities, which ease body pain, soothe migraines, and help with depression.
If you start your season early enough, preferably still indoors in early spring, you can reap two harvests in one summer of this highly medicinal, dispensary-worthy weed in Luxembourg!
Amnesia Haze Auto by Expert Seeds
Go for a heady daytime high with this Sativa-dominant strain that boasts 21% THC. The flavor profile is light and dreamy, offering up delightfully sweet and floral notes.
This bud's uplifting, energetic high is thanks to nine generations of selecting, crossing, and inbreeding, producing a blissful cross between Amnesia Haze and Ruderalis.
Growing Amnesia Haze Auto cannabis seeds in Luxembourg will take around three months in total. At the end of the cycle, you'll receive 80g of the legendary psychedelic bud per plant.
Auto Orange Bud by Dutch Passion
Want some more experimental flavors? Try Auto Orange Bud, known for its signature blood orange taste and pungent lime aftertaste.
The Sativa dominance makes this the perfect strain for a creative daytime high. Smoke it or turn it into a potent concentrate – its thick, resinous buds make Auto Orange Bud super versatile.
Growing Auto Orange Bud seeds in Luxembourg's climate will be easy – the plant isn't finicky, and it's also quick and quite forgiving to beginners' mistakes.
Original Trainwreck Auto by Fast Buds
A near 50/50 split between Sativa and Indica, Original Trainwreck Auto delivers all of the pain relief and muscle relaxation with minimal sedation. Enjoy a euphoric, mentally alert head high without getting couch-locked or completely buzzed.
This strain's terpene profile is as balanced as its effects – expect a woody, spicy taste mixed with sweet lemon flavors. It's a perfect combination to indulge in, day or night.
A little over 2 months and you'll be ready to harvest up to 150g of mind-stimulating bud from each compact plant of Original Trainwreck Auto – and you'll get to reap that harvest even if winter comes unusually early.
Where to Buy Cannabis Seeds in Luxembourg
Not only will cannabis soon be legal in Luxembourg, but it will also be legal to buy seeds in-person and online. That means you have access to all the different strains the world has to offer, and you can experiment with a bunch of new, potent highs.
Order your seeds from Herbies, the online cannabis seed retailer, with thousands of seeds available and shipping out to Luxembourg in as little as 24 hours!
What's more, you get the goodies you need to get started growing cannabis in Luxembourg. With every order, you receive a free gift set, including rolling paper, a tube container, and a sticker-bombing set. Plus, there's a free seed with every purchase, and another free seed for every €20 spent.
Let's Grow Cannabis in Luxembourg!
Get ready for cannabis to be legal in Luxembourg by stocking up on weed seeds and cannabis-growing materials now. If you're a beginner grower, opt for an autoflowering strain that's fit for Luxembourg's temperate climate. On the other hand, if you're looking for more control over your cannabis plants, opt for a photoperiod strain.
In any case, cannabis being legalized in Luxembourg is one of the biggest wins of our community, so let's celebrate by making the country a little greener!
Herbies Head Shop expressly refuses to support the use, production, or supply of illegal substances. For more details read our Legal Disclaimer.