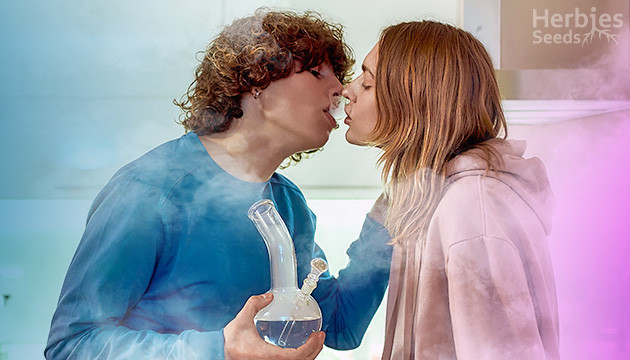 The ultimate release or a point of stress? Sex is one of those topics, as taboo as they come, that you're either having, wanting, or too scared to talk about. Another such topic is smoking weed. So, isn't it funny how sex and weed can go together like fuel in a fire?
Marijuana is a great addition to any healthy sex life for a variety of compelling reasons. In this article, we discuss what types of weed work best for sexual arousal, how weed can turn on that switch for just about anyone, plus our top ten best weed strains to blow your sex life out of the water.
What's the Best Type of Weed for Sex?
Although there are many strains good for sex, not all varieties perform the same. When choosing the right cannabis for your sex life, there are a few things to take into account. Firstly, you need to take note of a strain's chemotype, secondly, its terpene profile, and last but not least, your personal needs and desires.
Cannabis Chemotypes of Strains Good for Sex
All arousing strains for sex fall under one of three chemotypes:
Type 1: High THC, Low CBD
Type 2: Equal THC to CBD (1:1)
Type 3: High CBD, Low THC
In general, the first type of cannabis strains are most commonly used for recreational use and intense mood enhancement, but they may not be the best choice for beginner cannabis users when it comes to sexual arousal. The better chemotypes that make for the best weed strains for sex are the second and third types, where the CBD presence is more pronounced.
Terpene Profiles of the Best Weed Strains for Sex
Every cannabis strain has some form of terpene presence to make the bud smell or taste a certain way. However, along with tickling the senses, some terpenes have an effect on a strain's potency and experience as well.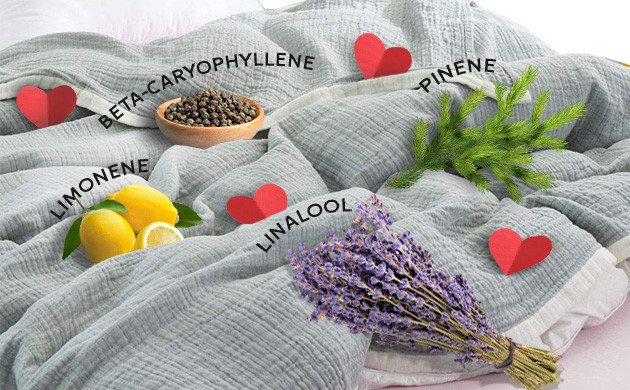 Terpenes to look out for when choosing strains good for sex include:
Limonene
Linalool
Beta-caryophyllene
Pinene
To find out the facts about different terpenes and their flavors and effects, take a look at our 101 Guide to Terpenes article.
Personal Needs
Sex is a very personal thing; it's entirely up to you where you would like to enhance your experience or where you may need a little help.
When choosing a strain good for sex, consider what you're hoping to achieve. Perhaps it's more energy, more relaxation, mood enhancement, or simply lowered inhibitions? Knowing what you need will make all the difference.
How Does Marijuana Improve Sex?
With all these aspects to consider when choosing the best weed strains for sex, you may be wondering how marijuana can improve sex in the first place. The answer is simpler than you might imagine. How weed improves sex is less to do with some special chemical reaction and more to do with your frame of mind when doing the deed.
Many of us deal with stress, anxiety, and depression, all of which can get in the way of having a good time, not to mention people who experience pain during intercourse. Cannabis is a known treatment for all these conditions, and this is why certain strains work magic for your sex life.
The THC to CBD ratio and combination of certain terpenes add to the benefits by tailoring different strains to help with specific needs. For example, some strains work very well for bringing you into the moment, while others uplift your mood to give you the energy and desire to get jiggy. The trick is choosing pot strains for sex that work for both you and your partner.
Top 10 Marijuana Strains For Sex
Now that you have an idea of where your sex life needs enhancing, take a look at this list of the best weed strains for sex and let your imagination run wild.
SexBud (Female Seeds)
Need a pick-me-up at the end of a long day? Then SexBud is your gal! This aphrodisiac strain is invigorating and energizing, giving you all the stamina you need for a long steamy night. With up to 24% THC and a strong Sativa dominance, her effects are stimulating and social – the ideal combination for two people enjoying each other's company.
Topping off this strain good for sex is a sensual terpene profile bursting with sweet grapefruit flavors and a strong hint of tropical pineapple. Simply juicy!
Strawberry Banana Auto (FastBuds)
No flavor rings the bell for sex quite like strawberries do. And in a combo with Banana? One word: aphrodisiac! Strawberry Banana Auto is the ultimate strain for fun times with a soft strawberry flavor and highly euphoric effects. As an extremely potent pot strain for sex, her THC level of 27% sparks insane amounts of euphoria, passion and excitement for those already experienced in sex on weed.
Pineapple Chunk (Barney's Farm)
Getting ready for a night of Netflix and chill? The cheesy Hawaiian pizza-like Pineapple Chunk gives you a slice of euphoric heaven to ease you into things with its pain-reducing body massage and uplifting cerebral effects.
As Barney's Farm's most potent Indica strain, her 25% THC content is nothing to scoff at. Pair that with a 1.1% CBD presence, and she's a true show-stopper for those who deal with pain during sex. So, kick back on the couch with your partner and indulge in the tasty lineage of Pineapple, Skunk #1, and Cheese for a night to remember.
Gelato Auto (Herbies Seeds)
Along with the mind-blowing taste of Italian ice cream and cookie dough, Gelato Auto is the ultimate social lubricant, invoking a chatty and uplifting atmosphere. After the creamy "first bite" of this flirtatious pot strain for sex, enjoy a refreshing hint of lime and the most delicate earthy dankness to round it off to perfection.
As one of the strongest autoflowers on the market, its 26% THC content should be smoked with care, as Gelato Auto is a well-balanced hybrid and may cause couch-lock! However, this works in your favor, bringing a nice body relaxation to fully immerse yourself in the moment.
Gorilla Glue Auto (FastBuds)
Oh, the sweet euphoria! Gorilla Glue Auto is hands-down one of the best weed strains for sex, hitting hard with its 24% THC content and well-balanced hybrid genetics of Sativa and Indica. Her effects are noticeably uplifting and long-lasting, with a lingering relaxation despite the potency.
Matching the powerful effects of this mighty beast are the unbelievably pungent aromas that further indulge the senses. Do it like the king of the jungle and enjoy the strong pine scents, blended with citrus zest and raw diesel fumes, for a rich and desirable sensory experience.
Jack Herer (Sensi Seeds)
With an equal balance between Indica and Sativa, Jack Herer is known and loved for its unforgettable blend of an uplifting high and relaxing stone. With exceptional potency and a powerful terpene profile, this world-famous strain is one of the best strains for sex out there.
With an uncanny likeness to hash, Jack Herer is a sultry blend of spice and earth, complemented by hints of fruit. Her effects are unmatched, bringing a powerful wave of euphoria and pain relief to the next level. This makes the spicy strain perfect for chronic pain sufferers or those held back in the bedroom by depression.
Strawberry Amnesia (Herbies Seeds)
Another sensuous strawberry seduction, Strawberry Amnesia will sweep you off your feet and leave you in a hazy intoxication for some of the best midnight mingling you've ever had. Her 22% THC may not be the highest, but don't be fooled – with her 75% Sativa dominance, she'll take you all the way.
A juicy berry blast, this delicious bud tantalizes your tastebuds with an exotic flavor fusion of wild berries, juicy citrus, and smoked pine. Just share a couple of puffs, forget what time it is, and go with the flow.
Tatanka Pure CBD (Royal Queen Seeds)
Some of us want to reach the heights of sex without the psychoactive interference of most cannabis strains. That is where a strain like Tatanka Pure CBD comes in. This medicinal strain allows you to bask in the beauty of one of nature's purest callings without the tethering of an anxious mind or localized pain.
With up to 14% CBD and less than 0.25% THC, this Indica-dominant bud will help you go the extra mile as one of the best weed strains for sex. Enjoy a slightly bitter yet deliciously fruity medicinal flavor and let this medicine work its magic.
CBD Lemon Auto (Herbies Seeds)
CBD Lemon Auto is easily one of the best weed strains for sex on Earth. Perfectly balanced in every way, this concoction of citrus and spice showcases a 50/50 ratio of 17% THC and CBD, as well as a close split of Indica and Sativa genetics.
If taken in the right setting, CBD Lemon Auto is one of those strains that make you horny, like really horny! While it is happy and calming, it also takes away any anxiety – perfect for trying out new things. These traits make for a fantastically powerful yet mellow smoke that soothes and caresses you for both daytime and nighttime fun, while also relieving any medicinal issues that would normally dampen the mood.
Do-Si-Dos (Big Head Seeds)
As the most potent strain on this list of best weed strains for sex, Do-Si-Dos is one better left to the pros. Reaching a climax of up to 30% THC, this Indica-dominant lady will take your body to another dimension of euphoria and bliss.
If your mind can still comprehend reality after the first hit, get ready to savor the sweet flirtatious flavors of lime and earth, lingering on with a strong pine aroma to give you an ounce of grounding while you lose all inhibitions and melt into the moment.
Get Busy with the Best Weed Strains for Sex
Sex always goes well with a little enhancement, so why not pick one of these great weed strains and enjoy the mind-blowing euphoria and fun that each of them can bring. There's nothing wrong with a little help – everyone deserves to have a good time and enjoy sex the way nature intended.
Whether you experience painful intercourse or just can't get out of your own head, there are weed strains for sex out there waiting to take your bedroom action to the next level. So, what are you waiting for? Embrace your fantasies and grow weed strains for sex to make it a reality.
What's the best marijuana strain for sex in your opinion? If you aren't the shy type, share your experience below!
Herbies Head Shop expressly refuses to support the use, production, or supply of illegal substances. For more details read our Legal Disclaimer.