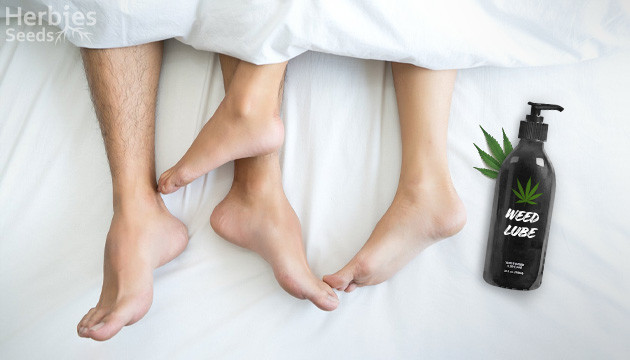 Using cannabis to liven up your love life can be beneficial in more ways than one. Apart from making you feel good, increasing blood flow downstairs, and improving sensitivity in the best places, cannabis lube can also help relieve the pain and discomfort many women have experienced during sex.
Unfortunately, getting your hands on a bottle of commercial weed lube isn't always easy or affordable, with many brands on the market costing close to $100 for only a month's supply. Let's face it, love and relations are meant to be fun and stress-free, and who wants to slap on the burden of a monthly bill just to enjoy what nature intended?
Why not save the drama and get the best of both worlds by learning how to make cannabis lube from home. In this weed lube recipe, we show you how to make DIY weed lube using oil and cannabis flower to spice up your love life in the best possible way.
What is DIY Weed Lube?
DIY weed lube is generally an oil-based sexual lubricant infused with cannabis, including the psychoactive compound THC. However, there are many variations available, some made purely with CBD, and some with a more gel-like consistency.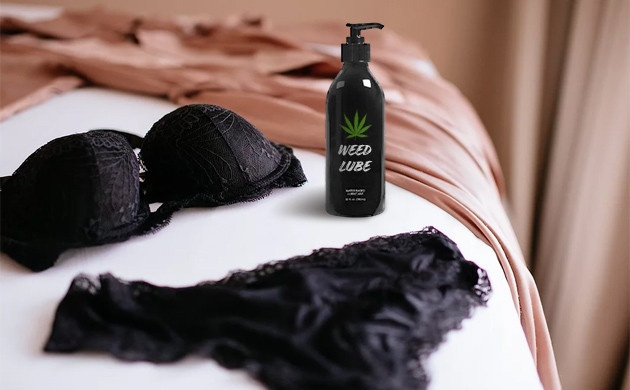 Many women have reported feeling more relaxed and comfortable during sex after using both cannabis and CBD lube, as well as feeling a significant reduction in pelvic floor pain. Using DIY weed lube is a great way to help reignite enjoyment and desire for intercourse again.
Which is Better for Homemade Weed Lube: THC or CBD?
Deciding which cannabis lube recipe to follow, either THC or CBD is entirely up to you. THC can be a lot trickier to manage if you are sensitive and only want milder effects, as getting the dosage right may take some trial and error. CBD does not result in any psychoactive effects, or "high," while still offering many of the benefits of using cannabis lube.
If you are looking to get the most out of making weed lube and are comfortable with the high you may experience, go all out and leave the THC in. However, if you are sensitive to psychoactive effects but still want the benefits of using weed lube to enhance your experience and lessen intercourse-related pain, pump the breaks and stick to the CBD lube recipe.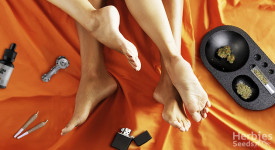 Sexual Healing: Weed And Sex
READ NOW
THC Weed Lube Effects
Depending on the THC percentage of the weed used to make weed lube, you can expect a variation in the intensity of effects. Generally speaking, THC lube does not get you mentally high in the same way that smoking weed or eating edibles with THC will, and most of the effects experienced from using weed lube happen directly on the area of application. However, if you ingest some of the THC lube (for example during oral play), you will experience the same quite potent high that usually comes from cannabis edibles213.
With the right amount used, you can expect to feel pleasantly relaxed and possibly have a nice mental buzz to help get you "in the mood." Next comes improved blood flow to the area of application, including an increased sensitivity in all the right places. THC lubes can also have a significant effect on inflammation and pain, helping to make the overall experience much more pleasurable.
Best Strains for Making THC Lube
Choosing the right strain for your THC lube recipe will make all the difference to your erotic needs.
Some strains that we highly recommended for strong THC effects when you make weed lube are the fruity Sativa dominant strain, Strawberry Lemonade with its 24% THC percentage, and the intriguing 100% Indica strain, Eleven Roses with an amazing 25% THC level.
CBD Weed Lube Effects
A great alternative to THC lubricants, that offer all the same benefits without any potential psychoactive effects is CBD lube. CBD lube has been proven to have all the same benefits as THC lube, including vasodilation to increase blood flow to the area of application and heightened sensitivity in the most pleasurable places.
Using CBD lube can also help improve arousal while relaxing muscles to help ease you into the experience. Expect to feel relief from any aches or pelvic floor pains, as CBD is known for its powerful analgesic effects.
Best Strains for Making CBD Lube
Before you start with the CBD lube recipe, you want to make sure you choose the perfect strain for the effects you want.
Two great tried and tested choices include the CBD Auto 20:1 strain with a CBD to THC ratio of 20:1 and the Buddha Medikit CBD strain with its 20% CBD levels and same powerful 20:1 ratio.
Effects of Combined THC and CBD
For the most effective and intensely pleasurable results, a combination of THC and CBD in lube can really turn your frown upside down. All the effects are intensified and the potential for a nice soothing buzz is higher with a combination lube. Any intense effects caused by the THC are smoothed over by the presence of CBD.
You can enjoy wildly increased blood flow and sensitivity to your sensual areas while receiving all the medicinal benefits of CBD, including a much stronger pain-relieving effect for those who struggle with pain and discomfort during intercourse.
Best Strains for a Mixed Effect DIY Weed Lube
For any great weed-infused lube recipe you need to choose a really great cannabis strain. If you want weed lube with a comfortable mix between THC and CBD, the strain Stress Killer Automatic CBD has a high CBD content with a moderate THC percentage of 11%.
Another perfect strain to get your THC and CBD lube recipe ultra-balanced is the CBD Lemon Potion Auto strain, which has 15% CBD and 15% THC content.
Here's How to Make Weed Lube
This cannabis lube recipe is fairly simple, and once you have the equipment ready to make it the first time, you can repeat the process every time you run out because you bet you will run out sooner than expected!
Ingredients for Cannabis Lubricant
Get your ingredients ready ahead of time, and put them aside on your kitchen counter. All you will need is:
Up to 8oz (230ml) coconut oil, or MCT oil
Up to ¼ oz (7g) cannabis flower
½ Tablespoon sunflower lecithin (optional - improves mixing)
Essential oils (optional - for flavored lubricant)
Equipment Needed
Don't be alarmed by all the equipment you need, you can reuse these items for your future DIY weed lube projects. You will need:
Oven
Baking tray & baking paper
Food processor or grinder
Slow cooker
2 x 4oz (115ml) Mason jars
Food scale
2 x Funnels (1 large, 1 small)
Fresh cheesecloth
Measuring cups/jars for decanting
Boiling water
1 x Tincture bottle with a 1ml pipette (optional)
Now that you have all your equipment and ingredients, pull up your sleeves and get busy!
Step 1: Preheat Oven & Decarb Your Weed
Preheat your oven to 240°F (115°C) while you process your dry cannabis flower using the food processor or grinder. Spread your processed cannabis flower evenly across a sheet of baking paper in your baking tray. Place the tray in the oven and bake for 1 hour, making sure to wiggle the tray at the halfway mark to move the bud around. At the end, your flower should be golden-brown and toasted - make sure not to burn it!
Step 2: Half the Decarbed Weed and Oil Between the Two Mason Jars
Using your food scale, make sure to split your cannabis into two equal halves before placing each half into a mason jar. Half your oil between the two jars in equal parts as well before sealing each jar tightly.
Step 3: Place Jars in Slow Cooker with Water for 4-5 Hours
With the jars sealed tightly, place both of them into your slow cooker and cover with boiling water. Allow the jars to cook on the "warm" setting for 4-5 hours. Open the lid of the slow cooker every hour and shake the jars using a jar clamp or oven mitts. Be careful not to get burnt!
Step 4: Remove Jars and Allow to Cool
Carefully remove your jars from the slow cooker after 4-5 hours. Place each jar on a folded drying cloth and allow to cool.
Step 5: Open Jars and Strain the Weed Lube
Now that your oil is infused and cool, open each jar and strain through a cheesecloth-lined funnel into a measuring cup. Use up to 4 layers of cheesecloth for more refined oil and squeeze the remaining plant matter to release as much oil as you can.
Step 6: Decant Your Weed Lubricant into a Bottle
Congratulations! You have just made your own DIY weed lube and can now decant it into your tincture bottle or a jar using the small funnel. Store it in a cool, dry place and enjoy!
Note: If you are using sunflower lecithin or essential oils in your cannabis lube mixture, you can mix them into your oil before halving it into the jars during step 2.
Other Helpful Uses for Weed Lube
Now that you have your cannabis lube on hand and ready to go, you should know that there are plenty of other things it can be helpful for too. Here are a few alternative uses for your weed lube:
In edibles: So long as you haven't added essential oils in your mixture, you can use your DIY weed lube to make edibles, or simply eat some on its own.
On your skin: You can use your cannabis lube to soothe irritated skin, including the treatment of minor burns, rashes, and even acne.
For your joints: If you have an achy joint or a sore neck, you can try rubbing some of your special lube onto the area. Cannabis lube can reduce inflammation and pain when massaged into an area topically.
Go Get Jiggy!
Sex is supposed to be fun and pleasurable for anyone involved. Next time you're in the bedroom, give yourself the chance to truly explore and get into the swing of things with your new DIY weed lube. Just remember not to use your new lube with latex condoms, to avoid breakages or damage to the condom. Play safe!
Herbies Head Shop expressly refuses to support the use, production, or supply of illegal substances. For more details read our Legal Disclaimer.