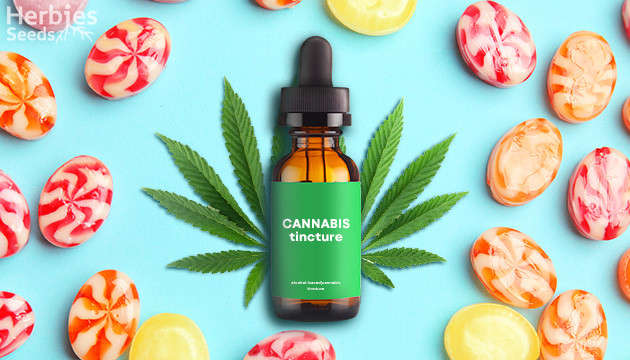 Low-key and discreet, cannabis candy is as easy to make as it is moreish. THC hard candies are the perfect snack for late-night movie marathons and lazy summer BBQs. If you're not in the mood to experience the high associated with THC, you can opt for CBD sweets – the ultimate inconspicuous pain reliever.
Today, we'll cover what effects you can expect when trying CBD or THC hard candy. Want to try making your own? We'll also guide you through exactly how to make marijuana hard candy.
What Are The Effects of Marijuana Candy?
The effects of taking edibles are different from other methods of ingestion. For example, if you smoke or vape weed, the high will kick in almost instantaneously. It will be at its strongest for 30 minutes and die down over 2-3 hours. When you ingest an edible, the high won't arrive for 30-90 minutes, but it will last for a strong 4-6 hours (if not longer) before fading out.
However, cannabis candy is more than just your typical edible. You can also choose to suck your THC or CBD candy under your tongue, which boosts the sublingual absorption of the candy's chemical compounds. This method of ingestion makes effects stronger, faster-acting, and longer-lasting. With sublingual absorption, the CBD or THC doesn't have to undergo digestion – meaning you absorb more, faster. The high associated with THC or relief associated with CBD will last longer as well, because it's released slowly and gradually.
So,if you're looking to try a new, potent THC high, or you want faster, stronger relief from CBD, making marijuana candy is a great idea!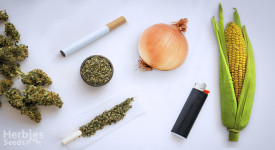 Rolling Paper Substitutes
READ NOW
The Main Ingredient Of Our Cannabis Candy Recipe: Cannabis Tincture
What's the real star of this marijuana candy recipe? The ingredient that transforms your regular candy into cannabis candy: a cannabis tincture.
You'll need to make a cannabis tincture in order to make marijuana candy, but there are a whole host of benefits that come with having a few glass bottles of tincture in your cabinet. With other edibles, you often won't know exactly how much THC or CBD is in each portion. Tinctures are perfect for dosing with precision – you can be aware of exactly how much you're taking and can adjust your intake easily. Tinctures are also discreet, since they don't smell like weed.
Because you're using a cannabis tincture in your hard candy, these benefits will also be true of your cannabis hard candy! You can precisely adjust your dosing, and your cannabis hard candies won't smell like cannabis.
We've got a step-by-step recipe on making your own cannabis tincture, but here are the basic steps:
Decarb your cannabis in the oven.
Put your decarbed flowers in a Mason jar and fill it with Everclear so the cannabis is completely submerged.
Store your Mason jars in the freezer for at least 3 days, but ideally 2 weeks.
Strain the mixture through a cheesecloth.
Pour the tincture into glass dropper bottles. Keep these bottles in a cool, dark area.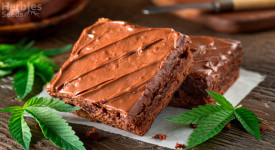 How To Make Weed Brownies
READ NOW
How To Make Weed Candy: The Recipe
Now you know about cannabis tinctures, here's the cannabis candy recipe.
Before you get started, make sure you cook with caution! You'll be heating mixtures up to very high temperatures, and the mixture will stick if it gets on your hands.
Equipment You'll Need
Saucepan
Wooden spoon
Candy molds
Candy thermometer
Ingredients You'll Need
2-3 tbsp cannabis tincture (500mg THC/10mg per candy OR 1250mg CBD/25mg per candy)
2 cups granulated sugar
2/3 cup corn syrup
¼ cup water
½ tsp flavored extract (e.g., raspberry, orange, lime, vanilla)
Food coloring
Step 1: Mix the Ingredients
Over a medium-high heat, mix your sugar, syrup, and water in a saucepan.
Step 2: Stir and Heat
Let the mixture come to a boil. Then, turn the heat down to medium and put the candy thermometer in.
Slowly stir the mixture until it reaches 250°F (or 120°C).
Step 3: Reach 305°F
Once it's reached 250°F, stop stirring and leave the mixture to reach 305°F (or 151°C). This will happen really fast, so keep your eye on the candy thermometer!
Step 4: Add the Cannabis Tincture
As soon as the temperature has reached 305°F, remove your saucepan from the heat.
Add your THC or CBD tincture, flavoring, and food coloring. Mix until everything has blended in together.
Step 5: Pour into Molds
Now, pour the mixture into the candy molds. Leave some space at the top of each mold, as the liquid will expand when it cools.
Here's a tip – if the mixture has foam on, let it stand for 30 seconds or until all the foam has gone down. Otherwise, your hard candies will turn out cloudy!
Step 6: Pop Your Candies Out
Allow your cannabis candies to cool at room temperature. Let them fully solidify before popping them out of the molds.
How to Control the Strength of Your Cannabis Hard Candy
Once you know how to make cannabis hard candy, you can adjust the recipe to your heart's content. Change the flavorings, colors, and strains for exciting new variations. You can also control how strong your weed candy is. Here are some factors that can affect the strength of your cannabis candy:
Strength of cannabis tincture: You can either buy cannabis tincture or make your own, either with THC weed or CBD weed. How much bud you use and how long you leave the tincture to infuse in the freezer will affect the potency of your tincture – and therefore, your cannabis hard candy.
Amount of cannabis tincture: The more tincture you use in your cannabis hard candy recipe, the stronger the effects will be!
Size of candy mold: The bigger your candy mold is, the more THC or CBD you'll ingest in one hard candy.
When trying your candy for the first time, always start with just one piece to assess the effect. If you'd like to feel more potency, up the dose for your next time.
Why Not Start Making Cannabis Hard Candy?
Now that you have the best cannabis-infused candy recipe, you're ready to get cooking. If you use your stash of bud up making the cannabis tincture for the hard candy recipe, just order some more seeds on Herbies!
Herbies Head Shop expressly refuses to support the use, production, or supply of illegal substances. For more details read our Legal Disclaimer.