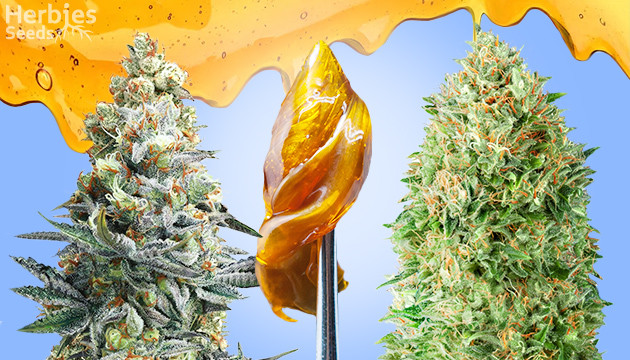 At one point or another, the exploration of the cannabis world leads to concentrates, both making and consuming them. This marijuana product comes in many forms, all of which are known for their potency, clean effects, and pronounced taste. But what strain should you choose to make a concentrate with? Today, we're helping you out with this question – let's learn more about concentrates and find out what cannabis strains are best-suited for extraction.
How To Make Weed Concentrates
Even though making home-made cannabis extractions may sound like too large a task, most cannabis growers will actually find it doable after a little research. Nowadays, there are easily a dozen methods for making dabs at home, each varying in difficulty and required equipment. Before picking the best strains for extraction, it would be a good idea to go back to our DIY Dabs At Home article to explore all the options for home-made concentrates. You'll see that you don't have to spend hundreds of dollars at dispensaries to enjoy the mind-blowing potency of dabbing, because with some preparation, you can make your own resin, shatter, and even vape oil at home! The most important thing to remember here is safety; while some methods are harmless and require only a hair-straightener and a piece of parchment paper, others ask for highly-flammable butane. If you decide to use it, always work with it outdoors.
What Do The Best Strains For Extraction Share in Common?
When we make weed concentrates, what we're trying to extract is its potent, cannabinoid-rich resin. That's why, when making this list of the best dab strains, we first picked marijuana varieties that are known to be the most resinous strains out there. Many of them include genetics from Gorilla Glue, White Widow, OG Kush, and Granddaddy Purple – all especially sticky weed families that will guarantee a lot of product extracted. We also looked for high-yielding Indica strains, because these are proven to be a safe bet when it comes to making concentrates. Another important characteristic of a quality concentrate is its flavor palette, which comes from extracting and preserving fresh terpenes along with the cannabinoids. That's why we've narrowed the circle of the best strains for concentrates to only the most flavorful and terpene-packed varieties – you'll get a rich burst of unique flavor with every puff of your home-made dab!
Herbies' Best Strains For Making Concentrates
Now, let's get to our list of the most resinous, potent, and flavorful cannabis varieties on the market. Any of these will make a perfect concentrate, whether it's shatter, oil, wax, or hash. They're also known high-yielders, so to choose one of our best strains for extraction means to harvest enough bud not only to dab yourself to the point of no return, but also to have enough bud left for a lighter, daytime smoking experience.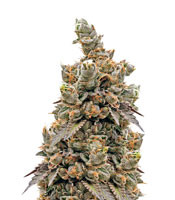 Crystal Gelato (Big Head Seeds)
Photoperiod

Full of euphoric crystals

20 - 25 %

No official information
View strain
Crystal Gelato – Abundance Of Resin
The name of this strain hints at the fact that the buds you're going to harvest from Big Head Seeds' Crystal Gelato will be abundantly covered in crystals of resin. Trichomes of this weed variety produce many kinds of terpenes responsible for the delicious flavors of citrus, berry, and dessert-like sweetness, all of which are going to be easily distinguishable in concentrates. After trying this Gelato once, you'll get instantly hooked on its euphoric sugar rush. Don't worry, Crystal Gelato's yield of 450g/m2 (1.47oz/ft2) will stock your shelves up for months of smoking.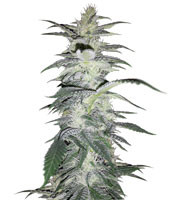 Gorilla x White Widow (Expert Seeds)
Photoperiod

Stone weapon

400 - 500 g/m² indoors
500 g/plant outdoors

25 %
View strain
Gorilla X White Widow – The Legendary Mix
Every grower knows about the stickiness of Gorilla Glue genetics and the frosty look of White Widow when covered in blinding resin. Well, now breeders from Expert Seeds decided to create an ultimate strain for making concentrates by crossing the two and introducing Gorilla x White Widow. This strain inherits the best qualities from its waxy parents to become another sticky legend. Gorilla x White Widow's resin is full of cannabinoids – 25% THC is more than enough to make an extra potent concentrate framed by sour notes of diesel and highly sedative effects.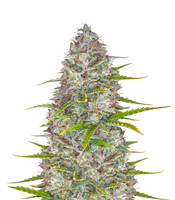 Orange Sherbet Auto (FastBuds)
Autoflowering

Highly creative

500 - 650 g/m² indoors
60 - 300 g/plant outdoors

24 %
View strain
Orange Sherbet Auto – The One And Only
Here's another standout – Orange Sherbet Auto by FastBuds. Orange Sherbet Auto is rightfully considered one of the best strains with which to make hash and other concentrates, so there's no questioning whether it should have made this list. Everything from the buds themselves to the stalks and leaves of Orange Sherbet Auto is covered in a thick layer of resin-producing glands – perfect for producing concentrates that will pleasantly surprise even the most seasoned of tokers. No wonder, because Orange Sherbet Auto yields dense, juicy buds with a sky-high THC level of 24%. Concentrates made from Orange Sherbet Auto will have an unmistakable sweet and sour flavor of tangerines, oranges, and other fruit for a delicious kick on every inhale.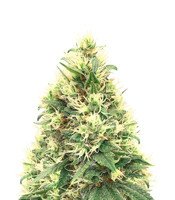 White Widow (Dutch Passion)
Photoperiod

Straight to heaven

22 - 26 %

400 - 500 g/m² indoors
View strain
White Widow – The Queen Of Extracts
White Widow is the cannabis queen all growers bow down to in respect. There's simply no other weed strain with such a distinct white frosty look and euphoric sedative effects. This version of White Widow by Dutch Passion is easily one of the breeder's most resinous strains to date, making it perfect for creating different extractions either at home or on a larger scale. This marijuana variety's extra-large yields cause lots of wows with 600g (1.3lb) of large and resinous, snow-white nugs per plant.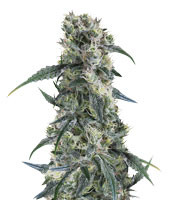 Strawberry Banana (Big Head Seeds)
Photoperiod

A relaxing, happy and uplifting experience

20 - 25 %

No official information
View strain
Strawberry Banana – The Tropical Gateway
Up next in Herbies' top strains for extraction is Strawberry Banana by Big Head Seeds. One of the sweetest and most terpene-rich strains on the list, this strain is perfect for those who value the flavor of their concentrates as much as their potency. As you might have guessed from the name, the two main notes in the strain's palette are strawberry and banana, coming together to create a fresh and tropical cocktail. Potency-wise, this Indica-dominant fruit basket is on the same level as the rest of the strains on our list, containing 25% THC to produce a dream-like head high.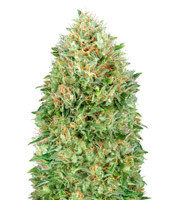 Pineapple Glue (Advanced Seeds)
Photoperiod

Glued to the sofa

25 %

500 - 550 g/m² indoors
View strain
Pineapple Glue – The Resinous Classic With A Twist
Advanced Seeds' Pineapple Glue takes the best from its scissor-breaking parent Gorilla Glue #4 and adds a refreshing tropical twist with a share of Pineapple genetics. As a result, you get one of the best waxy strains that makes for a delicious fruity concentrate. As for the effects, you'll feel the same signature sedation and deep stone of all of the Glue strains. The THC content of this fun mix of genetics also remains high at up to 25% – ideal for making extra-potent shatter and resin.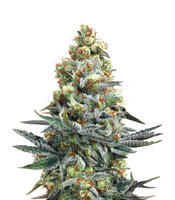 HiFi 4G (Dutch Passion)
Photoperiod

Awakening of creativity

400 - 500 g/m²

26 %
View strain
HiFi 4G – For The Pungent Dab
The next cannabis variety on our list of perfect dab strains, HiFi 4G, champions this top 10 with an astonishing 26% THC! Perfect for growing in both indoor and outdoor environments, HiFi 4G yields up to 500g/m2 (1.6 oz/ft2) of sticky dense buds full of flavorful resin, which makes any extraction process easy and enjoyable. HiFi 4G bud is exceptionally pungent and smelly, oozing with notes of wood and earth. As for the provided effects, expect a creative and euphoric high in a matter of seconds.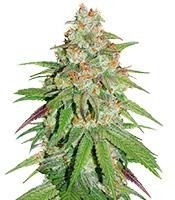 Glueberry O.G. (Dutch Passion)
Photoperiod

Reaching perfect balance

400 - 500 g/m²

22 - 26 %
View strain
Glueberry OG – The Champion Strain
One more candidate for first place among the most resinous strains, Glueberry OG by Dutch Passion says it all with an impressive list of its parent weed varieties. The parent thruple includes Blueberry, Gorilla Glue, and OG Kush – two of the strains are already on our list, and Blueberry is a great addition for balanced flavors of pine, pepper, and berry. Glueberry OG's 26% THC and giggle-inducing effects have helped it reach the top three of Home Grown Cup Netherlands' Indica and Outdoor categories twice! Such performance of the bud guarantees outstanding quality of Glueberry OG extracts, too.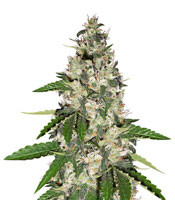 Black Gum (Original Sensible Seeds)
Photoperiod

Сouch locking sensation

21 %

550 g/m² indoors
700 g/plant outdoors
View strain
Black Gum – For The Sweetest Extracts
We're approaching the end of Herbies' list of the best strains to make hash, shatter, wax, and other concentrates, but these weed varieties are only getting more curious! Black Gum by Original Sensible Seeds should be the first choice for cannabis smokers who are new to making and consuming weed concentrates. First, its resinous nature makes for an effortless and bountiful extraction. Second, Black Gum's 22% THC is just high enough to guarantee a strong but not overwhelming high. Finally, extractions made with this strain are some of the sweetest and most delicious – Black Gum's sugary terpenes, reminiscent of strawberry and fresh fruit, make it very easy to fall in love with cannabis concentrates.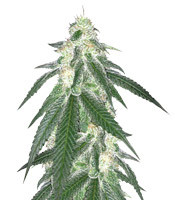 Grandaddy Black (Original Sensible Seeds)
Photoperiod

23 %

Full physical relaxation

600 g/m² indoors
800 g/plant outdoors
View strain
Granddaddy Black – A Pure Indica Stone
The final weed variety on our list of best strains for extraction, Granddaddy Black by Original Sensible Seeds, is a great catch for all Indica lovers, because it's 95% Indica – something that can be rarely found on the modern cannabis market. This genetic profile, powered with 23% THC, will provide strong pain relief, whole body and mind relaxation, and a classic Indica stone. Flavor-wise, expect a well-balanced palette of sweet and savory with notes of fruit and earth.
Woohoo! You found a bonus seed promo code!
Best Strains For Concentrates – Why Not Try Them All?
We've put a lot of thought into our list of the best strains for extraction, and you can see that each variety here has something special about them – each is worthy of your attention. Why not try them all? If you go all the way, beyond this top ten, check out our For Concentrates Collection for more inspiring resinous strains.
Herbies Head Shop expressly refuses to support the use, production, or supply of illegal substances. For more details read our Legal Disclaimer.