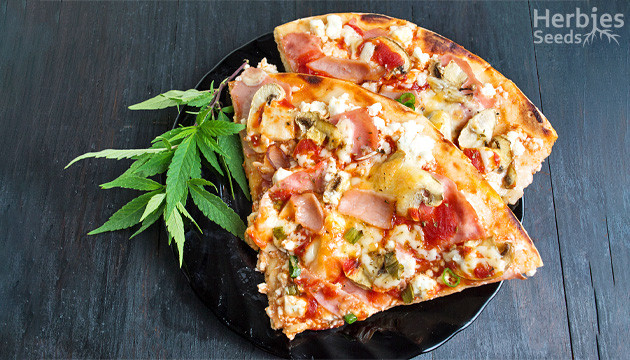 You know when you get stoned and you need pizza? Combine the two, with marijuana-infused pizza, for an epic high that lasts up to 6 hours!
Weed pizza is also ideal for CBD users, who aren't looking to experience the psychoactive effects of marijuana. Switch up your CBD routine – soothe your anxiety and numb your pain with a slice of CBD pizza.
What are the Effects of Weed Pizza?
What happens when you put weed on pizza? One thing's for sure: you'll definitely get high from eating weed pizza.
That is, if it's THC pizza. If it's CBD pizza, like normal, you won't experience any psychoactive effects.
If you're eating THC pizza, expect a delayed, longer high, when compared to smoking. When you smoke, the high kicks in almost instantaneously, then stays strong for 30 minutes, and dies down over the next few hours. With edibles, the effects won't kick in for 30-40 minutes, but then you'll experience a long, potent high that lasts around 4 hours.
It's not just the length of the high that's different. You might've tried some strong Indica strains before that give you a relax-on-the-couch body buzz. Edibles, whether Indica or Sativa, provide a similar feeling, stretched out across several hours.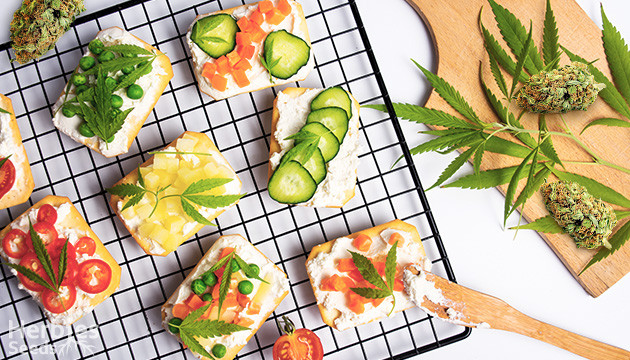 Best Strains For Edibles
READ NOW
The Star of the Show: Cannabutter
There's only one thing in this recipe that you can't pick up from the grocery store: cannabutter.
Cannabutter is what will transform your regular pizza into a cannabis-infused sensation. It's super easy to make, and you can find instructions to make cannabutter here. As the name suggests, it's a simple mixture of cannabis and butter. You'll need to decarb your weed in the oven, then simmer it with butter on the stove for 3-4 hours, and lastly strain your cannabutter with a cheesecloth.
How to Make Weed Pizza
This marijuana pizza recipe makes 2 large pizzas and serves 4 people. Enjoy a couch-stoned movie marathon with friends or save the rest for leftovers.
Equipment You Need
Wooden spoon
Large bowl
Large baking sheets
Ingredients You Need
For the base:
300g strong bread flour
1 tsp instant yeast
1 tsp salt
4 tsp cannabutter
For the tomato sauce:
100ml passata
1 tsp dried basil
1 garlic clove, chopped finely
For the topping:
24 pepperoni slices
125g mozzarella, sliced
Handful grated parmesan
Handful cherry tomatoes, halved
Step 1: The Canna-Base
Mix together your flour, yeast, and salt in a large bowl. Create a well – an empty section in the middle – and pour in 200ml of warm water and melted cannabutter. Use a wooden spoon to gradually mix in the flour until you have a soft, wet mass of pliable dough.
Lightly flour your kitchen counter and knead the dough until it's smooth. Then, cover your dough with a tea towel and set it aside.
Step 2: The Weed Pizza Sauce
This part's easy. Mix together the passata, basil, and garlic in a bowl. Cover and leave to stand at room temperature.
One more thing to do here – preheat your oven to 240C/220C fan/gas 8.
Step 3: Roll The Dough
Give your dough a quick knead again, then use a rolling pin to shape your dough into circles, with a 25cm diameter.
Place your dough circles onto floured baking sheets. It's important to do this before, not after toppings. Otherwise, lifting your topped pizza onto baking sheets will be a nightmare!
Step 4: Top Your Weed Pizza
Here's the fun part. First, spread that passata all other the base, leaving a space for the crust. Then, top your pizza with whatever you want – we recommend pepperoni. Mozzarella, parmesan, and cherry tomatoes to complement the earthy cannabis flavor.
Step 5: Cook
Put one of the pizzas (on the baking sheet) on the top shelf of the oven. Bake for 8-10 minutes.
Once it's crispy, take it out and pop the other pizza in.
How to Control the Strength of Your Cannabis Pizza
This depends on a handful of different factors:
Cannabutter preparation: If you don't leave the cannabutter long enough over heat, the compounds in marijuana won't infuse into the butter.
Strain: A good place to start is with a 15% THC strain. The stronger the strain, the higher you'll get. If you go for a CBD strain, you won't get high and you'll purely experience the medicinal benefits.
How much bud you use: When you're making your cannabutter, the more weed you infuse into the butter, the stronger the cannabutter will turn out.
How much cannabutter you use: In our recipe, we recommend 1 teaspoon of cannabis butter per person – that's a safe place to start if you've never done edibles before. If you want stronger cannabis pizza, drizzle some cannabis oil over the top. If you want weaker marijuana pizza, substitute some of your cannabutter with regular butter.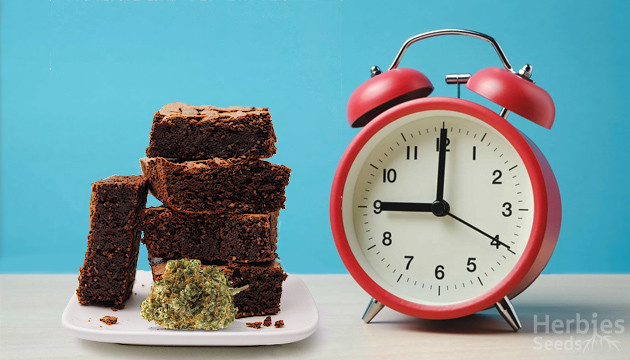 How Long Do The Effects Of Edibles Last?
READ NOW
Start Growing Cannabis for Edibles
Now you know how to make weed pizza, why not grow your own cannabis? It's a cost-effective way of trying out loads of different strains and experiencing all that edibles have to offer.
Herbies Head Shop expressly refuses to support the use, production, or supply of illegal substances. For more details read our Legal Disclaimer.