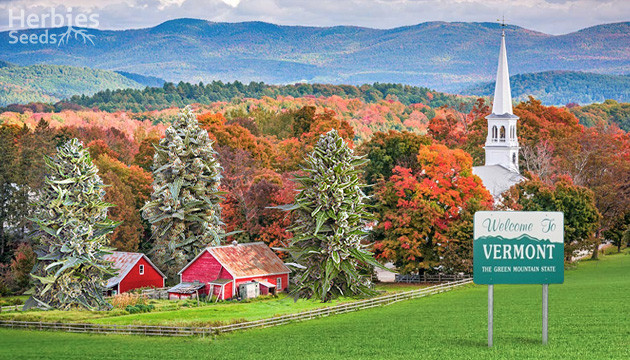 These days, the Green Mountains of Vermont are earning their name from a new crop: weed. In 2018, the Vermont legislature voted to legalize recreational marijuana use. However, there aren't any actual stores selling weed yet, and they're not expected to open until 2022.
Luckily, the law also legalized marijuana cultivation for private use. However, growers should note that they can keep a maximum of six plants, only two of which may be mature at once. Since you can legally grow so few plants, it's important to get the most benefit from these and pick the very best strains to grow in Vermont.
Growers also need to keep Vermont's New England climate in mind. The effective growing season in Vermont lasts from mid-May to mid-September. As a result, it's a good idea to stick with strains that grow quickly to ensure you can harvest before autumn.
Best Outdoor Marijuana Strains For Vermont
For our list of the best outdoor marijuana strains for Vermont, we focus on strains that grow quickly. As a result, this list includes many autoflowering and fast-growing strains. We also stick mainly to Indicas and hybrids, as pure Sativas have much longer flowering phases.
We didn't just choose obscure strains, though. Instead, this list of our top Vermont weed strains includes some of the most popular genetics of the last decade, combined with autoflowering traits to make them better adapted to the Green Mountain State's climate.
Blueberry Cheese (AKA Blue Cheese) (Barney's Farm)
Simply put, Blueberry Cheese is one of the best strains on the planet. This Original Cheese and Blueberry cross is a dream to grow, maturing in as few as 50-60 days of flowering. It is also a high-yielding outdoor strain for Vermont - Blue Cheese yields 500g (18oz) per plant and more
Blueberry Cheese (sometimes simply called Blue Cheese) is also a pleasure to smoke. Its Indica-dominant genetics, combined with 23% THC and 0,8% CBD, provide a high-flying euphoric rush and deep body relaxation, making it a great choice for banishing the feelings of tiredness stress.
Grandaddy Black (Original Sensible Seeds)
If you love Indica strains, say hello to your new Daddy. Grandaddy Black's Grandaddy Purple x Black Domina genetics make it one of the best Vermont weed strains for outdoor growers. Short and bushy, it reaches a height of about 70 inches (180cm) in 2 months. What's more, it can still yield up to 28oz (800g) per plant.
With a relaxed, low-key buzz, Grandaddy Black exhibits the best traits of its 95/5 Indica-dominant genetics. If that wasn't enough, it also has a fruity, sweet flavor that embraces your taste buds and entices you to take another puff.
OG Kush SFV (Advanced Seeds)
Legendary genetics? Check. High (24%) THC concentration? Check. Incredibly chilled-out Indica high? You bet. All these traits combine to make OG Kush SFV an excellent Vermont weed strain.
OG Kush SFV has helped smokers get stoned for decades. This OG Kush and Afghani cross is intensely relaxing and should be used with respect – one toke too many may result in couchlock. Its flavor combines citrus, pine, and hashy notes to create a complex taste you won't want to miss.
2 Fast & 2 Vast Auto (Heavyweight Seeds)
Another Indica-dominant entry on our list of the best Vermont weed strains is 2 Fast & 2 Vast Auto. This Fast & Vast Auto and Northern Lights Auto cross is also the first autoflowering strain on this list.
Those auto genetics mean 2 Fast & 2 Vast Auto has a lightning-quick growth phase. It's ready to harvest in about 56 days, rewarding growers with up to 7oz (200 g) of premium flower. Its uplifting, giggly high is the result of its 20% THC concentration, and its fruity flavor will make it a hit among your friends.
Bruce Banner #3 Fast (Original Sensible Seeds)
Want your Vermont weed strains with an even shorter wait? Bruce Banner #3 Fast gives growers the ability to cultivate one of the most popular strains of the past few decades in as little as 50 days. This Indica-dominant hybrid cross between Colorado Ghost, Strawberry Diesel, and Black Domina grows fat, yielding up to 26oz (750g) come harvest day.
It's not just big and fast – it's tasty as well, with a hashy, peppery aroma and hints of diesel fuel, making for a complex scent that's only amplified once you spark it up.
Sweet Skunk F1 Fast Version (Sweet Seeds)
Get ready for one of the fastest-growing weed strains to grow in Vermont. Sweet Skunk F1 Fast Version can reach full maturity in as few as 6 weeks without sacrificing on quality. That makes this Sweet Skunk Auto and Early Skunk cross a great choice for Vermont's short growing season.
It's more than just fast, though. Sweet Skunk F1 is also just as stinky as its namesake. The distinctive scent of skunk permeates these nugs, along with a faintly sweet aroma. Plus, with 23% THC and 1% CBD, there's plenty to love about its cannabinoid profile.
Delicious Candy Early Version (Delicious Seeds)
Our list of top weed strains for Vermont wouldn't be complete without this little-known gem. Delicious Seeds lives up to their name with their Delicious Candy Early Version. A sweet, succulent flavor combines hints of a cheesy taste to create a truly unique profile.
However, Delicious Candy Early Version is no one-trick pony that relies purely on taste to get by. With a THC concentration that regularly reaches 22,4%, this Caramelo and UK Cheese cross quickly makes you forget about any worries or stresses accumulated over the day.
Wedding Cheesecake Auto (FastBuds)
If you're wondering what strains of cannabis to include in your grow in Vermont, look no further than Wedding Cheesecake Auto. After you get a taste of this heady hybrid's finger-licking sweet flavors, you'll be ready to say "I do."
Wedding Cheesecake Auto does take a little longer to mature than some other strains on this list of Vermont weed strains – up to 70 days to fully mature. However, your patience will be rewarded with a creative, cranial high thanks to Wedding Cheesecake Auto's 24% THC.
Northern Lights (Sensi Seeds)
Few Vermont weed strains have the reputation of Northern Lights. This version, by Dutch breeder Sensi Seeds, is a prime example of this strain's rich genetics.
From its potent flavor combining sweet and spicy notes to its down-to-earth stoned high, Northern Lights doesn't disappoint. Don't just take our word for it, though – this strain has won more weed awards than we can count. That kind of reputation speaks for itself.
High CBD Strains For Vermont
Looking for strains with more CBD? Below, we've included a list of our three favorite high-CBD strains to grow in Vermont. We picked these strains using the same criteria as our list of THC strains: short flowering time, high yields, and low growing profile.
CBD Auto 20:1 (FastBuds)
If you're seeking the absolute best of medical marijuana CBD strains to grow in Vermont, you've found a contender. CBD Auto 20:1 has extremely high CBD levels ranging between 10 and 20%.
What's more, this strain contains less than 1% THC, making it perfect for medical patients who want to use marijuana's healing benefits without getting high. And while less than 1% THC may not seem like much, it makes a huge impact. Thanks to the entourage effect, the presence of THC supercharges the benefits of CBD Auto 20:1's massive CBD content.
Stress Killer Automatic CBD (RQS)
What's this? A Vermont-friendly weed strain with bountiful THC and CBD concentrations? This cross between Lemon Shining Silver Haze, Juanita la Lagrimosa, and a Ruderalis is the strain for you. With 10% THC and a massive portion of CBD, it's just what the doctor ordered.
With a 70-day duration from seed to harvest, Stress Killer Automatic CBD has a longer flowering time than many strains on this list, but be patient – it's still fast enough to reach maturity in Vermont's short growing season.
CBD Lemon Potion Auto (Barney's Farm)
Get ready for the heavy-hitting strain you didn't know you needed to grow. A high CBD and THC strain for Vermont, CBD Lemon Potion Auto has everything you could ask for. It matches its 15% THC with 15% CBD, which unite for a high that's simultaneously uplifting and relaxing.
What's more, this BF Lemon Kush, CBD Crew CBD Enriched, and Ruderalis cross has an incredible taste. Mixing notes of citrus along with the classic hashy flavor of Kush, CBD Lemon Potion Auto is a strain you definitely won't want to miss.
Green Mountain Growing In Vermont
Now that you know some of the best strains to grow outdoors in Vermont, you're ready to get your hands dirty! Just remember to get your plants in the ground before the end of May and harvest them before mid-September to maximize your growing season. Outside of that, make sure you keep six or fewer plants at once to comply with Vermont's cannabis laws and maximize your harvest.
Herbies Head Shop expressly refuses to support the use, production, or supply of illegal substances. For more details read our Legal Disclaimer.