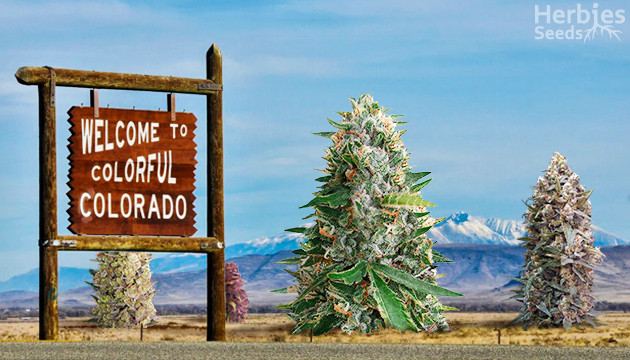 If you want to grow weed outdoors in Colorado, you first need to get a bird's-eye view of what's legal in this state and what strains are best suited to its hot and dry climate. We've prepared a comprehensive guide on all of these questions – let's dive in!
Enclosed, Locked And Inaccessible: What That Means For Your Outdoor Garden
Despite the fact that Colorado was the first state to legalize recreational weed back in 2012, its laws about marijuana cultivation for personal use are rather restrictive. Yes, any adult can have up to 6 plants in their home, but only 3 of them flowering and no more than 12 plants per residence. Cities and counties may impose even stricter rules, so be sure to check them, too. Moreover, your garden must be completely invisible to the public and inaccessible to anyone under 21. If you want to grow a couple of bushes in your backyard, a tall fence isn't good enough – it must be a locked shed or a greenhouse with opaque walls and a ceiling. And if your neighbors get offended by the smell and complain, it could also get you into trouble. So, even though you're legally allowed to grow cannabis in Colorado, you need to make sure you comply with all of the state's laws.
Climate In Colorado Lets You Grow The Best Of Indicas...
It's a shame the law makes it so tough for you to freely use the energy of the sun because you'll get a lot of clear skies, especially in September and October, when marijuana plants finish flowering and the buds get really dense and heavy. In such a climate, your best bet would obviously be Indicas and Indica-dominant hybrids: in Colorado, these tough short-season plants will find conditions similar to those of their native mountain ranges in Afghanistan, where it's sunny and dry and where there are significant temperature fluctuations between day and night.
… And Almost Any Type Of Weed In A Greenhouse
However, don't think that Indicas are your only outdoor option. Strains with dominant Sativa genetics – unless they're specifically adapted to colder climates – prefer warmer and more humid conditions and take longer to mature (all the way to November in many cases), and here, their growing needs coincide with the requirements of the law. Construct a greenhouse that fully protects your weed from prying eyes but lets enough solar energy in, and equip it with a carbon filter to kill the smell and with some cooling contraption for those hot midsummer months. Keep everything under lock and key, and you can produce the dankest weed successfully and legally.
Top 5 Strains For A Successful Outdoor Grow In Colorado
In the short list below, you'll find both Indica and Sativa-leaning hybrids, including one early photoperiod variety and one autoflower. For all of these strains, the Colorado climate will provide plenty of time to reach their full potential and finish flowering long before the warm and sunny season is over. As for the smell, taste, bag appeal and effect of the buds, they'll be on par with anything you'll find on the top shelves of local dispensaries.
Purple Punch: Everything We Love About Indicas
A 90% Indica strain, Purple Punch stays short and compact, but if you provide enough space for its roots outdoors, it will reward you with up to 4 pounds of fruity, grapy and spicy goodness. With purple hues and a coating of white crystals, the buds are visually perfect. The effects are beautiful, too: an extremely deep relaxation of mind and body, with an intense euphoria that will make you feel like you're floating on a cloud.
Purple Lemonade Auto: We Dare You To Grow Anything More Beautiful
Another beauty queen among cannabis strains, this variety will show off her signature color if the buds are touched by some cold at the end of flowering. So plant your seeds in the first days of August, and come October, you'll harvest some exceptionally attractive purple buds half-hidden under a thick layer of trichomes. The sweet and fruity smoke of Purple Lemonade Auto is like a refreshing drink when you're really hot and thirsty, and the effects make you social and chatty at first before relaxing you beyond words.
Tutankhamon: The Raw Power Of THC
This strain is really a good old AK-47 clone, but one so exceptionally powerful that it still beats most of the new world champions. With 26% THC, no wonder this variety is the no. 1 best seller in Pyramid Seeds' catalog. The cerebral effect of Tutankhamon is like a crazy mile-high rollercoaster that will leave newbies speechless, but for more experienced smokers, it could be best described as fuel for a happy and productive day.
HulkBerry: Enjoy Your Sativa-Fueled Superpowers
This cross of OG Kush and Strawberry Diesel is the best option for those who need extremely potent and long-lasting effects all in the head and without any couchlock. HulkBerry is the kind of superhero you call when you need to get things done. Its smell and taste are even more amazing: sweet and candy-like, with sour and citrus notes and an earthy background.
Sugar Black Rose Early Version: For Those Who Are In A Hurry
If you grow weed outdoors in Colorado, you don't really need a short-season strain unless you just can't wait to taste your homegrown bud as soon as possible. In this case, numerous 'early versions' or 'fast versions' will allow you to cultivate some of the world's best genetics a couple of weeks earlier than usual. With Sugar Black Rose EV, you get a chance to harvest one of the most decorated Indicas ever. This powerhouse weed strain will kick your legs from under you, so it's best consumed in the evening when you need deep body relaxation coupled with gentle stimulation of the mind.
The Bottom Line: Colorado Cannabis Laws Could Be A Nuisance, But Not The Weather
The summer heat peak in Colorado could be uncomfortable for cannabis plants (not so much outdoors as in a greenhouse), but the weather in early fall is almost ideal for bud production. Some ingenuity on your part is required to meet all the legal requirements for an outdoor garden, but once you resolve this issue, you'll be rewarded with generous harvests of absolutely amazing weed.
Herbies Head Shop expressly refuses to support the use, production, or supply of illegal substances. For more details read our Legal Disclaimer.