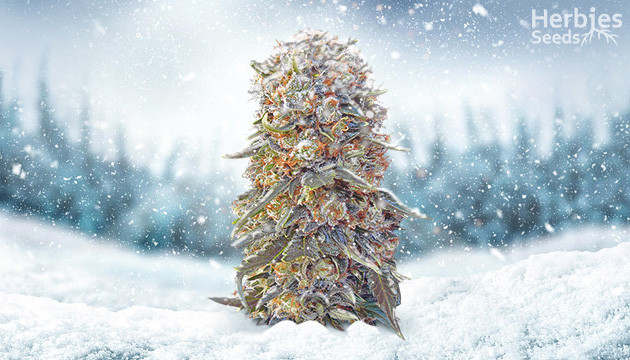 Growing cannabis outdoors can be so rewarding that even growers who live in colder climates should give this cultivation method a try. This will give you a chance to save on equipment and electricity while still harvesting much more bud than any indoor setup could bring. The one thing crucial for your success is always choosing the best cannabis strains for cold climates. Well, we're here to help you with that.
Can Weed Grow In Cold Weather?
Cannabis is a versatile and singularly hardy plant species, and it can withstand a lot of bad weather. However, there are two periods in its lifecycle when cannabis is rather vulnerable in the face of elements:
Germination & seedling stage
Ripening stage
So, if you live in a cold climate and want to grow weed outdoors, make sure to give your plants special protection during these two periods.
The first one is easy. People who live in places like Canada, the UK, and the Netherlands know that the growing season in their parts starts late. So, they germinate their seeds indoors and keep the seedlings under artificial lights for the first couple of weeks. Only then do they start gradually acclimatizing their young plants to the outside weather and finally put them outdoors when there's no danger of frost. Usually, this happens at the beginning of May or June.
As for the ripening stage, it's an emotional time for a grower even in the best of climates, because the buds can get so big and dense that there's always a risk of mold or bud rot. The safest way of avoiding this risk is to choose a strain that can be harvested before bad weather comes.
What Cannabis Is Best For Cold Climates?
When you're shopping for seeds and comparing between different genetics, pay attention to the following:
Autoflowering strains. You can plant these in early summer and harvest fully mature buds in 2-3 months, before it gets too cold and rainy. In contrast, photoperiod varieties will only start flowering in late summer/early fall.
Early, fast, or quick versions. Hybrids with these words in the name combine autoflowering and photoperiod genetics. They won't start to flower automatically and only finish in fall, but they do so a couple of weeks earlier than normal photoperiod strains.
100% Indica or Indica-dominant. Indicas are generally more cold-resistant than Sativas, and their flowering time is also shorter. This increases your chances of harvesting your buds before they get spoiled by cold and rainy weather.
Earlier harvest time outdoors. If the description says mid or late September, you have a chance with this weed. In contrast, it's best to avoid October or November-finishing strains.
Shorter flowering time indoors. If the strain's harvest time outdoors is unknown, look at how many weeks it takes indoors. 7-8 weeks is good, while 9-10 or more means the strain isn't suitable for cold climates.
Resistance to mold. If the description says a strain is resistant to mold, you have better odds of not losing your buds at the end of the season.
High altitude genetics. Some strains were specifically developed for mountainous regions, and are therefore great at tolerating cold or sharp temperature drops during the night. Breeders always mention things like these in their descriptions.
A Word Of Caution About Photoperiod Varieties
Growing photoperiod weed around the 50° parallel, or at higher latitudes, is possible but risky. A lot depends on your luck with the autumn weather of a specific year. To be on the safe side, always choose the fastest-finishing variety.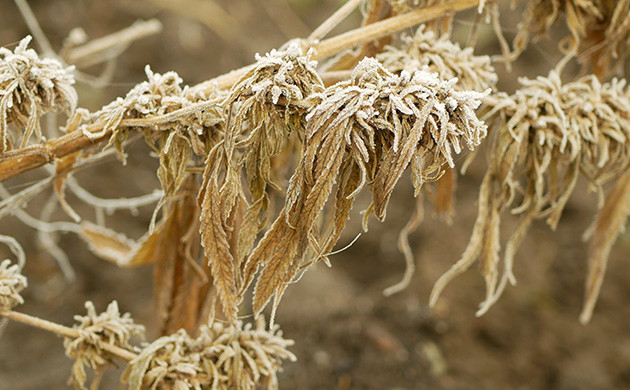 And now, please pay attention: it's important! When breeders talk about harvest time, they usually mean places like Spain, Italy, or California. It's not only warmer there, but the days get short earlier in the season, meaning that the flowering of cannabis plants also starts earlier. When outdoor growers in, say, Southern France are already harvesting their buds, their counterparts in Scotland or Scandinavia may still see no signs of flowering, but just a lot of bad weather.
For them, autoflowers are the only safe bet.
Cold-Climate Autoflowering Seeds Are A Safer Option
Autoflowering strains are based on Ruderalis genetics, and Ruderalis is a subspecies of cannabis that originated in Siberia and other parts of Northern Russia and Northern Europe. This heritage makes autoflowers very hardy and resilient to cold.
Moreover, autos don't wait for the days to become short to start flowering, so you can choose the warmest 2-3 months of the year for their cultivation. It's safe to say that most climates give you 2-3 months of summer weather.
Top 7 Cold Weather Autoflower & Photoperiod Seeds
Any of the seeds below meet the criteria of being fast enough and hardy enough for most cold climates.
Purple Lemonade Auto (FastBuds)
It's an autoflower. It's Indica-dominant. It finishes in 9-10 weeks from seed. All this guarantees any cold-climate grower a lot of heavy and resinous purple-colored buds that pack 22% THC. The smoke produced by Purple Lemonade Auto is sweet, zesty, and fruity, while the high is that rare kind that makes you giggly and chatty – a perfect social lubricant for either a close circle of friends or a company of entire strangers.
2 Fast & 2 Vast Auto (Heavyweight Seeds)
Needing only 56 days from seed to harvest, this autoflowering Indica is perfect for short summers, and defies the mold, pests, disease, and other dangers of outdoor cultivation. As the name suggests, 2 Fast & 2 Vast Auto is an expansive strain of weed in terms of both its huge colas and the social side of its high. These fruit-smelling buds are frosted with 18-20% THC and are great for parties.
Shiskaberry (Barney's Farm)
Autos are great, but a photoperiod weed can be so much more productive! Shiskaberry brings you up to 2K (more than 4 pounds!) of fat and dense buds that are ready for harvest by mid-September. This 100% Indica has a juicy berry flavor with an old-school background of Afghan hash, produces up to 26% THC, and is mercilessly potent. Best not to stray too far from either your couch or your fridge with this one!
Marmalate Early Version (Delicious Seeds)
We were talking before of 'early' genetics, and here's a stellar example of that. This version of Marmalate won't try your patience – she'll be ready for harvest in early September. Despite a shorter flowering time, the breeders managed to retain all the best qualities of this delicious variety. The smoke is almost too sweet, like grape lollipops, and the high is mellow and uplifting, with hardly any couchlock or tiredness but rather tons of mental clarity and motivation. 
Auto Orange Bud (Dutch Passion)
Auto Orange Bud is Sativa-dominant, but hey, it's an autoflower, so harvests are guaranteed even in cold climates. After no more than 11 weeks from seed, this THC factory (producing up to 26% of the stuff) will be ready to awe you with its intense citrusy flavor and an uplifting high that feels so strong it's like an uppercut to the chin. Your mind will be taken to soaring heights –just be careful where your body lands!
Gorilla X White Widow (Expert Seeds)
Two THC heavyweights, old-school and new-school, meet in this Indica-dominant hybrid that finishes in late September and can be grown anywhere, from the British Isles to British Columbia. Gorilla x White Widow is brimming with pungent terpenes and frighteningly high levels of THC. The effects fill your whole being with that kind of heavy-handed euphoria where you're hardly able to move, allowing you to simply enjoy the perfect bliss of the present moment.
Pakistan Valley (World Of Seeds)
This award-winning outdoor strain is a pure landrace Indica that's endemic to the Hindu Kush mountains of Northern Pakistan. It's ready by early October (not the fastest in our collection), but is very robust and sturdy, and puts to shame many faster-finishing but also more delicate cultivars. The classical Kush flavor of Pakistan Valley is exquisite and the stone deeply narcotic: time stops, and all you feel is profound relaxation and happiness.
Buy Any One Of These Or Choose Something Else Based On Our Criteria
We believe we've given you enough insight to make an informed choice when choosing the best cannabis strains for cold climates. And should you still have any questions, don't hesitate to browse our extensive catalog or simply ask us – our consultants are always online and at your disposal. Happy shopping and happy growing!
Herbies Head Shop expressly refuses to support the use, production, or supply of illegal substances. For more details read our Legal Disclaimer.