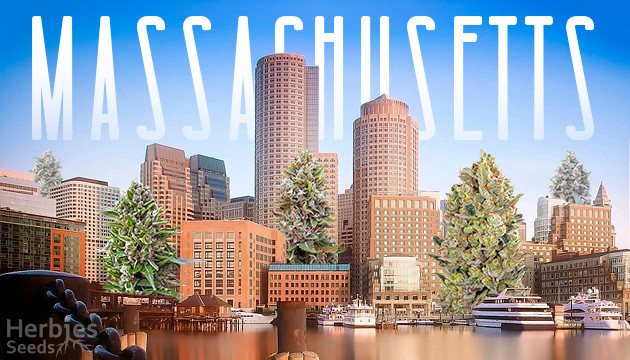 The state of Massachusetts now allows adult residents to legally grow marijuana for personal use, both indoors and outdoors, but take a moment to acquaint yourself with the legal limits and also to understand what type of strains perform best in your climate.
What Exactly Is Allowed By The Law?
If you are 21 years or older, you may choose to grow your own bud and have up to 6 plants in your garden, regardless of their maturity. Please note that if two or more adults live in the same residence and wish to cultivate marijuana for themselves, the maximum number of plants is 12. The law doesn't differentiate between indoor and outdoor grows, so you're free to raise cannabis plants in your backyard as long as they're fenced in and locked and can't be seen from the outside without the use of binoculars or aircraft. As for the produce, you can stash up to 10 oz of bud, so long as it's inaccessible to children and pets.
Strains For Outdoor
VIEW ALL
Climate In Massachusetts Is Good, But Some Restrictions Apply
Cannabis is a versatile plant that thrives in many climates, and Massachusetts offers many of those conditions that guarantee you the best growing experience outdoors. First, you get the long warm summer, which is great for vegging plants, and you can put your seedlings outside as early as May or even April. Second, the early fall when the buds start to really fill out is also warm and sunny and reasonably dry. On the flip side, you'll get a lot of humid and even muggy days at the peak of the summer, which invites mold and bud rot. Clearly, this part of the season is not the best for the flowering stage, so keep this in mind when planning the cycle for your automatic strains. Make sure to also protect your plants against hurricanes and tropical storms with some kind of support, be it chicken wire, stakes, or any kind of trellises.
Autos, Early And Fast Versions To Grow In Massachusetts
The weather in Massachusetts allows you to successfully cultivate most strains that finish in September. This kind of information is usually specified by the breeders. Plants that finish in the first half of October are also an option, but make sure the strain you choose is mold-resistant. Stay clear of any late-flowering genetics with extra dense buds – loose and airy flower structure may have less bag appeal, but is safer in humid conditions or when the nights are cold. That said, the best choice for your first grow would be an autoflowering variety or a special kind of photoperiod cannabis called 'early' or 'fast versions'. You'll find many such strains in our catalog, and here, we present you with our top five examples from every category we've just mentioned.
Pineapple Express #2: A Mid-September Finisher With Huge Yields
Pineapple Express #2 (G13 Labs)
Photoperiod

Fruity train

No official information

700 g/m² indoors
900 - 1300 g/plant outdoors
Go to strain
This is one case where you needn't be afraid of large and solid buds: the new and improved Pineapple Express #2 is tolerant of high humidity and can be harvested when the sky in Massachusetts is still clear and the sun warm and bright. You'll reap jaw-dropping quantities of buds that smell of lemon, pine and spices, and produce energizing, motivating and mood-enhancing effects.
Fast & Vast Auto: Expect A Lightning-Quick And Heavy Punch
Fast & Vast Auto (Heavyweight Seeds)
Autoflowering

Mild and relaxing journey

17 - 19 %

600 - 800 g/m² indoors
75 - 200 g/plant outdoors
Go to strain
Plant this one in July (seedlings love hot and humid conditions), and in September you'll watch how your Fast & Vast Auto turns into a 5-foot-tall Christmas tree, with enormous and heavy colas all over. When smoked, the buds are sweet and easy on the throat, but the stone is fast and hard-hitting and provides long physical relaxation.
Strains For Relaxation
VIEW ALL
Purple Punch Auto: Fragrant Dark Delights
Purple Punch Auto (Barney's Farm)
Autoflowering

18 %

Devastating delight

350 - 400 g/m² indoors
400 g/plant outdoors
Go to strain
To have this beautiful plant in your Massachusetts garden is an experience bordering on exotic. Just be sure to time your grow so as to expose your maturing buds to a couple of cold nights in late September, and Purple Punch Auto will delight your senses with its rich, dark colors along with its sweet and fruity smell. The effects are potently relaxing and soothing Indica, perfect for medical patients.
Eleven Roses Early Version: An Overkill For The Mild Massachusetts Climate
Eleven Roses Early Version (Delicious Seeds)
Photoperiod

24.8 %

Worries are left behind

600 g/m² indoors
2000 g/plant outdoors
Go to strain
This strain is a perfect illustration of modern hybrids that, even with their shortened flowering periods, are fully compatible with outsized yields and the highest quality of buds. Eleven Roses Early Version can produce several pounds of rock-hard sticky buds with close to 25% THC, as well as the exquisite smell of ripe fruit and damp soil. And you can bring this narcotic Indica to full maturity not only in New England, but in much colder places as well.
Autoflower Cannabis Seeds
Buy
Extreme Impact Auto: A Hard-Hitting Nighttime Indica
Extreme Impact Auto (Heavyweight Seeds)
Autoflowering

Crushing blow

21 %

650 g/m² indoors
50 - 150 g/plant outdoors
Go to strain
Very easy to grow and adaptable to any conditions, this automatic strain can be cultivated by anyone and in any location. Even if you have no experience but are ready to give your plants a little bit of love and care, the yields will be spectacular. When you test the smoke, keep in mind that Extreme Impact Auto got this name for a reason – you may find out you're not as hardcore as you thought you were, so use this strain in moderation and only in the evening.
Top Marijuana Strains In The USA
US bestsellers
Many Pros Of Growing Cannabis In Massachusetts
Growers in Massachusetts are lucky in at least two respects. The laws are lenient enough to encourage growing marijuana outdoors, and the mild climate allows you to cultivate a wide range of strains with a good chance to harvest fully mature buds long before the warm and sunny season is over. So pop some seeds and see for yourself just how lucky you are!
Herbies Head Shop expressly refuses to support the use, production, or supply of illegal substances. For more details read our Legal Disclaimer.