Cannabis Seeds in Massachusetts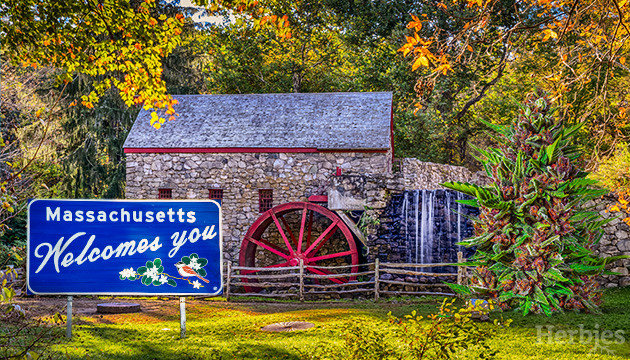 If you want to grow your weed legally, Massachusetts is the place to be! You can grow cannabis for both recreational and medical purposes, although only a limited number of plants can be grown. If you want to grow weed in the Bay State, you'll find everything in this article that you need to know before purchasing pot seeds in Massachusetts.
Is It Legal to Buy Cannabis Seeds in Massachusetts?
Buying marijuana seeds in Massachusetts is completely allowed by law. If you're 21 or older, you can legally purchase cannabis seeds online or from local seed banks.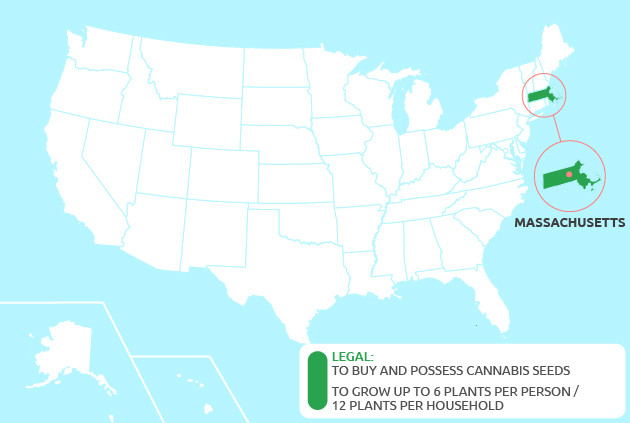 Can You Grow Cannabis in Massachusetts?
Growing recreational cannabis and medical marijuana in the Bay State is not considered a crime. Any person aged 21 or over can legally cultivate up to 6 plants. If there's more than one adult in a household, the maximum allowed number of plants is 12. However, you should also keep in mind that your crops must be hidden from public view.
What to Consider When Buying Weed Seeds in Massachusetts
The relaxed cannabis laws in Massachusetts make it very easy for cultivators to grow their weed, unlike in most other US states. However, there are other things to consider, such as the climate in the area and what strains are best suited to it. Below, we lay out all you need to know about the climate in Massachusetts and which strains will bring the best results.
Climate in Massachusetts
Massachusetts has a humid continental climate, where summers are warm and winters are cold and snowy. Temperatures that allow growing last only from mid-May to early September – it's therefore a good option to choose fast-flowering seeds. For outdoor grows, temperature fluctuations in this area require cannabis strains that are resistant to various temperatures in order to produce maximized yields.
Where to Buy Cannabis Seeds in Massachusetts
Besides buying in local seed banks, you can easily find cannabis seeds for sale in Massachusetts online. Check out Herbies' online catalog for over 2,000 different cannabis strains available at an affordable price. Our seeds come with a 100% germination guarantee. In case you have any doubts or questions, our expert customer service is there for you 24/7. Plus, with each order, our customers can expect free seeds and other awesome gifts.
Best Cannabis Strains to Grow in Massachusetts
We saved the best for last! Below, you can find a list of cannabis strains that will thrive in Massachusetts' climate.
Strawberry Pie Auto (Fast Buds)
Strawberry Pie Auto is an Indica-dominant hybrid that produces extremely potent buds to help you take the edge off after a long day. This autoflower was created as a result of crossbreeding the original Strawberry Pie with a Ruderalis, and it can contain up to 26% THC. Strawberry Pie Auto delivers highly potent Indica effects of relaxation and deep calmness after just a couple of sweet puffs.
This strain's terpene profile forms a delicious fruity aroma and flavor in combination with fuel and pine. Growers can expect fully mature plants after only 63 days from germination. Indoors, yields reach up to 550 g/m2 (1.6 oz/ft2), while outdoors, you can expect a harvest of 160 g (6 oz) per plant.
Candy Kush Express (Fast Flowering) (RQS)
Candy Kush Express (Fast Flowering) is a flavorful variety that delivers well-balanced effects that are perfect for any time of the day. This balanced hybrid was developed by crossing Sweet Special with Royal Kush genetics and typically contains from 15 to 20% THC. Candy Kush Express offers balanced effects that fully relax your body and mind.
Its terpenes produce a sweet and spicy flavor and aroma alongside earthy and citrusy undertones. This variety can produce great results after just 7 weeks of flowering, yielding up to 525 g/m2 (1.72 oz/ft2) indoors and 500 g (17.6 oz) per plant outdoors.
Auto Colorado Cookies (Dutch Passion)
One of the most potent Indica-dominant strains on the market, Auto Colorado Cookies is a crossbreed between Auto Blueberry and Girl Scout Cookies. This hybrid can contain up to 26% THC, offering a long-lasting but calming high that will leave you happy and stress-free.
Auto Colorado Cookies has an amazing exotic terpene profile of mango and notes of sweet berries that will simply blow your mind. Indoors, outdoors, or in a greenhouse, this variety can produce massive yields after only 77 days. If grown in optimal conditions, cultivators can get up to 500 g/m2 (1.64 oz/ft2).
Tropicana Poison F1 Fast Version (Sweet Seeds)
Tropicana Poison F1 Fast Version is a combination of Tropicana Cookies and Red Poison Auto, resulting in a well-balanced strain with 60% Indica genetics. The flowers of this strain can contain between 16-24% THC, delivering a calming and relaxing head high that makes it a great option for nighttime use.
The delicious terpenes produce a combination of earthy and fruity aromas and flavors with a candy-like background sweetness. This variety has a flowering time of just 7 weeks, producing excellent harvests indoors and outdoors. If grown indoors, yields can range between 450-600 g/m2 (1.4-1.9 oz/ft2), while in an outdoor environment, plants can yield up to 650 g (22.9 oz).
Jack Herer Auto (Green House Seeds)
Jack Herer Auto is a mix of Haze, Northern Lights, and Skunk genetics, resulting in a THC-rich variety with relaxing Indica-dominant effects. The buds are infused with 20% THC, providing an intense but relaxing high that helps reduce anxiety and relieve pain.
Jack Herrer Auto has an appealing citrusy and spicy taste and smell of musk with minty undertones. Plants reach full maturity after just 9-10 weeks from germination. Just like the original Jack Herer, this variety can easily grow both indoors and outdoors, yielding up to 400 g/m2 (1.3 oz/ft2) and 120 g (3.4 oz) per plant respectively.
Purple Juice Auto (Herbies Seeds)
Purple Juice Auto is a unique variety with incredible terpene-rich purple buds that produce an uplifting daytime high. Purple Juice Auto was developed by crossbreeding Purple Juice with an unknown Ruderalis strain and contains 22% THC. Even though it's an Indica-dominant strain, it provides Sativa-like euphoric and energy-boosting effects.
The strain's delicious terpenes produce a sweet and spicy citrusy flavor and aroma with a nice lemony finish. Purple Juice Auto has a short flowering period of around 70 days, yielding up to 550 g/m2. (1.8 oz/ft2) indoors and about 250 g (8.8 oz) per plant in an outdoor setting.
Sugar Black Rose Early Version (Delicious Seeds)
Sugar Black Rose Early version is a multiple-award-winning strain created by crossing the premium genetics Critical Mass and Black Domina. It comes with 25% THC, providing a long-lasting and potent yet relaxing body high almost instantly.
The terpene profile of this strain forms an amazingly sweet and citrusy flavor and scent with notes of grape and a skunky background. Sugar Black Rose Early Version can produce massive yields after only 45 days of flowering time. Indoors, growers can expect about 450 g/m2 (1.4 oz/ft2), while outdoors, plants can yield up to a whopping 900 g (31.7 oz).