Tropicanna Poison F1 Fast Version Feminized Seeds (Sweet Seeds)
Description
Tropicanna Poison F1 Fast Version Information
This strain hails from Sweet Seeds, a breeder that had a great idea to cross Tropicanna Cookies with Red Poison Auto. This combination creates a well-balanced blend with 60% Indica-forward buds. These dank, dark, and distinct flowers also have a sweet and earthy yet skunky aroma.
Genetics
As mentioned, this plant has potent parent strains that make for highly sticky buds. Tropicanna Poison F1 Fast Version comes from Tropicanna Cookies (Girl Scout Cookies x Tangie) and Red Poison Auto for superior plant genetics. There's also its Indica Pakistani Kush lineage, known for its heartiness and potency. Combined, they make for a powerful session enjoyed alone or in a group.
Flowering Time
Another incredible attribute of this cannabis strain is its short flowering time. This photoperiod plant sees buds come to full maturity in as little as 6-7 weeks of flowering. Outdoor growers will see their harvest in late August/early September.
Yields
No matter where you plant these seeds, you're going to see excellent yields. While indoor harvests develop 450-600g/m2 (1.5-2oz/ft2), outdoor plantations of Tropicanna Poison F1 Fast Version bring 400-650g (16-21oz) per plant.
Effects
As Tropicanna Poison F1 Fast Version is an Indica-dominant strain, you can look forward to relaxing effects. Just make sure you're comfy for when the buzz kicks in to fully enjoy it. As a primarily heady high, this is great at night or for lazy afternoons when you need to switch to a positive mindset.
THC and CBD Levels
Tropicanna Poison F1 Fast Version has THC levels of up to 24%. There's also a trace percentage of CBD at 0.1%.
Smell and Taste
This strain has a delicious terpene profile that can't be ignored. Enjoy the earthy, fruity, and floral flavors, as well as its dense, sticky buds. Growers report a mango and candy-like sweetness that's easy on your throat, along with a stunning fragrance of peach and citrus when this plant is in bloom.
Grow Tips
These flowers mature well whether Tropicanna Poison F1 Fast Version stays outdoors or inside. It's one of the most beginner-friendly photoperiod strains out there, too. Here's some more grow info to keep in mind:
Tropicanna Poison F1 Fast Version is highly resistant to mold and pests.
Some phenos remain with green buds, but they retain all the same characteristics.
If you plant the strain outdoors early enough, early harvest gives you a chance for another round before the cold weather sets in.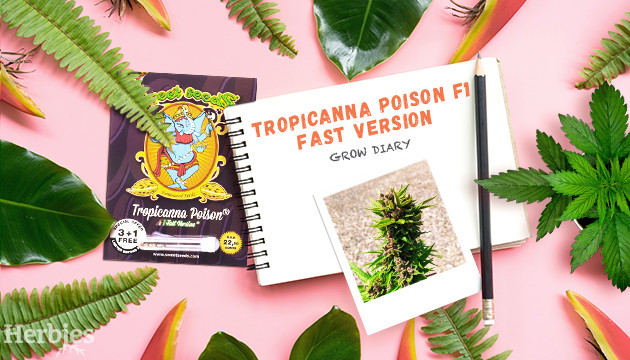 Tropicanna Poison F1 Fast Version Grow Journal
Tropicanna Poison F1 Fast Version Seeds
These feminized seeds prove easy to grow, even without much experience. Their unique coloration and sweet, earthy flavor make this newer strain already popular. You can get them at Herbies and receive some nice perks as a bonus, including free seeds and worldwide stealth shipping.
Characteristics
*Herbies sells cannabis seeds exclusively as souvenirs that aren't meant for cultivation or germination. Customers should be aware that the germination of cannabis seeds is illegal in most countries. Herbies sells cannabis seeds exclusively for collecting and preservation for future generations. We advise customers to check with their local laws before germination, as Herbies does not accept responsibility for the illegal use of our products.