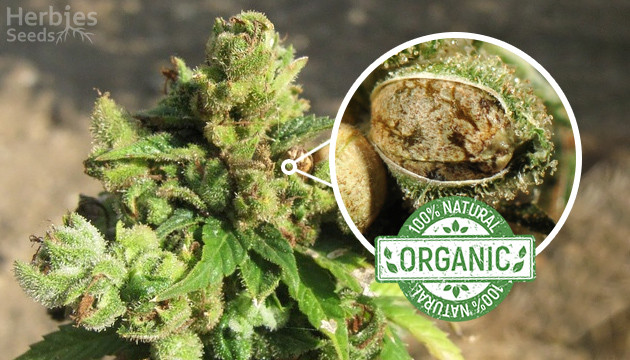 When buying cannabis seeds, it's important to ask yourself: what went into the production? Should you go for organic cannabis seeds? Non-organic seeds can be produced using pesticides and other chemicals to ensure that the parent plants manage to produce seeds. Organic farming, on the other hand, is a collection of practices that promotes ecological balance by conserving resources and avoiding certain pesticides and fertilizers. Therefore, we'd say to go for organic seeds if you can. But which ones? Follow along to learn more.
Benefits of Organic Weed Seeds
The chemical and pesticide-free production of organic seeds requires careful, patient breeding of desired traits from cannabis strains that demonstrate natural resistance to various conditions. This means that with organic weed seeds, you're guaranteed to grow plants that are genetically resistant to pests and mold, and without sacrificing the quality or potency of the flowers. In fact, such superior genetics only lead to quality, potent cannabis plants, bigger harvests, and frostier buds!
Aside from the personal benefits come harvest time, organic farming is overall better for the planet. Show Mother Earth some appreciation through your gardening by:
Composting soil and plant waste.
Avoiding chemicals that destroy microbial life in the soil and endanger biodiversity.
Growing cannabis from organic seeds that were produced without any harm to the ecosystem.
Hand-Picked by Herbies: the Best Organic Cannabis Seeds and Seed Banks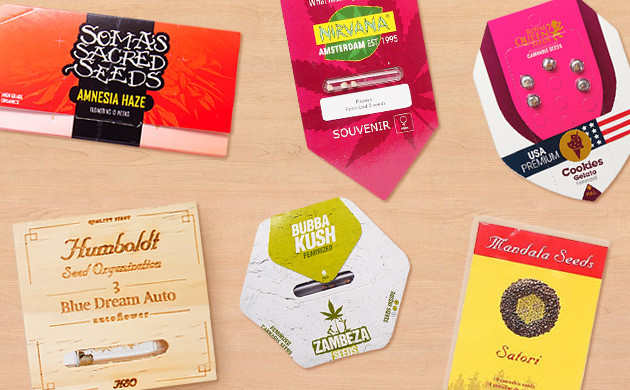 Clearly, organic seeds have their benefits – so how do you start looking for them? Not to worry – Herbies has already done the legwork to find amazing seed banks that practice organic farming and seed production! Not only that, but you can check out our strain recommendations from each breeder, hand-picked according to organic practice, potency, and experience.
RQS and Their Scrumptious Cookies Gelato
With two stores in Amsterdam and one in Barcelona, Royal Queen Seeds is a big-name seed bank in Europe. Breeders at RQS work hard to provide the best genetics, and do so by hand-picking all seeds from organically-grown plants.
Cookies Gelato is a perfect example of Royal Queen Seeds' commitment to quality. A beautifully well-balanced hybrid with high levels of THC up to 28%, the effects of this feminized strain are distinctly euphoric with a relaxing body buzz. Cookies Gelato is also as delicious as her name implies, with rich, chocolatey flavors complemented by citrusy aromas.
You can find more organic cannabis seeds from RQS here.
Mandala Seeds and Their Mind-Opening Satori
Mandala Seeds, founded by duo Mike and Jasmin in 2004, ensures that all breeding projects and seed production are conducted using organic means. They accomplish organic, sustainable growing by composting garden waste and treating pests only with biological pesticides and beneficial predators (like ladybugs).
Mandala's Satori, an award-winning Sativa-dominant hybrid, is powerfully potent and fast-acting for a truly introspective experience. THC levels typically vary from 24-28%, and the effects are creative, cerebral, and suitable for relief from anxiety and depression. Satori's honey-sweet scent and hashy, fruity flavor is worthy of even the pickiest cannabis connoisseur.
Find more organic cannabis seeds for sale from Mandala Seeds here.
Paradise Seeds and the Uplifting Wappa
The origins of Paradise Seeds stretch back to 1980, when Luc, the founder, planted his first cannabis plant at the back of his parents garden and fell in love with organic growing. In 1994 he founded Paradise Seeds, which soon became one of the first seed banks in the world to produce feminized seeds. With this bank, you can be sure that all the genetics you get are stable and organic.
Paradise Seeds' 25+ years of experience are packed into the champion genetics of Wappa. This Indica-dominant hybrid is high in THC and provides an uplifting buzz. With myrcene dominating her terpene profile, Wappa is fruity and flowery – perfect for a morning wake-and-bake or a chill night.
Find more organic weed seeds from Paradise Seeds here.
Humboldt Seeds and the Old-School OG Kush Auto
Next up is a pillar of the West Coast breeding scene: Humboldt Seeds. Their team proudly boasts years of growing cannabis organically, while also specifically working to reduce environmental impact. The result is a collection of some of the best organic cannabis strains out there.
A classic strain revamped with autoflowering genetics, OG Kush Auto is potent and cerebral with her 21% THC content. This dreamy Indica hybrid is delightfully complex in flavor, releasing pine and diesel notes in her smoke. After a few puffs of this organic strain, say goodbye to all the worries and hello to blissful relaxation!
You can find more organic marijuana seeds from Humboldt here.
Zambeza Seeds and the Fun OG Bubble Gum
Based in the Netherlands, Zambeza Seeds is a cannabis seed bank that specializes in organic seeds. Every seed sold by Zambeza is organically grown and tested for quality by hand. As a result, their seeds are ensured to have the highest possible germination rate.
A superb example of Zambeza's organic product is the Indica-dominant strain OG Bubble Gum, also known as Bubba Kush. OG Bubble Gum releases a bouquet of spices and sour berries when combusted, resulting in a high-class smoking experience. In small doses, expect a relaxed stone, while heavier consumption can lead to a narcotic couchlock.
Find more organic cannabis seeds from Zambeza Seeds here.
Nirvana Seeds and Their White Rhino
The founder of Nirvana, known as Mau, has been in the marijuana industry since the 1980s. Officially founding Nirvana Seeds in '95, Mau made it his mission to produce top-shelf cannabis seeds. Now operated by a small team of experts, Nirvana provides organic cannabis products and growing solutions.
Organic meets delicious in Nirvana's White Rhino feminized seeds. This sweet strain doesn't hold anything back when it comes to flavor: the heavy smoke reveals figs, spice, and a touch of skunk. As a potent 20+% THC hybrid with a creeping high, White Rhino should be taken carefully – the effects are especially intense and manifest in both body- and head-relaxation with strong euphoria.
Find more organic cannabis seeds for sale from Nirvana Seeds here.
Don't Panic, It's Organic!
Regulations on organic goods aren't typically extended to the marijuana market, but that doesn't stop breeders from creating strains for growing organic cannabis! Concern for the environment is as high a priority as the quality of the product, and Herbies has a great selection of organic cannabis seeds for sale from trusted seed banks all over the world.
Herbies Head Shop expressly refuses to support the use, production, or supply of illegal substances. For more details read our Legal Disclaimer.