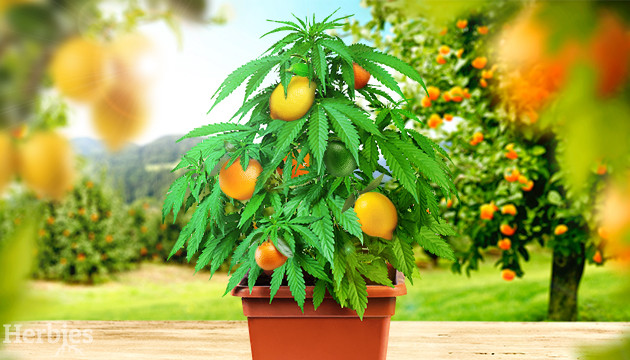 The attention and focus of those shopping for cannabis seeds have long shifted from potency to terpene profiles, and citrus weed is among the most sought-after varieties. When your stash smells like a lemon grove, it always puts a grin on your face and promises an unforgettable smoking session.
We've put together a list of the juiciest and dankest citrus weed strains that will lift your spirits with their stimulating aroma throughout the grow and then fill your jars with tons of nuggets smelling and tasting like lemons, oranges, tangerines, and limes. The best citrus strains we've chosen are all amazingly rewarding cultivars with effects as clean and strong as their flavors.
Why Does Some Weed Smell like Citrus?
There's no trick here. A citrus weed strain smells the way it does because it contains the same organic chemical as lemon peel or other freshly-peeled citrus fruit. This chemical is limonene, and it's one of a whole class of compounds called terpenes that many plants produce. Cannabis is an especially aromatic species, able to manufacture prodigious amounts of terpenes, including limonene.
An exciting fact about cannabis is that its effects aren't only the result of THC and similar cannabinoids but depend on its whole chemical composition. In this business, we call it the "entourage effect," and it's one of the reasons why deciding on the right strain of weed is so important. When choosing a citrus weed strain, you bet on it having a euphoric, uplifting character because this is limonene's contribution to the overall effect.
Medicinal and Recreational Value of Limonene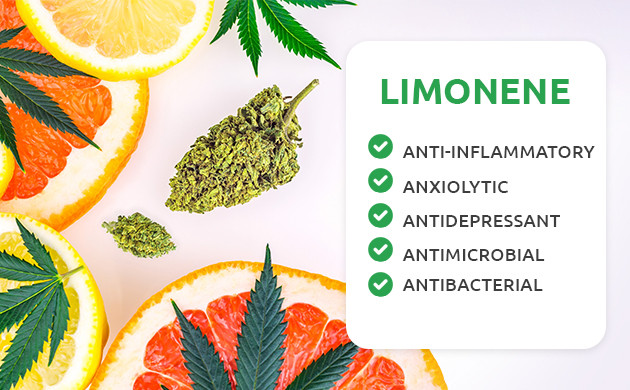 The main use of limonene is usually to lift your mood, so citrus strains of weed are the best option for people with depression as well as anxiety. Scientists keep uncovering other medicinal uses of limonene and believe that citrus weed strengthens your immune system, has antimicrobial and antibacterial action, and reduces inflammation.
For recreational smokers, citrus strains are a shot of pure happiness, like letting summer and sunshine into the gloomiest of days. Even smelling a lemon makes you feel better. Imagine what the same aroma does in combination with THC and a rich mix of other substances that the best citrus strains are known for.
Best Citrus Strains of Weed
Now to the best part. If you're a fan of citrus weed, any of the next ten seeds will yield you jars full of this zesty treat.
Purple Lemonade Auto
You wouldn't think it by looking at these deep-purple buds that don't resemble lemon at all, but the principal smell of Purple Lemonade Auto is that of various citrus fruits. This is probably the most innovative Fast Buds autoflower, and it's a gem among citrus Indica strains. Equally great as a daytime smoke or for deep late-night relaxation, it packs up to 22% THC and enough juicy terps to remind you of a refreshing soft drink.
Mimosa Shot
Mimosa Shot inherited her taste from two sweet citrusy parents – Mimosa and Fruit Punch – but the zesty and fresh aroma isn't even the main attraction of this citrus-smelling weed. The factor that made it a bestseller is its 30% THC, which is enough to take you on a joyride after just one puff. Prepare for intense euphoria that'll make even the most boring social event so much fun and turn a gathering of friends into a wild party.
Amnesia Lemon
A Haze/Skunk hybrid is always a winning combination in our book. The Haze part creates a crazy lucid high – like a dream you have just before waking up – while Skunk imbues the resulting cross with lots of lemony pungency. With 21% THC, Amnesia Lemon also packs 1-2% CBD, making the effect even more mood-elevating and enjoyable, as well as a perfect medicine against anxiety and depression.
Auto Daiquiri Lime
Even among citrus strains of weed, Auto Daiquiri Lime stands out for her intoxicating full-bodied flavor that combines a mixture of citrus and other fruits along with notes of diesel fuel. This autoflower is also endowed in the potency department, to the point of often being too strong for newbies. With 22-26% THC, one toke will send you straight to a happy place full of bright creative ideas and a desire to act upon them. Just don't overindulge, and this will become your favorite wake-and-bake smoke.
Alien Gorilla
You probably wouldn't guess it from the name, but Alien Gorilla is one of the best citrus strains out there – at least, the citrusy flavor is the dominating note in a stupefyingly complex mix of smells and tastes. With Zkittzy Gorilla, Alien Technology, and pure Afghani in her lineage, you wouldn't expect anything else. The flavor may keep you guessing, but the effects won't – it's powerful yet balanced, providing a beautiful full-body buzz and cerebral stimulation at the same time.
CBD Lemon Auto
The anti-depressant and anxiolytic properties of limonene can be enhanced a hundredfold with just the right mix of cannabinoids. With CBD Lemon Auto, you get 17% CBD and as much THC, and this balanced combination delivers a perfectly mellow glow in your whole being, purging both bad memories and negative expectations. This CBD-rich variety is the ultimate medicine, especially for those who want to relieve their symptoms without too much intoxication.
Orange Sherbet Auto
With all that lemony goodness, let's not forget about other citrus fruits. Orange Sherbet Auto offers a deliciously sweet burst of blood oranges, and this smoke does exactly what a glass of orange juice does at breakfast, filling you with fresh, unlimited energy. Never overwhelming and not too jittery, it's the ultimate daytime smoke that will keep you uplifted, motivated, and functional. This dominating Sativa needs just 9-10 weeks from seed to produce a tall plant with branches bending under the weight of fragrant and frosty colas.
Zkittels
Wanna grow a citrus weed strain as big as a lemon tree? Try Zkittels by Kera Seeds. This cultivar is rewarding in any setup, including indoors, but only outdoors can this monster produce up to 2.5kg (5.5lbs) of huge resinous colas that smell more of lemons than glue. There are also notes of sweet grapes that complete this strain's unique terpene profile. This Indica-leaning hybrid packs 25% THC and delivers a powerful, well-rounded, and relaxing high in both the head and body.
Super Lemon Haze
One of her parents is an especially lemony phenotype of Skunk, while the other – Super Silver Haze – is famous for her refined Sativa character. No wonder Super Lemon Haze won the High Times Cannabis Cup in 2008, took first place again the next year, and finished her winning streak in 2010 with a third trophy. More than a decade later, she remains the most decorated citrus strain of weed on our list. Grow one yourself to find out what the hype is all about. Hint: this lemon-scented smoke is like liquid joy filling your whole being after just one or two puffs.
Mandarin Haze Auto
Here's another winning combo of Haze and citrus, this time not a lemon but tangerine. Mandarin Haze Auto is a dominant Sativa with 19% THC and a strong stimulating head high. Take it with you on a hike, bring it to a party with close friends or complete strangers, or share it with your loved ones – this smoke is perfect for bonding, as it's upbeat and relaxing at the same time. This 10-week autoflower is easy to grow and high-yielding, but try using organics to really bring out her delightful profile of citrus fruit.
Herbies Head Shop expressly refuses to support the use, production, or supply of illegal substances. For more details read our Legal Disclaimer.