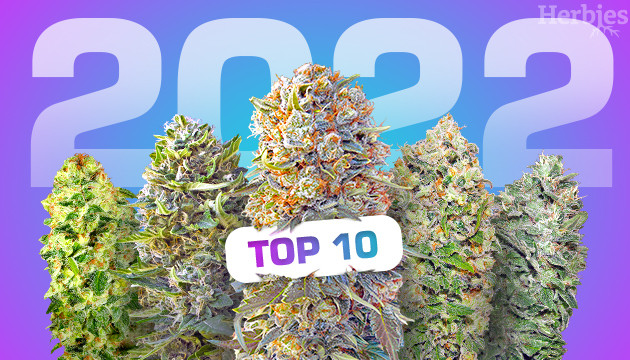 Now that many states are approving marijuana growth for personal use, growers have it easier than ever before. While there are tons of strains out there, autoflowering strains are the easiest to grow and maintain, making them the perfect plant for rookie growers. Below, we've gathered up 10 of the best autoflowering strains, highlighting their effects, THC content, and what you'll have to do as a grower.
Why Choose Autoflowering Strains?
Autoflowering seeds are renowned for their quick growth and high yields. Unlike other plants, autoflowering strains switch from the vegetative to flowering stage automatically and even perform well in cold weather. So, what does all of that mean for you? First of all, it takes a lot of work out of your growing. Instead of having to do everything on your own, all you need to do is keep the plant in favorable conditions, give it some water and nutrition, and wait for it to start flowering all on its own.
Most of the best autoflowering strains can flower in as little as 2-4 weeks after seeds are planted. The low maintenance and high production of autoflowering strains make them a great choice for rookies, or just anyone who's looking to find more strains to enjoy. For growers and smokers, there are different reasons that autoflower strains are the best, and we'll tell you why.
For Growers
If you're a grower, the reason why autoflowering strains are the best is that they are easy, quick, and fertile. As soon as you plant the seed, you'll typically have buds coming out in as little as 2-4 weeks, which you'll need to let mature for about 1-2 months. Most autoflowering strains can be grown indoors or out and don't have many restrictions when it comes to watering or growing in a certain place. If you're looking to purchase a plant for personal use, check out our list of the best autoflowering strains and choose one that has the flavor and high you're after.
For Smokers
From a smoker's standpoint, there are many reasons why autoflowering strains are preferred. They come with a wide range of effects that include relaxed highs and those that make you feel giggly, creative, and energetic. Finding one that hits the right way and has the perfect flavor can be a challenge, but it's fun to try different strains and bask in your feels. Once you find the one for you, you won't want to move to another! Enjoy the flavors, the feels, and all the other sensations that a good smoking session can bring.
Now that you know a bit more about autoflowering strains, we might have sparked your interest. That's why we've done the leg work and lined up ten of the best autoflowering strains that 2022 has to offer. We'll introduce them to you below, along with what you can expect when giving autoflowers a try.
Best Autoflower Strains in 2022
We searched far and wide for the best autoflowering strains and narrowed down our list to ten of the best on the market right now. We'll go into more detail and help you decide which autoflower strains are the best for you.
Godzilla Cookies Auto
Blend: 60% Indica, 40% Sativa
Effect: Creative, social, energetic
Flavor: Lemon and cookies
If the name doesn't ring a bell, you might be living under a rock! Godzilla Cookies Auto is one of the best autoflowering strains on the market, producing massive buds that contain over 25% THC. It has a unique flavor and creates a high that promotes creativity and relaxation, taking you to all-new levels that you might not have ever experienced. The time you plant the seeds until you can harvest takes just a few months, and you can have banging harvests that you'll want to share with your friends. You won't forget Godzilla Cookies in a hurry, and will likely be hooked from the first time you try it!
Strawberry Banana Auto
Blend: 55% Indica, 45% Sativa
Effect: Relaxed and euphoric
Flavor: Fruity with hints of strawberry and banana
"Straw-nana" is a super popular autoflower strains choice that gives off fruity aromas and a chill high. THC levels are high, buds are abundant, and flowering happens in just a few weeks. Each plant will produce a large yield – in fact, you're sure to have more than you know what to do with! They don't call this one of the best autoflower strains for nothing! You'll have buds to harvest in as little as 70 days and continuous harvesting no matter what kind of climate you live in. Once you get used to how simple it is, you won't turn back or get your hash from anyone else.
Purple Juice Auto
Blend: 70% Indica, 30% Sativa
Effect: Relaxed and happy
Flavor: Sweet and citrusy with a hint of spice
Popular purple autoflowering strains like Purple Juice Auto bring a lot to the table. They're tasty, colorful, and bring a fun twist to your smoking time. This one gives off an uplifting high and will have you singing its praises from day one. As one of today's best autoflowering strains, it should be a top one on your list, as you can grow it indoors and outdoors. Flowers will start to appear in as little as a few weeks and start to mature, at which time the smell will start to fill your entire gardening area with a savory aroma. Once buds are in full bloom, you won't be able to escape the sweet smells, constantly craving more.
Auto Cinderella Jack
Blend: 60% Indica, 40% Sativa
Effect: Happy, laid back, and relaxed
Flavor: Sweet like candy
The potency, flavors, and boost of energy that comes from puffing on Cinderella Jack Auto are what make it one of the best autoflowering strains to date. These beautiful buds give off a sweet smoke, and the high will guarantee to leave you in a good mood. The strain is perfect for indoor and outdoor growth and is strong enough to survive in a wide range of conditions thanks to its super potent genetics. Buds sprout quickly with Cinderella Jack Auto, giving off a smell that's sweet like candy. Once you have your first harvest, you won't want to put it down, especially after you let all the feels soak in.
Monster Bruce Banner Auto
Blend: 60% Indica, 40% Sativa
Effect: Impactful and transformative, deeply relaxing
Flavor: Earthy and spicy with a hint of citrus
One of the Monster autoflower strains, this hunk of a plant is enough to tackle the beastliest of monsters. One thing that makes it one of the best autoflowering strains around is the super powerful high that mingles with earthy and spicy notes. Perfect for growing indoors and out, this autoflower is known to produce a transformative high that's great for combatting stress and relaxing you into a deep trance. As a Monster strain, you'll get buds blooming in no time and an earthy smell coming from your plant soon after. It does give off a potent smell, so be sure to use a carbon filter in your indoor growing space to keep things under control.
Forbidden Runtz Auto
Blend: 65% Indica, 35% Sativa
Effect: Relaxed and giggly with just a hint of pensiveness
Flavor: Fruity and sweet with a hint of earthiness
In just 9 weeks, this strain will go from seed to a plant filled with buds that are sure to give you a flavor you've never had before. After the first bloom, you'll be hooked thanks to the relaxed and intuitive feels typical after a smoking session. With buds like this, you won't have to sacrifice smell or flavor, as the Forbidden Runtz strain produces a fruity aroma and flavors that bring out notes of sweet strawberry and hints of decadent earthiness.
Gorilla Glue Auto
Blend: 55% Indica, 45% Sativa
Effect: Creative and energetic with mood-boosting properties
Flavor: Coffee and cream with a hint of spice
Voted as one of the top autoflowering strains on the market, Gorilla Glue Auto is the perfect blend of Sativa and Indica to keep you on the move. You won't feel bogged down by this high, getting a swift kick of energy from the first drag. Plus, with flavors that mimic coffee and cream, it's a delightful snack to have on hand mid-day or to get an extra boost of creativity in the evening. It's not only one of the best autoflower strains out there, but also works well in all kinds of climates for both indoor and outdoor growth, growing buds faster than you might be able to imagine.
LSD Auto
Blend: 70% Indica, 30% Sativa
Effect: Euphoric and deep thought
Flavor: Mango sweetness with a hint of earth
LSD Auto has been one of the top autoflowering strains for years now, winning the hearts of smokers from all around with its hard-hitting flavors and psychedelic effects. Those who enjoy it travel deep into their thoughts, making new connections that help heal the mind, body, and soul. LSD Auto is an autoflowering cannabis strain that takes only 70 days from seed to harvest. Grow it outdoors or indoors and enjoy the captivating fruity aromas that surround the buds when they're in bloom.
Purple Haze Auto
Blend: 60% Indica, 40% Sativa
Effect: Energetic and euphoric with just the right amount of talkativeness
Flavor: Woody and earthy with just a bit of sweetness mixed in
Another of the widely popular autoflowering strains, Purple Haze Auto has an electric effect that's both potent and delicious, relaxing you into a transformative state. The mix comes from two purple strains, both of which give off a beautiful aroma and gorgeous color as buds bloom. Buds mature in as little as 70 to 75 days after seeds are planted, no matter whether you keep the plant indoors or out. The high is a strong cerebral hit that will have you feeling focused and talkative. This autoflower strain is also said to help fight diseases like glaucoma and arthritis, relieving some of the pains and relaxing the body into an all-new and good-feeling state.
Extreme Impact Auto
Blend: 90% Indica, 10% Sativa
Effect: Clarity with a hint of curiosity and creativity
Flavor: Lemon and lime
Extreme Impact is considered one of the best autoflower strains available because of its bold look and unique aroma. When smoked, it's accompanied by a cloud of dense smoke that mingles in the air and leaves behind a strong smell and relaxing hit. As soon as buds start to sprout, the smell extends throughout the area with a heavy hit of lime and lemon. As one of the best autoflowering strains, it doesn't take long to mature from seed to enjoyable smoke, leaving you with an abundant harvest each and every time.
Final Thoughts on the Best Autoflowering Strains
We shared ten of the best autoflowering strains that 2022 has to offer. If you're new to the game or just looking to expand your growing knowledge, autoflowering strains could be the best choice for you. Not only are they quick and easy to plant and grow, but they also produce buds of all kinds that you need to be sure to try.
Pick a few of our top choices and try them out for yourself! See which ones give you the best high and the best flavors, finding the strain that fits you just right, or choose different ones for different moments. Because autoflowering strains are so simple, anyone can grow them, even if you have zero experience. You could have your first harvest in as little as two months, leaving you with only one last question: what are you waiting for?
Herbies Head Shop expressly refuses to support the use, production, or supply of illegal substances. For more details read our Legal Disclaimer.