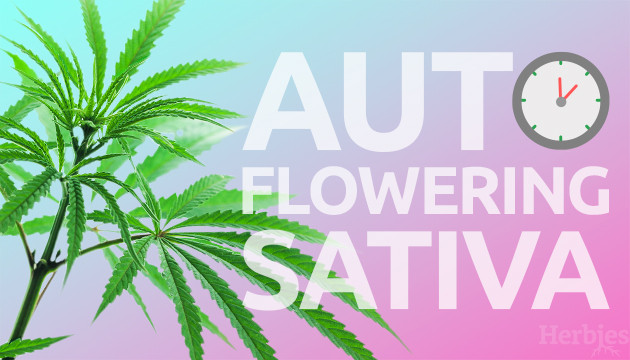 Autoflowering Sativa seeds are arguably the most important achievement of modern breeding because for many growers, it's the only way to grow their own Sativa-dominant buds, given their climate conditions or indoor setup limitations.
Autoflowering Sativa doesn't grow much taller or take much longer to mature than any other type of autoflower, so it's a convenient way to produce top-shelf Sativa smoke discreetly and quickly. In our top list of autoflowering Sativa seeds, we present the most reliable cultivars with generous yields, over-the-top potency, and signature effects – energizing, mood-lifting, and sometimes mind-warping.
Advantages of Sativa-Dominant Autoflower Seeds
Some growers have second thoughts about trying Sativa autoflower strains because of their sprawling structure, unkempt appearance, and inferior bag appeal compared with the best Indica specimens. However, introducing just a little bit of Indica DNA makes Sativa autoflowering varieties indistinguishable from any other picture-perfect symmetrical X-mas tree. And even if not, autoflowering Sativa strains have unique characteristics that make their cultivation totally worth it.
Sativa autoflower seeds are better suited to hot and humid conditions.
They are more resistant to mold thanks to a looser and airier bud structure.
Their greater height and longer flowering time often translate to bigger harvests.
Some autoflowering Sativa-dominant seeds have unique and exotic terpene profiles.
The uplifting properties of Sativa can't be achieved with any other type of weed.
They give patients a chance to medicate heavily while remaining functional.
So, let's take a look at the best autoflowering Sativa seeds that our customers sweep off the shelves the fastest.
Top 10 Sativa Autoflower Strains to Choose From
From the most high-yielding to the most richly flavored to the strongest Sativa autoflower strains – we've done our best to include them all here.
Lemon AK Auto (FastBuds)
Smoke some Lemon AK Auto buds and you'll feel calm, confident, and focused, as if you had an AK-47 slung over your shoulder. With this I-take-no-crap-from-no-one attitude, you can tackle any challenge or stress of the day and find a creative solution to any problem. This makes this Sativa autoflower the best choice for your wake-and-bake routine on work days. Just don't get carried away inhaling too much of this lemon-scented goodness, as the 24% THC will eventually take its toll and you'll be lost in a world of your own.
Fruit Punch Auto (Heavyweight Seeds)
Fruit Punch Auto is like an uppercut to the chin that sends you flying (but lands you on your back, flat and motionless, if you smoke too much of this 21% THC powerhouse, so be warned). It's the ultimate smoke for partygoers because of the balanced effects that make you energized and talkative but sublimely cool at the same time – a perfect combination to approach strangers or have deep conversations with the people you know. Smoke these mango- and citrus-smelling buds to be the smartest person in the room or, better yet, share them with others and take that party to the next level.
Jack Herer Auto (Green House Seeds)
Named after a famous advocate of cannabis and hemp, Jack Herer Auto is supposed to be not just a tribute to a great man but an attempt to create the best Sativa autoflower ever. The plant has just enough Indica influence to improve on such essential characteristics as yield and bud quality – her oversized fleshy colas pack a lot of weight and produce up to 700g/m2 (2.3oz/ft²). At the same time, the breeders made sure that the effects would remain pure Sativa, with an immediate onset and an intense cerebral rush accompanied by a buzz of bodily euphoria.
Orange Sherbet Auto (FastBuds)
Orange Sherbet Auto offers that no-ceiling smoking experience where the more you consume, the higher you get, but never to the point of feeling overwhelmed and helpless. Instead, you'll be brimming with creativity, exciting topics for conversation, and bright ideas about anything you happen to think about. With 24% THC in her dense and crystal-covered nuggets, this Sativa feels refreshing both to the palate and the mind, while the body is filled with a happy tingle. This large but fast-flowering plant is very generous at harvest time, yielding as much as 650g/m² (2.1oz/ft²) indoors and up to 300g (10.6oz) per plant outdoors.
Amnesia Haze Auto (Expert Seeds)
Amnesia Haze Auto is a genetic that has endured for decades. This particular cultivar has been perfected for nine generations, with breeders painstakingly working on productivity, plant size, and flowering speed while retaining every precious Sativa trait. The sweet, floral, and woody notes are a reminder of the plant's exotic origins, and the effects are like the tropical sun – it energizes and exhilarates when taken in moderation but makes you motionless when you have too much of it. To be honest, with 21% THC, the boundary is kind of fuzzy.
CBD Auto Compassion Lime (Dutch Passion)
With its Compassion series, Dutch Passion has been a pioneer of medical marijuana breeding, and CBD Auto Compassion Lime is one of its crowning achievements. It's probably the best Sativa autoflowering strain with a high CBD content – 8-9%. The THC content of 7-15% is also one to be reckoned with. Together, they provide a potent therapeutic mix that feels like a smooth glow of great mood and Zen-like calmness. It's perfect for patients with depression, anxiety, and stress but can also relieve physical symptoms without making you tired.
Critical Neville Haze Auto (Delicious Seeds)
When shopping for Sativa autoflower seeds, don't pass on Critical Neville Haze Auto, as you rarely come across such a high Sativa dominance – 90% – in any other autoflower. But don't worry, this isn't an untamed variety likely to cause you trouble. The influence of Critical Mass genetics guarantees massive yields of large, rock-hard buds, and they only take 80-85 days to reach full maturity. The high is a blast of energy and creative mood, purging you of fatigue and providing fuel for the entire day.
Gelato Auto (Herbies Seeds)
More of a balanced hybrid in her genetic makeup, Gelato Auto is definitely a Sativa in her stimulating effects. You can tap into your creative potential by smoking alone or take these dessert-quality buds to a party, where it'll be a riot of belly laughs and inspiring conversations. With 24-26% THC, it can just as easily put the whole gang into couchlock mode – when heads are filled with visionary ideas but everyone's too spaced out to express them. And the latter scenario happens a lot because who can say no to an extra toke (or two, or three) of this creamy, limey, earthy goodness!
Cream Mandarine XL Auto (Sweet Seeds)
The name of Cream Mandarine XL Auto hints both at delectable flavors and scale-breaking yields. And while these are the features that growers and smokers appreciate the most, this autoflower Sativa also boasts 18-23% THC and effects that leave no stone unturned in uncovering in yourself a secret spring of creative imagination and euphoric good mood. As both your body and mind are filled with a happy buzz, you'll gain relief from all kinds of physical and mental symptoms or just have a great time for several hours.
Auto Orange Bud (Dutch Passion)
Look at our list and you'll notice how many of the autoflowering Sativa strains bear citrusy names. It's because the terpene called limonene contributes to the tonic vibe associated with a good Sativa. The juicy Auto Orange Bud is a perfect example of a citrus terpene profile, but it also packs a mind-boggling 26% THC. This beast will huff and puff and blow down the tolerance that you've built for years – but if you learn to moderate your consumption, it'll be your best friend in any creative endeavor or leisurely pursuit.
Herbies Head Shop expressly refuses to support the use, production, or supply of illegal substances. For more details read our Legal Disclaimer.