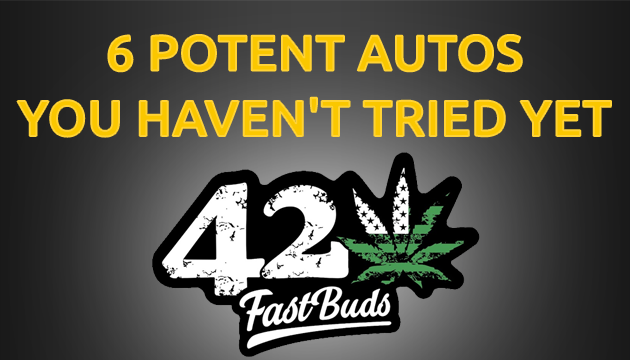 Synonymous with quality, FastBuds is the brand that growers come to when they need stable, high-performing genetics. You all love them so much that FastBuds is always one of the top-selling brands on Herbies! That's why, every time we get a shipment of new strains from this producer, it deserves a special introduction.
This time, we're welcoming six new autoflowering strains with high levels of THC, complex body and head highs, and intense fruity flavors. See for yourself:
Amnesia Zkittlez Auto
This delicious Sativa produces mouth-watering buds infused with 24% THC and a mix of fruity and spicy flavors and aromas. Expect a highly euphoric and psychedelic high after inhaling a cloud of smoke that smells like lemon, mango, and papaya all at once.
Banana Purple Punch Auto
A 26% THC Indica, Banana Purple Punch Auto delivers effects that can be used for having fun or staying productive. Buds from this strain produce strong mind-clearing and relaxing effects enveloped in delicious, tropical smoke.
Cherry Cola Auto 
This potent hybrid is going to bring cherry and coke flavors back into fashion! The flavorful buds contain up to 25% THC, offering an uplifting and at the same time relaxing high that's suitable for any time of day.
Gorilla Punch Auto
Your ideal party companion, Gorilla Punch Auto is a balanced hybrid that will greatly boost your social skills. Dancing like no one's watching or talking for hours won't be a problem thanks to its 25% THC and a complex brew of citrusy and fruity terpenes. 
Gorilla Zkittlez Auto
This potent 25% THC hybrid produces a rollercoaster-like experience. The candy-like smoke will first boost your mood and creativity, then gradually get you into a relaxed Zen state of mind. This one's great recreationally but can also be used for treating pain, anxiety, and sleep disorders.
Strawberry Gorilla Auto
A recipe for intense happiness, just a couple of tokes of this 27% THC hybrid will boost your mood like nothing else. The flavor is to die for as well. Expect the unexpected: diesel-soaked strawberries, tropical fruit, and juicy red berries.
Gotta be fast for FastBuds!
FastBuds has a huge following at Herbies, so their seeds always sell out quickly. Make sure to place your order while these new hot seeds are still in stock and be the first to surprise your pals with a trendy sweet bud. With these potent strains, you're up for the high of your life! And just as usual, your order will be delivered with extra seeds and gifts that you can choose at checkout for free.
Herbies Head Shop expressly refuses to support the use, production, or supply of illegal substances. For more details read our Legal Disclaimer.