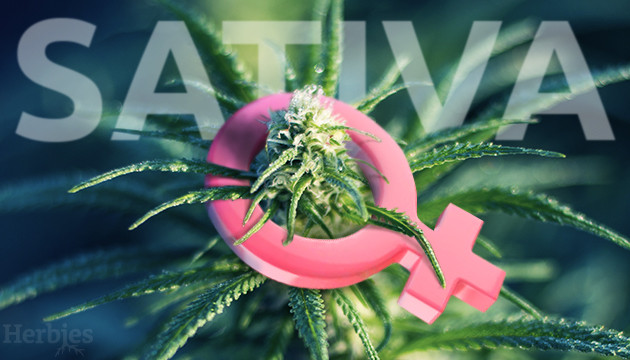 If you're looking to learn more about feminized Sativa seeds, look no further. Here, you will learn everything you need to know about this topic, as well as where to get Sativa-dominant and 100% Sativa feminized seeds. Our recommendations have been picked by experts in the field, all for the best growing experience possible.
What Are Feminized Sativa Seeds?
Cannabis Sativa is one of two main cannabis types, alongside Cannabis Indica. Sativa plants grow tall and produce long, finger-like leaves. This type of cannabis is usually naturally found in areas with hot climates and long, sunny days. Sativa plants take longer to reach maturity than any other cannabis type but can produce massive yields. Flowers often produce a cerebral and energizing high, after which users feel more productive and creative. For this reason, Sativa strains are commonly used for treating anxiety and concentration-related problems.
Feminized cannabis seeds are made by crossbreeding two female plants in order to get seeds without any male chromosomes. The resulting seeds will grow only into female plants and produce smokable flowers every time.
Feminized Sativa seeds are simply feminized seeds with Sativa genetics – they will produce high-quality Sativa female plants with maximized yields.
Our Top 10 Feminized Sativa Seeds for Sale
Check out our list of the carefully selected best feminized Sativa seeds available in our catalog. Each of the listed strains will provide growers with high-quality buds and massive yields.
Golden Tiger (Ace Seeds)
Golden Tiger is a powerful feminized strain with 100% Sativa genes, developed by breeding strains from the lands of Malawi and Thailand. This strain contains high THC content that can reach up to 28%. Its effects can be extremely psychedelic, so it's not recommended for amateur users! The buds are packed with spicy and citrus flavors together with a floral scent. This pure Sativa has a flowering period that can last anywhere between 77 and 98 days – so make sure your climate allows growing for that long or choose indoor growing.
2046 (Medical Seeds)
2046 is a pure Sativa photoperiod variety and a high-quality strain that has won 12 awards. This strain is a crossbreed of Neville's Haze and Kali Mist and can contain up to 25% THC, offering psychedelic and strong energy-increasing effects. The sticky flowers come with a sweet and peppery flavor. 2046 has a flowering period that can last anywhere between 13 and 15 weeks. When grown indoors, yields can reach up to 500g/m2 (1.6oz/ft2), while in an outdoor environment, growers can expect between 500-700g (17.6-24.6oz) per plant.
Acapulco Gold (Barney's Farm)
Acapulco Gold is an award-winning Sativa-dominant landrace strain with origins in Central America. This rare strain comes with 21% THC-infused buds that deliver powerful energizing and euphoric effects. It's often used among medical users to treat anxiety and focus issues. Acapulco Gold has a sweet and creamy flavor with hints of coffee and wood alongside earthy and spicy aromas with undertones of pine. The flowering period can last between 60 and 70 days, leaving indoor growers with up to 500g/m2 (1.6oz/ft2), while outdoor growers can expect up to 1500g (52.9oz) per plant!
Bruce Banner #3 (Original Sensible Seeds)
Bruce Banner #3 is a balanced Sativa-dominant strain made possible by crossing Colorado Ghost OG and Strawberry Diesel genetics. This strain can contain up to 28% THC and comes with highly potent and euphoric effects, leaving you happy and relaxed. The buds have an amazing diesel aroma and a mix of sweet and earthy flavors. Bruce Banner #3 can produce monster yields after just 60 days of flowering – indoor harvests average 800g/m2 (2.6oz/ft2), while outdoor growers can get 1000g (35.2oz) per plant!
Wild Thailand (World of Seeds)
Wild Thailand is a 100% Sativa landrace strain that comes from the Thai island of Ko Chang. With 22% THC, this strain provides strong and long-lasting euphoric effects that will boost your mood and energy. The flowers have a combination of sweet and woody flavors with the aroma of citrus and berries with a touch of pine. Wild Thailand finishes flowering within 80 days, leaving growers with an average yield of 400g/m2 (1.3oz/ft2) if grown indoors and up to 700g (24.6oz) per plant if grown in outdoor conditions.
Desfrán (Dutch Passion)
Desfrán is a pure Sativa photoperiod strain made by double-crossing the award-winning Destroyer strain. This potent strain has 26% THC-infused flowers and offers strong cerebral effects that can be psychedelic and intense. Desfrán comes with tropical aromas and flavors of sweet and exotic fruits. A plant can reach full maturity in just 9 weeks, after which the harvest can bring around 500g/m2 (1.6oz/ft2) of delicious and hard-hitting buds.
Super Lemon Haze (Green House Seeds)
Super Lemon Haze is a Sativa-dominant hybrid that was developed by crossbreeding Lemon Skunk with Super Silver Haze genetics. This award-winning strain comes with THC levels of 19.33% and delivers a strong high that will boost your energy and creative side. The buds contain sweet and citrusy flavors and aromas dominated by lemon. The flowering period is done within 70 days of germination, leaving growers with satisfying results. Indoor harvest can reach 800g/m2 (2.6oz/ft2), while outdoors, plants can produce up to 1200g (42.3oz) per plant!
Café Racer (BlimBurn Seeds)
Café Racer is a hybrid with 70% Indica genes – a crossbreed of the legendary Granddaddy Purple and Girl Scout Cookies strains. This powerful hybrid has THC content that can reach up to a whopping 35% and provides highly potent euphoric effects that will make you fully relaxed and happy. The buds come with spicy and skunky flavors and produce an amazing diesel aroma. Café Racer can provide growers with great results after only 70 days of flowering. Indoor yields average 450g/m2 (1.47ft/oz2), while outdoors, growers can expect up to 600g (21.1oz) per plant.
Strawberry Amnesia (Herbies Seeds)
Strawberry Amnesia is a Sativa-dominant strain that comes as a result of mixing Amnesia genetics with Strawberry Cough. This strain comes with 22% THC and cerebral psychoactive effects that will boost your mood and energy. The flowers are infused with the flavors of citrus and berries along with piney undertones. Growers can expect fully mature plants after 75 days of flowering. Harvests can reach up to 700g/m2 (2.2oz/ft2) if grown indoors and anywhere between 700-1200g (24.6-42.3oz) per plant in an outdoor environment.
Blue Dream (Garden of Green Seeds)
Blue Dream is a Sativa-dominant hybrid strain made by combining Blueberry and Haze genetics. This powerful strain contains 25% THC and delivers potent and long-lasting Sativa effects, boosting energy and clearing the mind. The flowers come with a unique blend of vanilla and fruity flavors and aromas with a touch of pine. Blue Dream has a flowering period of 70 days, leaving growers with harvests that can reach 500g/m2 (1.6oz/ft2).
Buy Feminized Sativa Seeds at Herbies
Because of their energizing and mood-boosting effects, Sativa-dominant strains are used for treating anxiety and improving focus. Unlike Indica strains, Sativas provide uplifting and euphoric effects, making them a great option for daytime use.
If you're in search of the best feminized Sativa seeds, Herbies is the place for you. By visiting our online shop, you can find a catalog with top-quality pure and feminized Sativa seeds, all developed by experienced breeders. If you need any help, our expert customer service is there for you 24/7 – and to save the best for last, for each order, our customers can expect a bonus – free seeds and useful gifts!
Herbies Head Shop expressly refuses to support the use, production, or supply of illegal substances. For more details read our Legal Disclaimer.