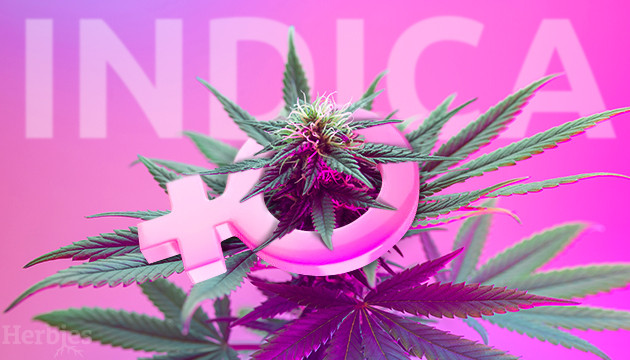 If you want to learn about the best feminized Indica seeds, you're in the right place. We're covering everything you need to know about this cannabis type and what the best feminized Indica seeds are for sale right now.
What Are Feminized Indica Seeds?
Cannabis Indica is one of two major cannabis species. Indica plants grow short and bushy, producing wide and dark green leaves. Indica strains can contain a large amount of THC and usually provide a strong relaxing high; they're therefore often used among medical users for pain relief.
Feminized cannabis seeds are developed by breeding two female plants together. The resulting seeds don't have any male chromosomes, which means that the seed will grow only into female plants with smokable buds. For growers who look for an easy growing process, feminized seeds are the best option.
Feminized seeds and Indica genetics: combine these two categories, and you get feminized Indica seeds. They don't require sexing, and they produce sturdy plants that are quick and high-yielding.
Our Top 10 Feminized Indica Seeds for Sale
Below, we've listed the best feminized Indica seeds available at Herbies. Pick any one of them and be sure of great results come harvest time.
Shiskaberry (Barney's Farm)
Shiskaberry is a 100% Indica photoperiod strain that was developed by crossing Blueberry with Afghan genetics. This pure Indica has 26% THC-infused buds and provides strong and long-lasting relaxing effects, leaving you fully relaxed. The buds have a pungent aroma of sweet wild forest and a strong earthy and spicy flavor in combination with berries. Shiskaberry has a short flowering time – the plant finishes within 56 days of 12/12, after which growers can expect a rewarding yield. Indoor harvests can range between 500-600g/m2 (1.6-1.9oz/ft2), while outdoors, plants can produce up to a whopping 2000g (70.5oz)!
Grandmommy Purple (Herbies Seeds)
Grandmommy Purple is a hybrid strain with 80% Indica genetics resulting from crossing Big Bud and Purple Urkle genetics. This is one of the most potent strains available at Herbies and can contain up to 33% THC, providing warm waves of euphoria and strong relaxing effects. The flowers come with a pungent aroma of wild berries and sweet fruity flavors. Grandmommy Purple has an average yield of 500g/m2 (1.6oz/ft2) if grown indoors and 550g (19.4oz) per plant outdoors. Growers can expect such yields after just 60 days of flowering.
Eleven Roses (Delicious Seeds)
Eleven Roses is a pure Indica strain made by crossing the award-winning Sugar Black Rose with Appalachian Kush. This powerful strain has 25% THC and offers hard-hitting effects that will relax your mind and body. Eleven Roses is packed with a uniquely sweet and earthy taste and has an amazing fruity aroma. This strain has a flowering time of just 60 days, after which the plant can produce 650g/m2 (2.1oz/ft2) when grown indoors. In an outdoor environment, plants can produce up to 2000g (70.5oz) of amazingly resinous flowers.
Pure Kush (Original Sensible Seeds)
Pure Kush is a photoperiod cannabis seed whose genetic heritage can be traced back to the mountainous regions of Hindu Kush and landraces native to that region. This pure Indica contains 22% THC and offers a potent body high that will leave you sleepy and couch-locked. Pure Kush has a combination of nutty and earthy flavors, together with spicy and citrusy undertones. This strain is very forgiving and highly resistant to its environment, making it a great option for amateur growers. Its flowering time lasts between 45 and 55 days, after which growers can expect to harvest 550g/m2 (1.8oz/ft2) if grown indoors and up to 700g (24.6oz) per plant outdoors.
Black Cherry Punch (Pyramid Seeds)
Black Cherry Punch is a photoperiod strain with 90% Indica genes, and it was developed by crossbreeding Black Cherry Kush with Cherry Pie genetics. This strain has 25% THC-infused flowers that deliver a cerebral high and improved focus. The rich terpene profile offers a sweet fruity flavor with notes of earth, together with a woody aroma. Growers can expect fully mature plants after only 8 to 9 weeks of flowering. Indoor yields can reach up to 350g/m2 (1.15oz/ft2), while outdoors, expect yields of anywhere between 750-1000g (26.4-35.2oz) per plant.
Pakistan Valley Early Harvest (World of Seeds)
Pakistan Valley Early Harvest is a photoperiod strain developed by crossing the original Pakistan Valley with a Ruderalis phenotype. This Indica strain comes with 20% THC and is widely used among medical users. Her potent Indica effects are great for relieving physical pain, as well as for treating insomnia, headaches, and nausea. Its flowers contain a strong flavor and aroma of sweet earthiness with floral hints. This strain reaches full maturity within just 7 weeks of flowering. Indoor harvests can reach up to 450g/m2 (1.4oz/ft2), while outdoors, plants can produce up to 700g (24.6oz) of sweet buds.
LA Confidential (DNA Genetics)
LA Confidential is an Indica photoperiod strain that's a result of mixing OG LA Affie with Afghani genes. This heavy-hitting strain has THC levels that can reach up to 20% and come with strong relaxing effects that will improve your focus and unlock your creative side. The buds are full of pungent herbal flavors in combination with skunk aroma. LA Confidential has a short flowering period of 56 days, leaving growers with satisfying results: its yields can reach 450g/m2 (1.4oz/ft2).
Purple Queen (Royal Queen Seeds)
Purple Queen is an Indica-dominant hybrid strain and a crossbreed of Hindu Kush and Purple Afghani. Its buds contain up to 22% THC, providing a euphoric high and strong body relaxing effects. Purple Queen is packed with sweet citrus flavors with undertones of pine and berries. The flowering period of this strain finishes between 56 and 63 days and can provide growers with around 500g/m2 (1.6oz/ft2) when grown indoors, and up to 700g (24.6oz) per plant outdoors.
Alien Technology (Big Head Seeds)
Alien Technology is pure Indica cannabis seeds's a descendent of an inbred Afghani landrace. The flowers can contain anywhere between 20 and 25% THC, offering highly potent and long-lasting Indica effects that will leave you completely stoned. This strain comes with a pungent aroma and taste of hashish and diesel with vanilla undertones. When it comes to yields, growers can expect highly resinous buds within just 8 weeks. Alien Technology can produce up to 400g/m2 (1.3oz/ft2).
Za-Za OG (Herbies Seeds)
Za-Za OG is a hybrid strain with 75% Indica genes, and it was developed by mixing Hindu Kush with the top-selling strain of American dispensaries, Blue Dream. This strain comes with 26% THC and strong uplifting and euphoric effects. It's used among medical patients as a painkiller and for treating ADD/ADHD and migraines. The buds have the scent of diesel and citrus together with a rich earthy taste. The flowering period lasts between 50 and 60 days, after which growers get anywhere between 600 and 800g/m2 (1.9-2.6oz/ft2) if grown indoors, and up to a whopping 1800g (63.4oz) per plant outdoors.
Buy Feminized Indica Seeds at Herbies
Indica-dominant strains are widely used for recreational and medical purposes because of their potent relaxing effects. With pure Indica feminized seeds, growers can expect easy growth and a quick flowering period. By using feminized seeds, you can be sure that plants will be females.
For those who are looking for the best feminized Indica seeds, look no further than Herbies. At our online store, you can buy pure Indica feminized seeds or high-quality Indica-dominant strains from top breeders. For any doubts and questions, our expert customer service is there for you 24/7. And best of all, every order comes with awesome free seeds!
Herbies Head Shop expressly refuses to support the use, production, or supply of illegal substances. For more details read our Legal Disclaimer.