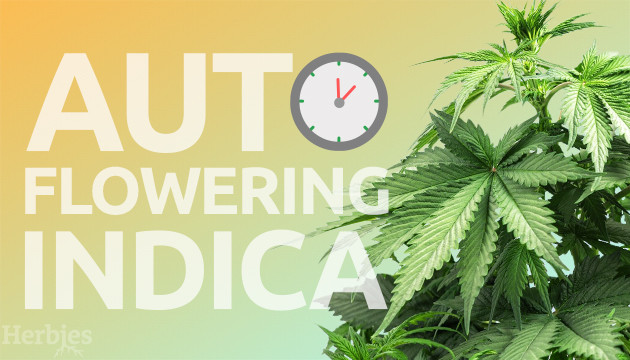 Autoflowering plants are any grower's dream come true. With these genetics, you can grow some of the heaviest Indica strains in the world with little effort.
There are some pretty incredible autoflowering Indica strains out there, and in this article, we will be observing some of the most popular and exciting varieties.
Why Choose an Autoflower Indica over Other Strains?
If you love Indica strains but don't have the time or space to grow a big plant, autoflowering varieties are definitely for you. These plants finish in just 2-3 months, while remaining small and compact but still packing a severe punch regarding THC content.
Autoflowering Indica is also great for beginner growers, as they are easy to grow and don't require hassling with light schedules or extensive training. So without further ado, let's look at some of the best autoflower Indica seeds out there.
Top 10 Autoflower Indica Strains
Unless you have the luxury of an endless budget, chances are you'll be looking for value when choosing the best Indica autoflower seeds for your needs. Some interesting autoflowering Indica strains have been developed in recent years, and it's worth doing your research before settling on one. To help you out, we've put together a helpful list of our top 10 autoflowering Indica strains.
Strawberry Pie Auto (Fastbuds)
Taking a walk on the sweet side will be possible in less than 63 days from seed to harvest. Strawberry Pie Auto is a strain that lives up to its name, with a sweet and cookie-like aroma that will tantalize your taste buds.
This autoflowering Indica produces some of the most potent and eye-catching buds, with a whopping THC content of 26%! If you want to remain alert but enjoy a thoroughly relaxing experience, these are the best autoflower Indica seeds.
Wedding Cake Auto (Barney's Farm)
In 70-75 days, this auto strain will be ready to harvest, bringing a mouth-watering array of sugary-sweet flavors. Wedding Cake Auto is the perfect strain for those who love a delicious, sweet plant that can handle and even thrive in milder temperatures around 70°F (21°C).
This plant produces some seriously potent buds, with THC levels reaching up to 25%. You can expect a mellow body buzz, as well as potent cerebral stimulation and creativity outburst. CBD levels are also high, at 2.5%, making this an ideal strain for those looking for medical benefits.
Auto Night Queen (Dutch Passion)
If you're looking for an excellent yield from your autoflower seeds, Indica is a great choice, especially if you have to grow in cooler climates. Auto Night Queen takes around 70 days to flower and produces a huge yield of up to 500 g/m² (1.6oz/ft²) indoors.
THC levels are incredibly high, over 20%, so this plant is not for beginners. However, if you can handle the potency, you're in for a treat. The high is relaxing and uplifting, perfect for a lazy day or evening.
Somatic Auto CBD (RQS)
An excellent choice for indoor growers, this potent strain has an indoor flowering time of 49-56 days, sparing you a few weeks of outdoor growth and providing a much higher yield. Somatic Auto CBD is sure to be a hit with anyone who loves CBD-rich strains, as it contains a whopping 21% CBD.
THC levels are negligible at just 1%, allowing you to enjoy the therapeutic benefits of CBD without any of the adverse effects of too much THC.
Extreme Impact Auto (Heavyweight Seeds)
Extreme is an understatement regarding this family of autoflowering Indica strains. Heavyweight Seeds has done an incredible job crossing Mazar Auto and Fast & Vast Auto to create Extreme Impact Auto; a robust and bushy plant that is perfect for evening use.
From seed to harvest in just 56 days, you'll be enjoying the aromatic citrus notes of this strain in no time. THC levels are high, at 21%, so be prepared for a relaxing and couch-locking high.
Northern Lights Auto (GHS)
A legendary strain in its own right, Northern Lights Auto is an autoflowering version of one of the most well-known and well-loved cannabis seeds of all time. With a sweet and earthy flavor, this Indica-dominant plant produces some seriously potent buds.
This strain goes from seed to harvest in 70 days but can flower indoors in just 56, making this one of the best Indica autoflowers. THC levels are high, at 18%, so this plant is not for beginners. The aroma is reminiscent of old-school hash, and the high is very relaxing, making it perfect for a lazy evening or nighttime use.
Purple Juice Auto (Herbies Seeds)
As the name suggests, this autoflowering Indica strain is a real treat for the senses. Purple Juice Auto is a colorful plant that produces some of the most unique-looking buds you'll ever see. This purple wonder can produce flowers in a speedy 65-70 days.
The flavor is just as encaptivating, with sweet, spiced, and fruity notes that will tantalize your taste buds. This potent plant has a THC content of up to 26% making it well worth the wait. The high is uplifting and relaxing, making it perfect for daytime use.
Auto Gelato 33 (Advanced Seeds)
A true Indica-dominant strain, Auto Gelato 33 from Advanced Seeds is the perfect choice for those looking for a potent and relaxing high. This easy-to-grow plant finishes in 65 days from germination and is an easy strain to grow for beginners.
The high won't disappoint either, with potent 23% THC levels that will leave you feeling uplifted and relaxed after a stressful day. With fruity and sweet aromas, this is one of the market's most enjoyable autoflower Indica strains.
Forbidden Runtz Auto (FastBuds)
A forbidden gem of an autoflower, this Indica strain from FastBuds is sure to delight anyone who chooses to grow it. Racing from seed to harvest in just 63 days, Forbidden Runtz Auto is one of the quickest autoflowering Indicas on the market.
With delicious notes of earthy fruits, there's no denying the appeal of this strain. THC levels are high, at 26%, so be prepared for a powerful and blissful high that you will never forget.
Bruce Banner 3 Auto (Original Sensible Seeds)
A potent autoflowering Indica, Bruce Banner 3 Auto is a fast-growing plant that growers love because of its high commercial value. The sweet earthy notes are accompanied by intense diesel notes, making this an authentic experience to remember.
The plant looks fantastic and goes from seed to harvest in just 65-70 days, producing a huge yield of 500 g/m² (1.6oz/ft²) indoors, that will delight even the most experienced growers. THC levels are high, at 25%, so be prepared for a powerful and long-lasting high.
Make The Best Choice For Your Situation
If you are selecting the best autoflowering Indica strain for your situation, there are numerous things you need to take into account.
The first is the THC content; if you're looking for a potent strain that will leave you feeling relaxed and even couch-locked, you'll want to choose a strain with a high THC level. Anything above 15% THC will deliver great effects, but if you're looking for a euphoric experience, aim for concentrations above 25%. Beginners should be looking at strains that are between 10-20% THC, or even consider choosing CBD dominant strains which primarily offer medicinal properties.
If you decide to go with medicinal strains of Indica, higher CBD contents offer more relaxing effects. CBD levels above 5% are considered relatively high, and often these plants have lower THC levels as well (below 5%). Our top medicinal strains offer strong concentrations of CBD (upwards of 15% on average), that provide a potent escape from the anxiety and stress of daily life.
Finally, you need to consider the aroma and flavor of the strain. If you're looking for a specific taste or smell, you'll want to choose a strain known for producing those flavors. However, if you're just looking for a good-tasting and smelling strain, you can choose any strain you like.
Whichever autoflowering Indica strain you choose, buy your seeds from a reputable source like here at Herbies. We offer stealth shipping worldwide and free seeds with every order, on top of countless other benefits like the germination guarantee.
So why wait? Buy your autoflowering Indica seeds today!
Herbies Head Shop expressly refuses to support the use, production, or supply of illegal substances. For more details read our Legal Disclaimer.