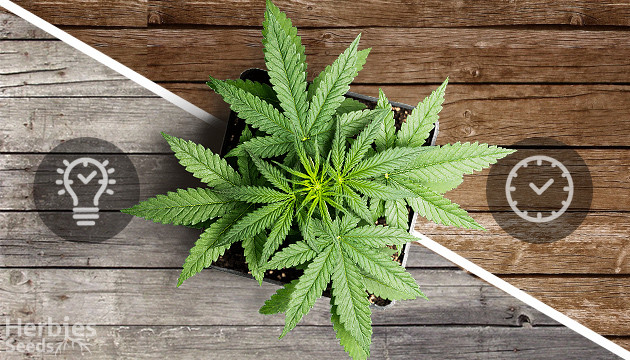 With thousands of cannabis strains on the market, navigating the world of weed seeds can be an arduous and confusing task. The industry is constantly evolving and improving to give growers the best experience possible. That's how, just a couple of decades ago, thanks to the work of talented marijuana breeders and researchers, a uniform category of cannabis seeds was split into two large categories: photoperiod and autoflowering. To help you understand the difference between these two groups of cannabis strains, we've prepared this article that will help you learn the pros and cons of both autoflowering and photoperiod seeds.
Autoflower Vs. Photoperiod: Definition
Before we get to the nitty-gritty, you probably want to know: what does autoflowering actually mean and how is it different from photoperiod strains? Let's explore the origins of both terms and what it means to grow photoperiod or autoflowering cannabis.
Autoflower Cannabis Seeds
BUY
Photoperiod Strains: What Are They?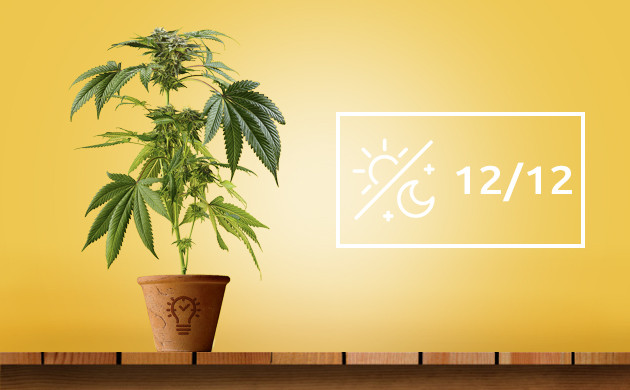 Photoperiod strains are what most growers, especially old-school ones, are probably used to when cultivating cannabis. Derived from the Greek roots φωτός (phōtos), genitive of φῶς (phōs), "light" and periodos, "recurrence", the Modern English word photoperiod now serves to describe plants whose lifecycles are dependent on the recurrence of light. Both cannabis Sativa and Indica have naturally evolved to start flowering only when they recognize the change in seasons. When days get shorter and plants start receiving 12 hours of light a day or less, photoperiod cannabis "knows" it's time to start flowering in order to procreate before the cold weather comes. This is the main distinctive trait of photoperiod strains, and growers know well how to use it to their advantage! But more on this later.
Feminized Cannabis Seeds
VIEW ALL
What's An Autoflowering Strain?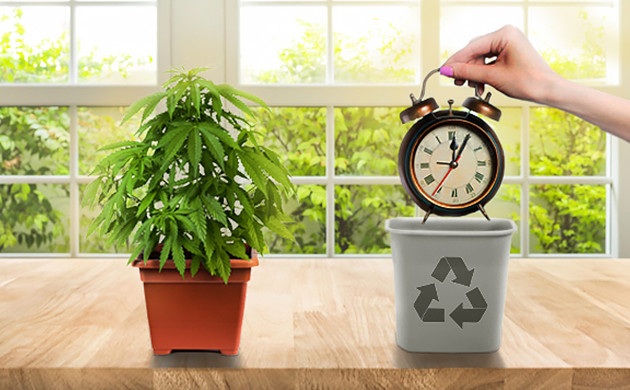 Now, what does autoflowering mean? You can probably already guess it yourself! Coming from the Greek autos, "self" and Latin flor, "bloom" or "flower", the word autoflowering means a plant that begins to flower on its own, or without being dependent on periods of light. This makes sense since autoflowering genetics are the outcome of crossing cannabis Ruderalis with cannabis Indica or Sativa genes. Cannabis Ruderalis is the species of the plant that, historically, was found growing wild or like a weed in the colder regions of the world. Harsh conditions of places like Siberia helped Ruderalis evolve into a plant that began flowering on its own. This trait was used by breeders to create autoflowering cannabis.
Cannabis Strains For Beginners
VIEW ALL
A Strain For Growing: Which Do I Choose, Photoperiod Or Autoflowering?
Now that we know what makes the biggest difference between photoperiod and autoflowering cannabis, let's learn what type of seed you should choose. In this section, we'll compare autoflowers to photoperiods in regard to how they perform in cannabis gardens.
Growing Photoperiod Strains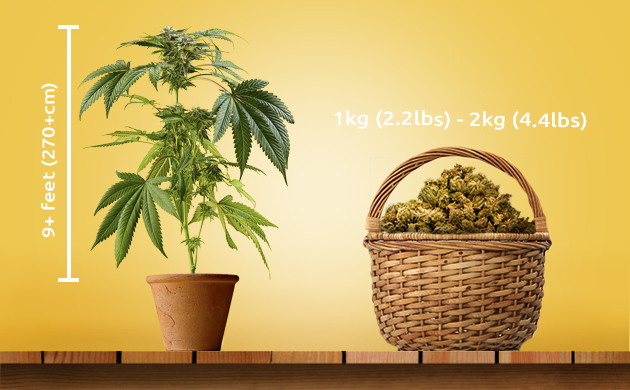 We're going to break the news right away: photoperiod strains require more experience growing and produce more challenges on the way to the harvest. However, they might well be worth it! First of all, in order to make your plant flower when growing indoors, you'll need to keep a constant eye on how much light your plant receives and decide when to give it 12 hours of darkness and switch it to flowering. Perfecting this technique takes some knowledge and practice.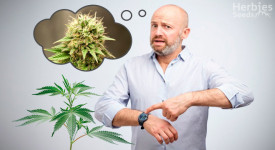 How To Flower A Cannabis Plant
READ NOW
Moreover, depending on the strain and environment, photoperiod plants can get big – really big. If you're in a limited space or trying to be discrete, photoperiod plant sizes can cause some issues, as some can grow up to 9+ feet (270+cm) in height and be wildly wide in stature. However, as you can imagine, bigger plants also mean bigger harvests! A single photoperiod cannabis plant can give you from 1kg (2.2lbs) to 2kg (4.4lbs) of wet yield at once or even more, though it depends on the particular strain you choose.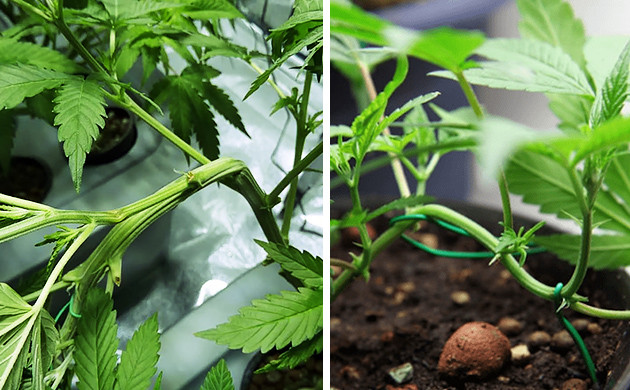 | | |
| --- | --- |
| High-stress training (HST) | Low-stress training (LST) |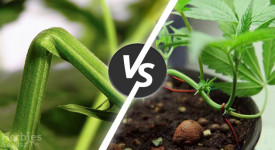 LST Vs. HST
READ NOW
In order to get the most of your photoperiod strains, you can apply a variety of training techniques to improve their results. Because these plants thrive from high-stress training (HST), low-stress training (LST), and topping and other techniques, proper growing from photoperiod seeds can take more labor to upkeep them over time. Another drawback of photoperiod seeds is their extended lifecycles.
If you're wondering about the benefits of photoperiod vs. autoflowering strains for outdoor grows, you need to consider not only the often enormous size of photoperiods that are hard to keep discreet, but also how long they take to mature. Some photoperiod strains take 4-6 months to harvest, limiting the number of harvests (often to one), especially when growing outdoors in colder areas.
Growing Autoflowers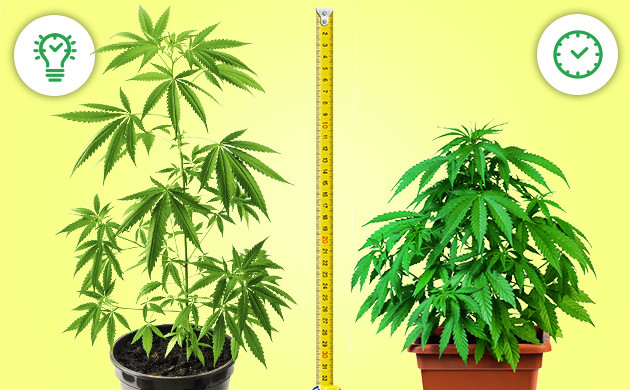 As you already know, autoflowering seeds are genetics that will sprout and basically grow on autopilot, not requiring any change in light periods for flowering to occur. But what does autoflowering cannabis seeds mean in terms of the growing experience?
First of all, autoflowering plants are much smaller than their photoperiod counterparts. This means that autoflowering plants not only take up less space and stay more discreet, but also have a shorter growth cycle. This quicker growth cycle also gives growers the ability to run more harvests per season or year. How long do autoflowers take from seed to harvest, you may ask? Well, depending on the strain, the whole cycle can take as little as 6 weeks!
On the flip side, due to their shorter lifespan, autoflowering plants don't need to be topped or given any HST, and can usually only handle LST (low-stress training) anyway, if any training at all. That's because they simply don't have time to recover from the stress of training, meaning that there aren't many opportunities to improve their yields.
Since the flowering stage begins 'automatically', there's no work necessary in changing lights from the vegetation stage, either, which allows growers to get several harvests in a single season, even when grown outdoors.
One drawback of autoflowering seeds which is also, as we said before, a pro for some, is their size. While a compact or smaller size plant is easier to contain (or hide), they ultimately produce lower yields. Even though there is a method used to increase energy production from autoflowering seeds, which is to keep them under lights as much as possible, this can be a negative in terms of electricity costs.
Lastly, autoflowering seeds are one and done. In other words, while you may be able to handle a lot more plants per season, you can't take clones – instead, you'll have to begin from seed each time you cultivate.
To sum up, if you're a first-time grower struggling to decide whether to grow an autoflowering or photoperiod strain, we'd suggest going for an auto. Even though you won't harvest as much, you'll be set for an easy and almost carefree growing experience. 
We've covered both autos and photoperiods in terms of what growing experience you can expect from them. Before we move to the quality of buds produced by each type, here's a chart for a closer comparison between the two.
Autoflowering Vs. Photoperiod Bud: Is There A Difference?
Now you have an idea of which type of weed you'd most like to grow – but with such a drastic difference in the cultivation experience, is there any difference between a photoperiod and an autoflowering bud? Let's take a look.
Photoperiod Cannabis Buds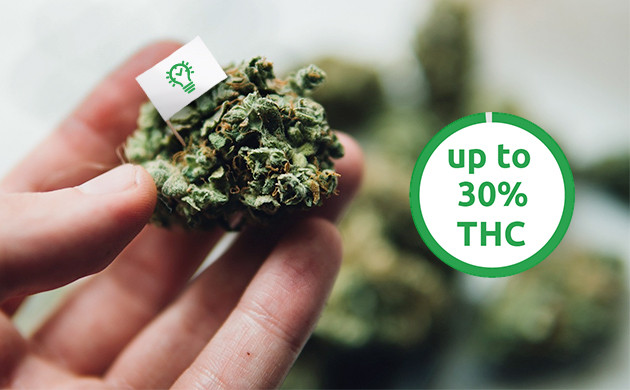 As a rule, because photoperiod strains respond so well to all training techniques and take more time to develop and mature, the buds they produce will also be of a higher quality. First, photoperiod strains are generally more potent than autoflowers, and all potency champions at the moment are photoperiods that can contain up to 30% THC! Photoperiod buds are also the most terpene-rich, meaning they produce the most flavors and aromas. Even though this may sound very tempting, don't forget that all of these benefits come at a higher cost of being more challenging to maintain.
Autoflowering Cannabis Buds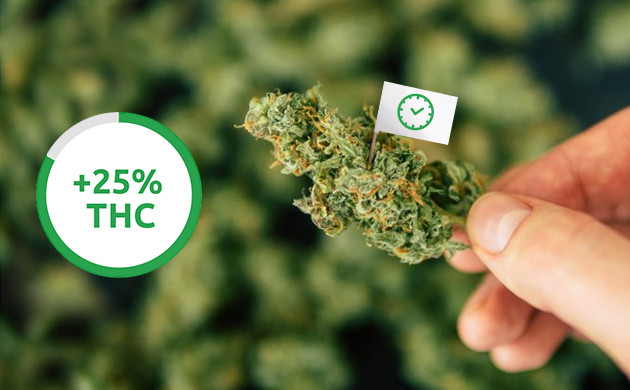 After all this praise we've dedicated to photoperiod buds, you may think that autoflowers aren't worth the effort. If so, stop right there! When autoflowers first appeared on the market, they attracted a lot of criticism because of their low potency. This was due to the fact that a part of autoflowers' genetic pool is Ruderalis, which is not psychoactive. However, as the years passed, breeders successfully minimized the share of Ruderalis genes in many modern autoflowers, making them both easy to grow and extremely potent. Some of them, for example, Fast Buds' strains, have THC content hovering at +25%! The flavor and aroma profiles of autos have likewise improved significantly, which means that nowadays, choosing a quality autoflower is a two birds one stone kind of situation, where you can get both quality bud and ease of growth. 
Autofowering Vs. Photoperiod: The Choice Is Yours
Wrapping up this article, we wish we could confidently say that your choice between autos and photoperiods has now become much easier. However, we can only hope it at least didn't become more confusing! As you can see, both autoflowering and photoperiod dependent strains have their pros and cons when it comes to growing as well as smoking. Now it's up to you to decide what you want to grow. Our advice: why not choose both and experiment with strains? Only practice can reveal your green thumb and develop your preferences!