Bruce Banner #3 Auto feminized seeds
Spain
Bruce Banner #3 Auto is an autoflowering cannabis variation of popular Original Sensible Seeds creation Bruce Banner #3. The result is a fast-growing plant that growers love because of its high commercial value. On the consumer side, Bruce Banner #3 Auto is a fairly potent strain that's valued for its effects on both the mind and body. Depending on the dosage, it can be used at any time of the week.
Read more
All characteristics
Bruce Banner #3 Auto: A High For All Types
This autoflowering marijuana strain has a THC rating of around 20%, which is high but not overwhelming. The strength of its effects largely depends on the dosage, with small doses making it a good daytime strain, whereas large doses can help achieve a more stoned feeling. It hits the mind and body in different ways, with plenty of mental stimulation followed by a deep bodily relaxation.
Strong Aromas And Flavors From Mother Earth
Bruce Banner #3 Auto has a fantastic smell, taste and appearance. Due to her enhanced OG genetic lineage, this strain has a sweet Kush-like aroma with hints of earth, diesel and lemon. This translates into a strong, earthy taste that many cannabis connoisseurs absolutely love. It can be a bit pungent, however, so keep that in mind if you have neighbors who might complain.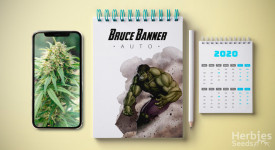 Bruce Banner #3 Auto Grow Report
Bruce Banner #3 Auto: Hulking Grows for Any Operation
If you're new to growing, this autoflowering cannabis strain is a great option because it's easy to cultivate, not sensitive to common beginner issues, and switches from vegetative growth to bud production without any effort on your part. This ease of growth has been a key driving force in the commercialization of Bruce Banner Auto #3 and makes it a great cash crop.
It delivers up to 500g/m2 indoors and as much as 150g per plant outdoors.
Plants go from seed to harvest in 65-70 days.
They can grow as tall as 80-100 cm.
The strain has a preferred max EC of water of 1.2 in the vegetative and up to 1.5 during flowering.
Genetics Designed For Easy Harvests
Bruce Banner #3 Auto is an autoflowering cannabis variety that was achieved by crossing Bruce Banner #3 and Auto Ghost OG. Bruce Banner #3 itself is derived from Colorado Ghost OG and Strawberry Diesel, whose flavors can still be strongly detected in this auto version. The final result is a strain that maintains the balanced high and earthy flavors of Bruce Banner #3, but with a much easier harvest.
Characteristics
Brand

Original Sensible Seeds

Sex

Feminized

Flowering type

Autoflowering

Suitable for

Indoor

Effect

A good balance between high and stone

Genetics

Ghost OG x Strawberry Diesel x Auto Ghost OG

Height

80 - 100 cm

Yield

500 g/m² indoors
150 g/plant outdoors

From seed to harvest

65 - 70 days

Genotype

Indica dominant

THC

20 %
How To Post Your Review?
Thank you for sharing your opinion about our website!
Your feedback will be posted shortly after our moderator has reviewed it.
Please note that we do not publish reviews if they:
Written in all CAPS
Contain aggressive or offensive language
Have a promotional content (contact details or links to other websites)